A simple umbrella/sheet of black cloth can be transformed into photography aids for amazing photos! Here, we share some tips from professional photographers on how this is possible. (Reported by: Toshiki Nakanishi, Gensaku Izumiya)
1. For brilliant backlit shots, use a black umbrella to block out excessive light
On cool mornings, mist often occurs due to radiative cooling. For this shot, I examined the changes in the mist and stood in a location where I could just get a glimpse of the sun, with the camera aimed at the rays of light. At such times I recommend using a black umbrella to block out excessive light as not doing so can cause your photo to have low contrast due to the scene being fully backlit.
For this shot I needed to find the right position to capture the moderate amount of mist and have the trees blocking the sunlight, so I finely adjusted the position before proceeding with the shoot. To emphasize the rays of light that are streaming down, keep the sun out of the frame as best as possible to get a shot where only the rays appear.
EOS 5D Mark Ⅳ/ EF100-400mm f/4.5-5.6L IS II USM/ FL: 124mm/ Aperture-priority AE (f/11, 1/125 sec, EV ±0)/ ISO 100/WB: Daylight
Photo by Toshiki Nakanishi
Technique: Use an umbrella to block direct light from entering the lens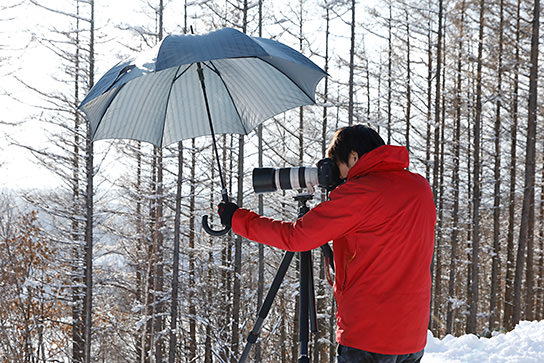 I make sure to use an umbrella for such scenes. Once I have set the camera on a tripod and decided on the composition, I place the umbrella in front of the camera as I am about to release the shutter so as to prevent direct light from entering the lens during the shoot. Be careful to keep the umbrella out of the frame.
2. Use a black cloth to control multiple exposures of fireworks
During a fireworks display, different firework effects are usually ignited in quick succession. The shapes of these effects will not be captured if you use long exposure, but if you take multiple exposures, your chances of achieving a stunning image will be a lot higher.
However, while it is possible to use your camera's multiple exposure feature, it is difficult to predict what a firework will look like until it has been launched into the sky. Hence, rather than deciding on the number of exposures, an easier method would be to cover the lens opening with a cloth and capture the desired number of exposures. Try to make your own special photos by creating multiple exposures in this way while observing a fireworks display.
EOS 5D Mark II/ EF24-105mm f/4L IS USM / FL: 24mm/ Manual Exposure (f/22, 12 sec)/ ISO 50/ WB: 3,000K
Photo by Gensaku Izumiya
Technique: Use a cloth to cover the lens and capture only the firework effects you like
Keep the shutter open and use a black cloth to control the exposure. When you spot the firework effects you like being launched in succession, you can remove the cloth to capture them in your image. At other times, you can leave the lens covered with the cloth. Be sure to handle the cloth carefully so as not to cause camera shake.
Here are some tips for artistic photos of fireworks:
How to Capture Artistic Handheld Shots of Firework Displays!
For more out-of-the-box ways to jumpstart your photographic creativity, check out:
Ideas for Self-Imposed Shooting Restrictions to Help You Out of that Creative Rut!
 
Receive the latest updates on photography news, tips and tricks by signing up with us!
About the Author
A monthly magazine that believes that enjoyment of photography will increase the more one learns about camera functions. It delivers news on the latest cameras and features and regularly introduces various photography techniques.
Published by Impress Corporation
Born in 1971 in Osaka. After learning photography on his own, Nakanishi moved the base for his photography activities to the town of Biei located in Kamikawa-gun of Hokkaido. While capturing landscapes that focus on light, he also produces works that bring out the figurative beauty of nature. Head of PHOTO OFFICE atelier nipek.
Born in Akita in 1959, photographing fireworks has been a lifelong passion for Izumiya. He mainly photographs landscapes, commercials, people, goods, and cooking, and creates photos of fire and water. A member of the Japan Professional Photographers Society.