Products >>
All Products
2 New Canon Products to Add to Your Mirrorless Photography Kit
On 5 September 2018, Canon announced the EF-M32mm f/1.4 STM, a new large aperture prime lens for its EOS M mirrorless cameras series, and the Speedlite EL-100, a compact new clip-on flash. The two new products are poised to expand creative possibilities for those keen on taking their photography to greater heights with their mirrorless cameras. (Reported by: Makoto Suzuki (Digital Camera Watch))
EF-M32mm f/1.4 STM: Fast, compact and lightweight
With all their benefits, large aperture lenses (or "fast" lenses) are an essential item in any photography enthusiast's camera bag. As Canon's first f/1.4 prime lens for mirrorless cameras, the EF-M32mm f/1.4 STM is no exception. The excellent, creamy bokeh, in particular, is a quality that even beginner photographers will appreciate—especially for portrait photography.
The beautiful, creamy background blur that f/1.4 lenses are known for
EOS M5/ EF-M32mm f/1.4 STM/ FL: 32mm (51mm equivalent)/ Aperture-priority AE (f/1.4, 1/400 sec, EV+0.3)/ ISO 100/ WB: Daylight
Designed with durability and sophistication in mind, the EF-M32mm f/1.4 STM features a metal mount that provides a high-end feel. The 51mm (35mm film-equivalent) focal length provides a standard angle-of-view similar to that of the human eye, which makes the lens not only an excellent choice for portraiture and street photography but also an ideal general purpose lens for those looking to brush up on their lens techniques.
Other key specifications:
- Lens construction: 14 elements in 8 groups (glass-moulded aspherical lens)
- No. of aperture blades: 7
- Minimum aperture: f/16
- Closest focusing distance: 0.23m (Noteworthy, considering that on most 50mm equivalent lenses, this distance is 0.45m)
- Maximum magnification: 0.25x
- Filter diameter: 43mm
- A focusing distance limiting switch lets users limit AF focusing frame from 0.5m to infinity
- Full-time manual focusing is possible when 'AF+MF' mode is selected on the camera.
- Max. diameter × Total length: Φ60.9 × 56.5mm (same external diameter as existing EF-M lens barrels)
- Weight: approx. 235g
Great for close-ups: Closest focusing distance 0.23m
EOS M5/ EF-M32mm f/1.4 STM/ FL: 32mm (51mm equivalent)/ Aperture-priority AE(f/2.8, 1/500 sec, EV-0.3)/ ISO 100/ WB: Daylight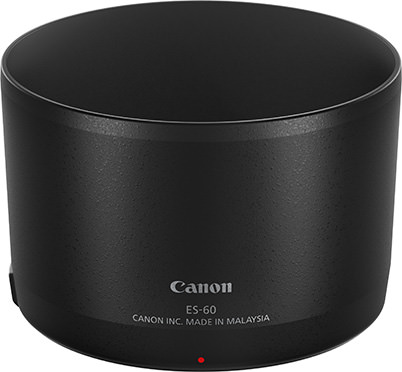 Lens Hood ES-60 (sold separately)
Speedlite EL-100: A compact clip-on flash for flash photography beginners
Yet another compact, lightweight and handy possible addition to the enthusiast photographer's bag comes in the form of the Speedlite EL-100, announced on the same day as the EF-M32mm f/1.4 STM.
This clip-on flash, a successor to the Speedlite 270EX II, features a flash head that can not only be tilted 90° upward like its predecessor but also rotated up to 150° to the left and 180° to the right. Such flexibility makes the flash ideal for bounce flash photography, including ceiling bounce and wall bounce. The latter is possible even when holding the camera in vertical (portrait) orientation.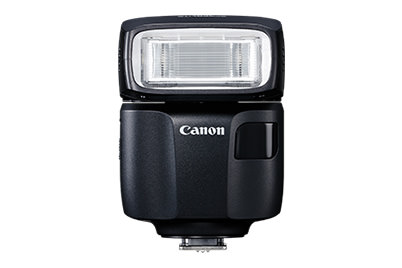 The Speedlite EL-100 features a maximum guide number of 26 (at ISO 100, m, at focal length 50mm). It supports both 24mm and 50mm flash coverage, which users can switch between manually. The guide number at 24mm is 21.
A new Continuous Shooting Priority (CSP) mode automatically reduces flash output by 1 stop and raises the camera's ISO speed by 1 stop to save power consumption, hence increasing the number of flashes possible during continuous shooting—and the photographer's chances of getting a good shot. Do note that while this mode can be selected via the 'Flash mode setting' screen on the camera, it is supported only by newer cameras.
Off-camera firing is possible with the Speedlite EL-100, which supports wireless communication via optical transmission. The new Speedlite can be used as both a sender and a receiver: Users can either fire it using the built-in flash of a compatible camera as a trigger, or clip it onto a compatible camera with no built-in flash and used to trigger other flashes that support optical transmission.
With a new design that boasts improved portability, storage space should be no issue. With a footprint area smaller than that of the predecessor Speedlite 270EX II, the Speedlite EL-100 is slim and will easily fit into small spaces in a user's camera bag.
The "EL" in the product name is from "EOS Lighting System", and all future Canon flash products are set to follow this new naming convention.
Find out more about the different types of lenses here:
Lenses 101
In Focus: Lens Basics
Learn more about flash photography here:
In Focus: The Basics of External Flash Photography
---
Receive the latest update on photography news, tips and tricks.
Be part of the SNAPSHOT Community.
Sign Up Now!
---
About the Author
Delivers daily news related to topics such as digital cameras and peripheral devices, and imaging software. Also publishes articles such as reviews on the use of actual digital camera models and photo samples taken using new models.