Tips & Tutorials >>
All Tips & Tutorials
2 Simple Tips for Beautiful, Blur-free Indoor Portrait Photographs of Children
Taking beautiful photos of people indoors during the day when the light gets in can be a cinch. However, one difficulty you'll encounter is that there is less light indoors compared to outdoors, so your photos are more likely to become blurred. At such times, controlling the aperture is a good way to take beautiful shots with a moderate bokeh effect in the background. (Reported by: Teppei Kohno)
1. Try shooting with a smaller f-number
Example 1:
EOS 5D Mark III/ EF50mm f/1.8 STM/ FL: 50mm/ Aperture-priority AE (f/2.5, 1/250 sec, EV±0)/ ISO 800/ WB: Auto
*Shooting Procedure
1: Set the mode to Aperture-Priority AE
2: Set a smaller f-number
3: Make full use of window light
4: Set a higher ISO speed
Unlike outdoors, there always seems to be insufficient light indoors. Hence, when trying to photograph your child happily playing, you can often end up with blurry photos. At such times, you can address this by setting a smaller f-number. The larger the aperture (=smaller f-number), the faster the shutter speed.
Look for a shooting location that will allow you to shoot with a faster shutter speed. It is a good idea to have your child playing somewhere bright near a window when shooting as the greater amount of light should allow you to use faster shutter speeds. However, if the shutter speed is still too slow and the photo appears blurry, try increasing the ISO speed. The drawback to increasing the ISO speed is that it produces more noise, so you will want to set the minimum necessary ISO speed for your shots, where possible.
A big plus, though, is that widening the aperture (=smaller f-number) allows you to create a large background bokeh effect when shooting. There are many miscellaneous items in the home that tend to be captured in the background behind the subject. With this method, you can successfully blur them out, and create photos in which the focus is only on the subject, and display your child's expressions well.
2. Use a prime lens
Example 2:
EOS 5D Mark III/ EF50mm f/1.8 STM/ FL: 50mm/ (f/2.5, 1/200 sec, EV±0)/ ISO 800/ WB: Auto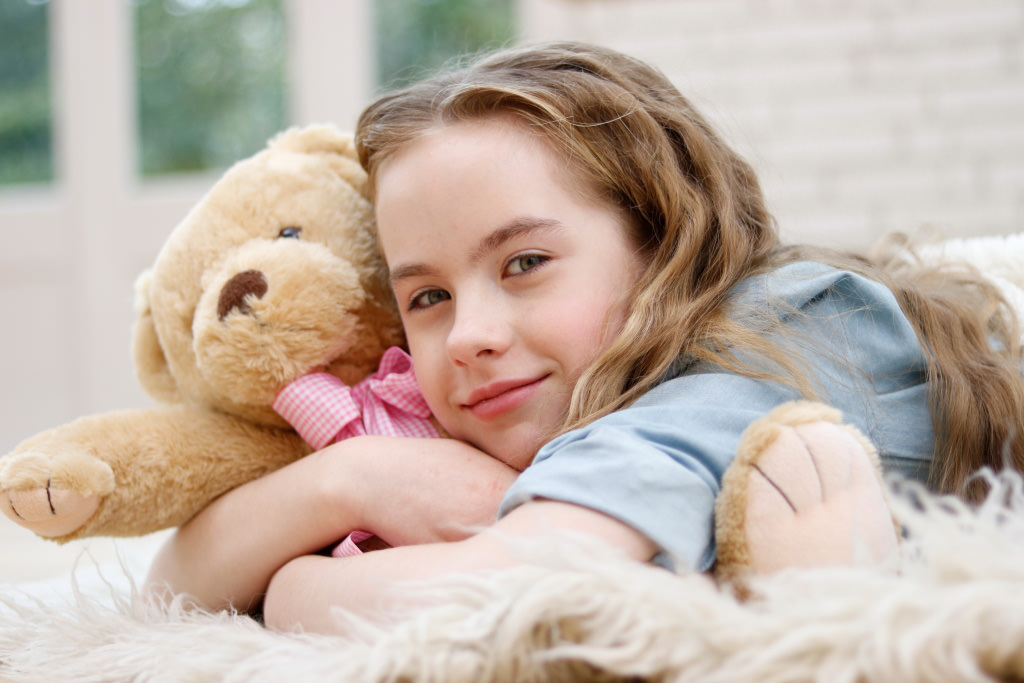 Example 3:
EOS 760D/ EF50mm f/1.8 STM/ FL: 50mm (80mm equivalent)/ Manual exposure (f/1.8, 1/160 sec, EV±0)/ ISO 200/ WB: Auto
Negative example:
EOS 750D/ EF-S18-55mm f/3.5-5.6 IS STM/ FL: 55mm (88mm equivalent)/ Aperture-priority AE (f/5.6, 1/30 sec, EV±0)/ ISO 800/ WB: Auto
You can capture the natural expressions of your children if you set your lens to the telephoto end and shoot from a slight distance away. However, even if you use the telephoto end of a standard zoom lens, the f-number at maximum aperture is only f/5.6. Furthermore, when shooting indoors, the shutter speed becomes slower, which tends to cause blur. Hence, if you want to shoot in the telephoto end indoors, a prime lens is recommended as it has a bright aperture.
Remember!: A bright prime lens is recommended for indoor photography
Many prime lenses have a bright maximum aperture, so blur is less likely to occur when taking shots in low light indoors. Because the expressions vary depending on the focal length, having wide-angle, standard and telephoto lenses on hand will enable you to handle various scenes.
EF-S24mm f/2.8 STM
When you photograph a child up close, you can get a dynamic perspective as well as create a background bokeh effect. This allows you to take shots that showcase a child's lively, active nature. Read review here
EF50mm f/1.8 STM
This lens approximates a human field of view, making it easier to take shots that give a natural impression. The maximum aperture is also small, so you can easily create a large bokeh effect.
EF85mm f/1.8 USM
This lens has the appeal of not only being able to create a larger background bokeh, but also allowing you to shoot from a distance away, which lets you capture natural expressions.
Also read our article on 4 Tips for Happy Family Portraits
For more tips on photographing children, check out:
[Children Part 1] Shoot from a variety of angles
[Children Part 2] Use telephoto lens to nail those shots of kids being kids
3 Ways To Capture Adorable Sibling Photos
Receive the latest updates on photography news, tips and tricks by signing up with us!
About the Author
Born in Tokyo in 1976, Kohno graduated with a Social Work degree from the Department of Sociology of Meiji Gakuin University, and apprenticed with photographer Masato Terauchi. He contributed to the first issue of photography magazine PHaT PHOTO and became an independent photographer after that, in 2003. The author of many books, Kohno not only shoots all sorts of commercial photographs, but also writes prolifically for camera and other magazines.