Tips & Tutorials >>
All Tips & Tutorials
Bring Your Wedding Photos to Life with the Canon Selphy CP1200 Compact Photo Printer
You organise a pre-wedding shoot and a wedding-day shoot, and some time later you receive the digital and selected physical copy of the photos… and then what? Some may choose to print and frame one or two photos, but most people simply put them aside until it is time to reminisce about the good old times. Why not make use of a SELPHY printer to create materials that you can keep close to your side in your everyday life? Here is how:
1. Wedding Collage Album
If you have the digital copies of your photos on your smart devices, you can print them out using a SELPHY printer. First, download and install the SELPHY app on App Store/Google Play, and connect it to your printer. Then select your desired layout and choose your favourite photos on your smart device. Once you have done that, you can then send the photos wirelessly to the SELPHY printer.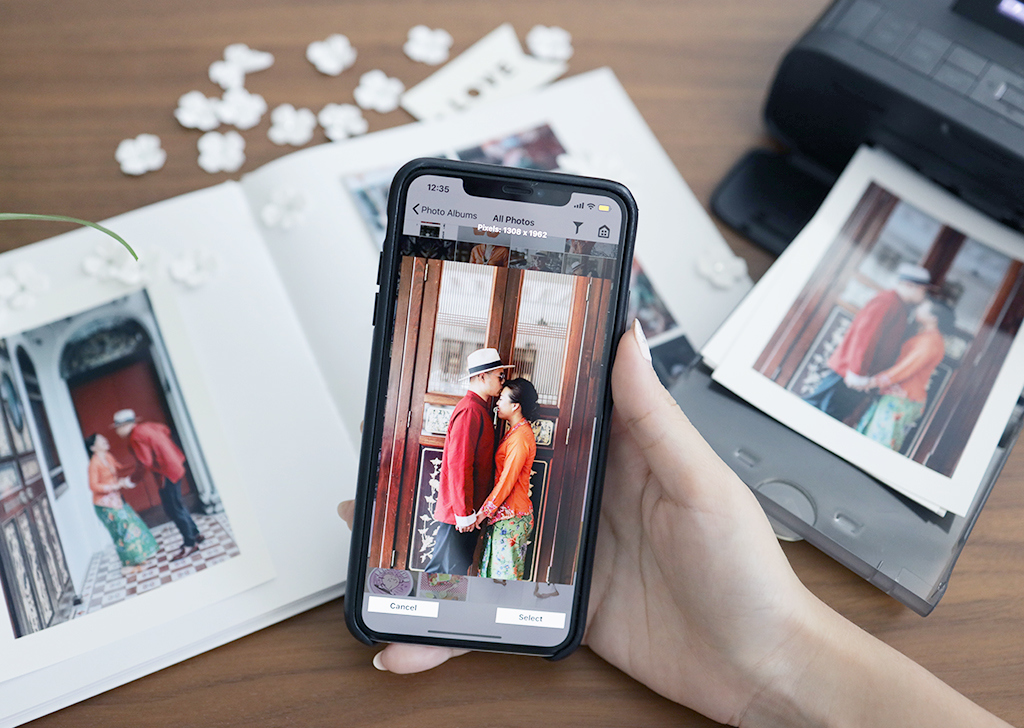 You may choose to trim your photos, and print up to 20 photos at one time. Once you have them ready, you can start creating your unique wedding photo album. And don't just stick the photos onto the photo album; use decorative materials such as stickers or write personal notes on the album for a personal touch.
2. Home Decor
If you can display your photos somewhere in the house, then put them up. The reason is that more often than not, we tend to forget these beautiful moments as our photos are stored away in our camera roll, hard drive or cloud storage. Having them around the house is a constant sweet reminder of the love you and your partner have for one another. In addition, it adds a touch of personality to your place (and a great piece to show off to your family and friends).
3. Customised Phone Cases
Why buy a regular phone cover when you can make your own? Get a transparent phone cover, send two to three (depending on the size of your phone) of your wedding photos to a SELPHY printer, and print a series of mini photos (using the ID Photo Print Function) to emulate the photobooth-style photos. One of the great things about Canon photo paper is its durability, which features a special film print over-coating to protect the photo from colour-bleed or fading for many years (it will probably last longer than your case or phone).
Life is all about cherishing the precious moments with your loved ones and remembering the good times. And SELPHY printer may just be able to play a part in that. For more Canon SELPHY printing inspirations, have a look at these fun articles:
Surprise Mom in 4 Easy Steps with EOS M100 and SELPHY CP1300
SELPHY CP1300: Now You Can Print Anywhere
Print Photos Creatively Using the SELPHY Printer
---
Receive the latest update on photography news, tips and tricks.
Be part of the SNAPSHOT Community.
Sign Up Now!
---