EOS M, with its large APS-C size CMOS sensor, is built surprisingly compact in size so you can carry around with you anytime and anywhere. Let's learn the techniques to make full use of the high image quality and advanced features to capture wonderful photos. Here, tips for shooting at cafés are introduced. Use them to shoot delicious dishes or the lovely atmosphere. (Reported by: Yurika Kadoi)
Pages: 1 2
You can tell the compact size of the EOS M by placing it side-by-side with coffee cups or pocket planners.
Brings pleasure to shooting in shop premises
Every now and then, I would find SLR enthusiasts in restaurants or cafés taking their camera out quietly and apologetically from the bag and putting it back quickly after taking a shot. In contrast with mobile phone and compact camera users, who take pictures without much reservation, SLR users tend to hold back from shooting, perhaps because the size and shooting style of SLRs tend to catch the attention of the people around. That being said, it is hard to resist the charm of SLR cameras, which produce high-quality images with a strong bokeh effect. With the EOS M, this dilemma is resolved.
The EOS M does not stand out even when it is placed on a table, while its shutter sound is also quieter than SLR cameras. With it, you no longer have to worry about the operation sound in a quiet environment.
The basic settings for EOS M café photo shooting
For shots taken inside a shop, the subject is close to the camera, so it is easy to create background blur. To help facilitate the focusing operation, I chose FlexiZone - Single as the AF mode to ease focusing on a specific point, and the Aperture-priority AE mode so that I could adjust the aperture setting freely.
| Exposure Mode | Metering Mode | ISO Speed |
| --- | --- | --- |
| Aperture-priority AE | Evaluative Metering | Auto (Max: 1600) |
| White Balance | AF Mode | AF Operation |
| Auto | FlexiZone-Single | One-shot AF |
| Continuous AF | Picture Style | Drive Mode |
| Disable | Landscape | Single Shooting |
Shooting 01: Change the Aspect Ratio
EF-M22mm f/2 STM/ Aperture-priority AE (1/80 sec., f/3.2, +0.7EV)/ ISO 100/ WB: Auto/ Aspect ratio: 1:1
Shot directly from above, I created an interesting contrast between the square format of the image and the roundness of the plate.
Altering your photographic expression
One of the basics to photographing food is to create variations by altering the shooting angle, composition, or background. If you are seeking simpler but yet bolder differences, try changing the aspect ratio of the image. When you are shooting a single dish, in particular, using the 3:2 aspect ratio would create a lot of unwanted space. In such cases, the multiple aspect ratios come in very handy. In this example, I selected the 1:1 square format, and captured the shot directly from above. The square aspect ratio offers a simple way to add a cool touch to the image. Other aspect ratio options include 16:9 and 4:3. Try using them too.
Composition
The photo would look too self-explanatory if I captured the plate in its entirety, so I deliberately cropped a portion of the image to bring out a sense of unbalance as well as the imagination of the viewer.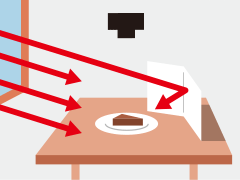 Light
To prevent the image from appearing too flat, I took the shot using light falling on the dish from the side. I used a white book as a reflector to tone down the shadow.
Features
The aspect ratio can be adjusted according to the shape of the subject, or it can be employed to crop an image boldly.
Shooting 02: Set Maximum ISO Speed with ISO Auto
EF-M18-55mm f/3.5-5.6 IS STM/ FL: 49mm/ Aperture-priority AE (1/50 sec., f/8.0)/ ISO 1600/ WB: Auto
To create a slightly dark ambience, I avoided performing exposure compensation, and included a warm-colored lamp to enhance the mood.
Preventing camera shake
Many cafes tend to dim their lights slightly to create a space with a relaxed ambience for the customers. Shooting in a dimly-lit environment is prone to camera shake due to the slower shutter speed. To avoid this problem, make use of the handy ISO Auto feature, which automatically selects a low ISO speed for shots taken in a bright environment, such as seats by the window, and adjusts the ISO speed at a dimly-lit location to obtain a shutter speed that is fast enough to prevent camera shake from occurring. Also, noise tends to occur at ultra-high ISO speeds, causing the image quality to deteriorate. However, this issue can also be overcome by setting a maximum ISO speed for ISO Auto.
Composition
I ensured that objects in the composition are strictly aligned with the horizontal line.
Light
Gentle light entered from the large window on the right. Strong shadows were not created.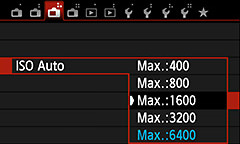 Features
Raising the ISO speed excessively may cause noise to occur, thus deteriorating the image quality. For café shots, a maximum ISO speed of 1600 would suffice.
Shooting 03: Challenging the Picture Style and Creative Filter
EF-M22mm f/2 STM/ Aperture-priority AE (1/320 sec., f/2.0, +0.7EV)/ ISO 100/ WB: Auto/ Creative filter: Miniature effect
This shot depicts the way we look at our meal before savoring it. Here, I played with the Miniature effect to emphasize the depth and colors.
Producing visually-appealing colors
Warm-colored lightings are often used at cafés, but such a light source may result in an image with a strong red tone. If this occurs, adjust the white balance. The EOS M comes with an outstanding auto white balance (AWB) feature that automatically detects the type of light source, so this setting is good enough to handle scenes in general.
The next step would be to apply effects such as Picture Style and Creative filter according to your preference to reproduce the colors vividly. An unexpectedly useful option is the "Miniature effect" Creative filter, which not only strengthens the bokeh effect and creates more depth, but also deepens the colors.
Composition
With four varieties of food arranged on the plate forming a diamond shape, I tried to exaggerate the sense of distance between the foreground and the background.
Light
Captured under backlight, I placed a handmade reflector (any white object, such as a book) to prevent the front area from appearing dark.
Features
With the "Miniature effect" Creative filter applied, I set the position to focus. Here, I moved the area in focus slightly to the front from the center.
Yurika Kadoi
Born in Toyama in 1978. After graduating from the Engineering Faculty, Kanazawa University, Kadoi worked as an assistant at a photographer office before starting her freelancing career. Her work centers on wedding and portrait photography, writing for magazines, and holding lectures on photography. Kadoi is also involved in taking overseas snapshots and landscape photos as part of her lifetime work.