Tips & Tutorials >>
All Tips & Tutorials
Camera FAQ #19: How to Capture an Impressive Shot of a Moving Train with Continuous Shooting
Continuous shooting is a fundamental technique to use when photographing a moving train, This article tells you how you can refine your technique to get shots that look even more impressive. (Reported by: Hirokazu Nagane)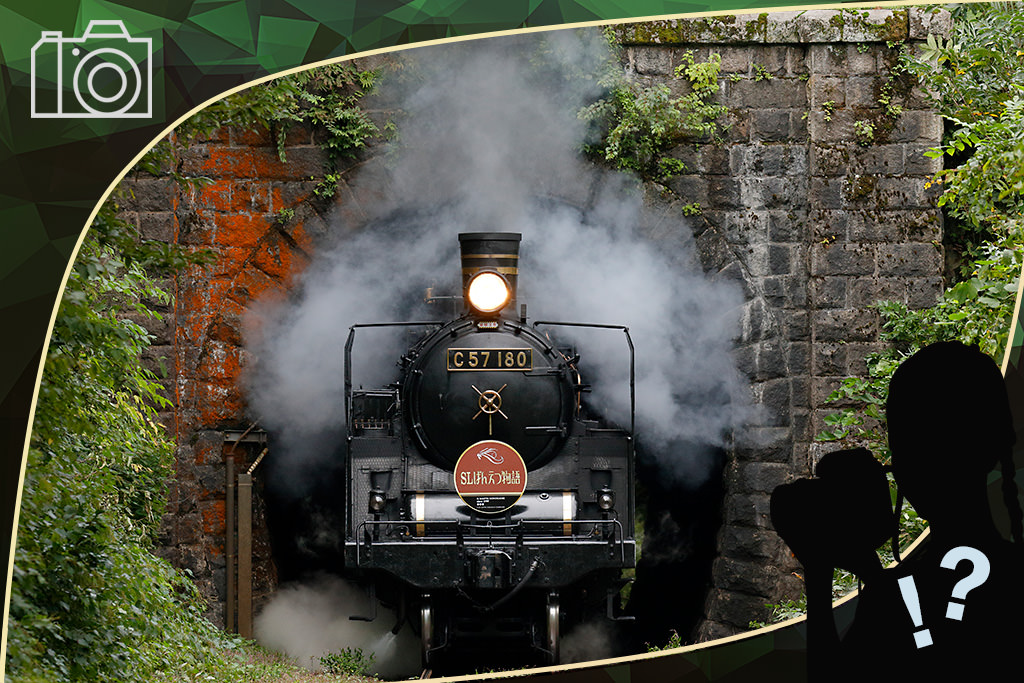 Scene 1: How to take the best photo of the steam locomotive with all that smoke
Best Shot: EOS 7D Mark II/ EF100-400mm f/4.5-5.6L IS II USM/ FL: 241mm(385mm equivalent)/ Manual exposure(f/7, 1/400 sec)/ ISO 1000/ WB: Cloudy
The SL Banetsu Monogatari runs along the Banetsu-West railway line between Japan's Fukushima and Niigata Prefectures. To capture the nostalgic feeling of the steam locomotive, I found a tunnel portal with natural stone ashlars. This shot was taken at a safe area before a curve in the railway line. I was aiming to capture the front view of the train with a telephoto lens.
Thee steam locomotive is like a living thing, and so every scene with it makes a unique photo. The impact of the photo changes depending on the shape of the smoke. Since we cannot predict the movement of the smoke, the basic technique involves taking many shots using a camera with an excellent continuous shooting function just to get that one perfect shot.
As the steam locomotive is moving toward the camera, you may be tempted to use the AI Servo AF. But because its emergence from the dark tunnel is swift and sudden, you may still risk missing a crucial moment if you do so. Even so, as long as you get ready your camera to be in focus once the train arrives at the point of focus, you will be fine.
To obtain your best shot, you will need to choose a photo from the series of photos taken with continuous shooting once the steam locomotive emerges from the tunnel. You can tell by comparing the shots 1 frame before and 1 frame after.
1 frame before the best shot: Low smoke volume
1 frame after the best shot: Too much of the stone ashlars and creepers are covered by the smoke
Scene 2: How to take impressive photos of trains using a wide-angle lens
EOS 7D Mark II/ EF16-35mm f/4L IS USM/ FL: 19mm(30mm equivalent)/ Manual exposure(f/5.6, 1/6,400 sec)/ ISO 1000/ WB: Daylight
The EOS 7D Mark II was used with a 30mm equivalent lens to take this photo of a Narita Express train. When taking photos of such scenes, the speed is apparently very fast, so a camera that has an excellent continuous shooting function is preferred. With its ability to shoot at 10 fps, I found the EOS 7D Mark II really wonderful for this. (Here's an in depth review of the EOS 7D Mark II's performance in railway photography.)
To capture an impressive scene of a moving train, you may shoot facing upwards from a low angle with a wide-angle lens, from within the concave side of the curve of the train track. (Read more about camera position and camera angle.) The shutter speed should be at minimum 1/4000 sec. This was taken at 1/6400 sec so that the train will not have motion blur.
Using a wider angle would exaggerate the perspective effect, but because the sky takes up a higher percentage of the photo, the train ends up looking less impressive. (For more on this, read our articles on the Photo Effects of Wide-Angle Lenses and Composition Techniques for Wide-Angle Lenses.) As for focal length, we recommend 28 – 50mm equivalent lenses so that the train does not look too small. In this case, a 30mm equivalent focal length was used. This way, it is possible to take photos at a safe place that is a distance away from the train tracks.

Interested in photographing trains? You may want to read this article for ideas on how to enhance your railway photos.
Receive the latest updates on photography news, tips and tricks by signing up with us!
About the Author
A monthly magazine that believes that enjoyment of photography will increase the more one learns about camera functions. It delivers news on the latest cameras and features and regularly introduces various photography techniques.
Published by Impress Corporation
Born in Yokohama in 1974. After graduating from the Musashi Institute of Technology (Currently referred to as 'Tokyo City University'), he studied under railway photographer Mitsuhide Mashima, who is the CEO of Mashima Railway Pictures. In recent years, he was involved in explaining railway photography techniques in photography magazines, and writing railway photography guides. He goes round Japan taking photos of trains while upholding the motto of "taking photos so true to life that you can hear the sound of the train just by looking at the photos".