Happenings >>
All Happenings
Canon Announces the EOS M50: New DIGIC 8 Image Processor with 4K Movie Shooting
On 26 February 2018, Canon announced the EOS M50, its first mirrorless camera to feature 4K movie shooting. Along with the new DIGIC 8 image processor, electronic viewfinder (EVF) and Vari-angle monitor, the camera promises tremendous improvement in shooting performance. (Reported by: Makoto Suzuki (Digital Camera Watch))
New DIGIC 8 image processor, enhanced shooting performance
Canon's latest mirrorless camera, the EOS M50, is the first in the EOS M line-up to feature the new DIGIC 8 image processor, which has resulted in enhancements to essential shooting performance and functionality. For example, the camera can support ISO speeds as high as ISO 25600 (expandable to 51200), faster continuous shooting at up to 10 fps (One Shot AF), and 4K movie shooting. It is also the first EOS M-series camera to be capable of the latter. Improvements have also been made to the image stabilisation system and the Dual Pixel CMOS AF system that carries out high-speed, high-precision phase difference detection AF.
White
Black
4K movie shooting
The EOS M50 uses an APS-C-size CMOS sensor with 24.1 effective megapixels. Besides 4K movie shooting at 24p/25p, the user can also shoot 4K time lapse movies, as well as use the 4K Frame Grab feature to extract frames from 4K movies and save them as still images. (The pixels in the centre of the sensor are used for all 4K movie functions.) High frame rate shooting in Full HD 120p/100p is also possible.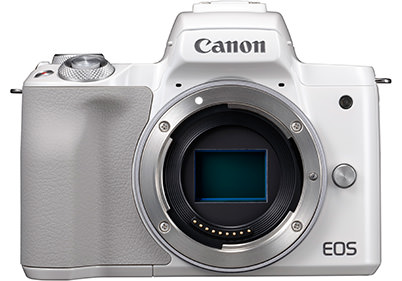 Vari-angle LCD monitor, right-hand controls for easier one-handed operation
In terms of appearance and size, the EOS M50 is similar to the EOS M5. However, there are three significant factors that differentiate it from the latter in three. Firstly, it is available in two body colour options, black and white*. Secondly, it has a Vari-angle LCD monitor, which not only allows users to shoot self-portraits, but also makes low-angle and high-angle shooting easier, even when holding the camera in a vertical orientation. Thirdly, its buttons and dials are concentrated on the right-hand side, making it easier to operate even with just one hand while looking through the EVF.
*Colour availability varies by country.
On the EOS M50, the mode dial is on the right-hand side.
Improved image stabilisation performance
The EOS M50 boasts a 0.5 shutter speed stop improvement in image stabilisation performance compared to existing cameras in the EOS M series. When a supported lens is attached, the camera uses information from the CMOS sensor in addition to the gyro sensor to detect the shake level, resulting in enhanced effectiveness of image stabilisation.
The EOS M50 features a 3.0-inch, 1.04 million-dot touchscreen LCD monitor and a 0.39-inch EVF with approximately 2.36 million dots.
Improved AF and tracking performance
The new DIGIC 8 image processor has also contributed to an enhanced Dual Pixel CMOS AF system. The system can now display more AF points (99 points; up to 143 points with supported lenses), and covers a larger AF area (approximately 88% horizontal by 100% vertical of the screen) when a compatible lens is attached. This contributes to improved AF capability and tracking performance.
On the EOS M50, depth information between the subject and the background is used. This improved tracking performance especially when there are similar subjects, or where the subject is similar in colour to the background.
Portrait photography will benefit from enhancements to AF, AE and tracking features
In 1-point AF mode, when the AF frame size is set to "Small", Continuous AF is now supported. This is particularly useful for portrait photography, as it helps ensure precise focus even if the subject moves.
A new feature, Eye Detection AF, has also been included. This feature enables detection and focusing on a person's eye (specifically, the eye nearer to the camera), which will be especially useful for portrait photography.
Other enhancements that will benefit portrait photography include improvements to the AE functions and Auto Lighting Optimizer that enable better toning of brightness on a person's face even in backlit conditions, and reduction of overexposure on a face detected by the Face Detection feature.
Continuous shooting, Touch AF
Continuous shooting is possible at up to 10 frames per second (fps) (AF lock), and up to 7.4 fps with AF tracking. The camera comes with the Touch & Drag AF feature, which allows users to select and adjust the active AF points by operating the touchscreen rear monitor, even while looking through the EVF.
Dimensions and weight
The EOS M50 has external dimensions of approximately 116.3 × 88.1 × 58.7mm. In terms of weight, the white version weighs approximately 387g, and the black version weighs approximately 390g (both measurements including battery and memory card).
New CR3 RAW format: Same image resolution, smaller file sizes
The new DIGIC 8 image processor has also allowed the adoption of a new RAW format, CR3 RAW, on the EOS M50. On previous camera models, users who wanted to record RAW files with a smaller file size had to use either the M-RAW or S-RAW formats, which were of a lower image resolution than the usual RAW images. However, the new CR3 format supports the use of C-RAW (Compact RAW), which retains the image resolution even with a smaller file size.
Automatic transfer of images to a smartphone or computer
While the EOS M50 supports Wi-Fi/NFC/Bluetooth connectivity, it is also equipped with a new function that enables the automatic transfer of images to a smartphone even while you shoot. You can also automatically send images to a computer if you install the Image Transfer Utility 2 programme onto the computer and pairing it with your camera. The programme can be set to transfer only images that have not been transferred before. Automatic backup to a cloud storage service from the computer is also possible.
Accessories
A body jacket (Body Jacket EH32-CJ), available in two colours: Light Brown and Beige, as well as a neck strap (Neckstrap EM-E2), available in Light Brown, may be purchased separately. (Availability depends on country)
With Body Jacket EH32-CJ in Light Brown.
With Body Jacket EH32-CJ in Beige.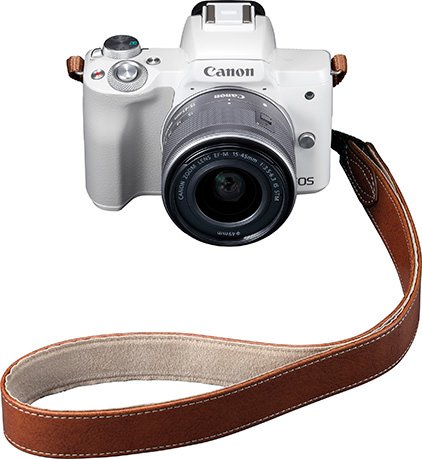 With Neckstrap EM-E2 in Light Brown.
---
Receive the latest update on photography news, tips and tricks.
Be part of the SNAPSHOT Community.
Sign Up Now!
---