Tips & Tutorials >>
All Tips & Tutorials
Canon Explains – Understanding Lightings through Food Photography
Learning how to manipulate lights can have tremendous impact on a photograph. While getting the right equipment is important, knowing how to use them is more. Photographer Olivia Sari-Goerlach explains why.
Reading through long articles can be challenging and sometimes confusing. That is why Canon introduces its first Canon Explains video that puts 'words into action'. Canon invites photographers on set to explain various camera functions and photography tips, revealing secrets to achieve the photo effects often seen on the work of the professionals.
In this episode, photographer Olivia Sari-Goerlach explains the importance of lighting and introduces two Canon speedlites that can make a huge difference in still photography. Using food as the subject, Olivia makes use of Speedlite 600EX-RT and 430 EX III-RT to create various lightings, shadows and brightness.
The Speedlite 600EX-RT features a new wireless multiple flash system, and uses radio wave communication to transmit up to five groups with a total of 15 individual Speedlites. The plus side of this model is its radio controlled system, which is not interrupted by physical obstacles. It is also one of the most durable and reliable Speedlites Canon has, with a redesigned hot shoe contact to ensure seamless connection. Besides that, its dust and water resistant qualities are made to endure trying conditions.
Olivia also talks about the new Speedlite 430EX III-RT, which is great for complex lighting environments. Compact and lightweight, yet undeniably powerful, it boasts the ability to enhance contrast, colour temperature and brightness to create a more natural-looking shot. The built-in, extendable Catchlight panel is used to soften lights for a natural look and better capture facial expressions.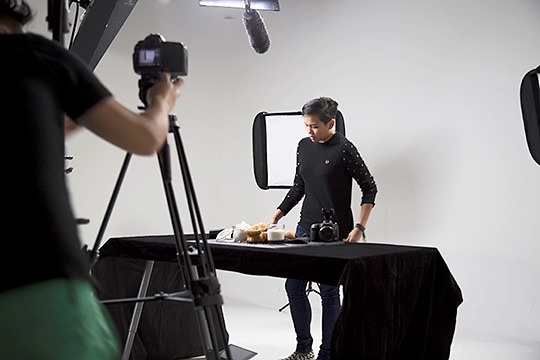 While Speedlites are important, one has to know how to use them effectively to produce and enhance a photo. Watch the video and let Olivia teach us a thing or two about the importance of lighting.
Watch Olivia's lighting tutorial video for food photography here:
Olivia Sari-Goerlach
Olivia Sari-Goerlach is a Photographer with a passion for capturing images, she specializes in Portraiture & Food photography along with some food styling. She started out her career in 2010 working for an established portraiture studio in Sydney where she fell in love with portraiture. Based in Singapore since 2011, she continues to practice her photography, taking on interesting projects and with a keen interest in collaborating with other creatives. She is currently the Canon Pixma ambassador for Singapore since 2014 highlighting her latest focus in food photography.