Products >>
All Products
EF-S10-22mm f/3.5-4.5 USM – Ultra Wide-Angle Zoom Lens
In this series of articles, we will go through one by one, the recommended lens for all APS-C users. With it as a guide, you will be able to start building your own lens system. In this article, we will learn more about the wide-angle zoom lens EF-S10-22mm f/3.5-4.5 USM. (Reported by: Ryosuke Takahashi)
Correct aberrations of wide-angle lenses
This wide-angle zoom lens covers an angle of view equivalent to about 16 to 35mm in the 35mm format. It is able to capture a large area within the frame lines and the exaggerated perspective of a wide-angle lens visually extends the image. Another benefit of this lens is that you can make use of the compelling perspective at a wide- angle focal length in your photographic expression. Due to the optical characteristics of a wide-angle zoom lens, light fall-off at the peripheral areas of the image and chromatic aberrations are likely to occur. However, with the [Lens aberration correction] feature available on the EOS 100D, aberrations can be corrected in the camera by using the lens data, which helps to further enhance the image quality. This is an advantage that only genuine Canon lenses can offer.
At a Glance!
Angle of view equivalent to about 16mm
Compelling perspective
10mm
FL: 10mm/ Program AE (1/250 sec., f/10)/ ISO 100/ WB: Auto
The exaggerated perspective of wide-angle lenses extends an image visually, allowing you to include more scene within a frame. With the EF-S10-22mm f/3.5-4.5 USM, I took this shot of the building together with a red bus passing by from a super-low angle.
10mm
FL: 10mm/ Program AE (1/250 sec., f/10)/ ISO 100/ WB: Auto
A wide-angle lens has a shorter focal length, which can make a close-up object appear larger than it is. With this effect in mind, I took a close-up shot of the binoculars on an observation deck against a wide background area. Although the actual size of the binoculars was not large, the unique perspective of the lens made it look as big as a cannon.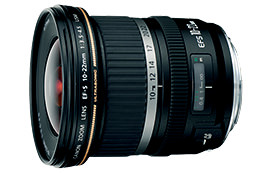 EF-S10-22mm f/3.5-4.5 USM
Lens construction: 13 elements 10 groups
Closest focusing distance: Approx. 0.24m
Max. magnification: Approx. 0.17x
Filter size:φ77mm
Size: Approx. φ83.5×89.8mm
Weight: Approx. 385g
Ryosuke Takahashi
Born in Aichi in 1960, Takahashi started his freelance career in 1987 after working with an advertising photo studio and a publishing house. Photographing for major magazines, he has travelled to many parts of the world from his bases in Japan and China. Takahashi is a member of the Japan Professional Photographers Society (JPS).

Digital Camera Magazine
A monthly magazine that believes that enjoyment of photography will increase the more one learns about camera functions. It delivers news on the latest cameras and features and regularly introduces various photography techniques.
Published by Impress Corporation