Products >>
All Products
EOS M10 Lesson 4: Smartphone Pairing Made Easy With Built-in Wi-Fi/NFC
The EOS M10 comes with built-in Wi-Fi/NFC that makes pairing with smartphones so much more convenient! Here's our guide on how to connect, as well as the cool things you can do with your phone linked to your camera. (Edited by: Etica)
Use Wi-Fi Function for on-the-spot image file transfer to your smartphone
After capturing your high quality images on the EOS M10, you can use the built-in Wi-Fi Function to wirelessly transfer your shots to a smartphone or tablet right away. Pairing your phone with the camera is also a breeze once you download the free Camera Connect app for mobile devices.

Because you can transfer the photos to your phone on the spot, you can share your inspirations, as they come to you, with your friends on social media.
How to link your smartphone
1. Install the free app Camera Connect, designed for Canon cameras, on your smartphone
Camera Connect (for iOS)
Camera Connect (for Android™ OS)
2-A: By using the Mobile Device Connect Button
Press the Mobile Device Connect Button (A) on the right panel of the camera.
If you are connecting for the first time, enter a nickname for the camera, then select smartphone as the connection destination for the Mobile Device Connect Button. You will see the SSID and password of the wireless access point that your phone will connect to. Connect to the access point wirelessly on your smartphone, and run the Camera Connect app to connect your camera.
The next time you connect your phone, remember to press the Mobile Device Connect Button before running Camera Connect.
2-B: By using NFC touchpoints
Simply tapping your smartphone's N-mark onto the camera's N-Mark (B) will establish a connection between the devices. Run the Camera Connect app on your phone (if it does not start up automatically). The first time you connect, on your camera, select your smartphone as the connection destination.
The next time, all you have to do is tap your phone's NFC tag on the camera's N-Mark.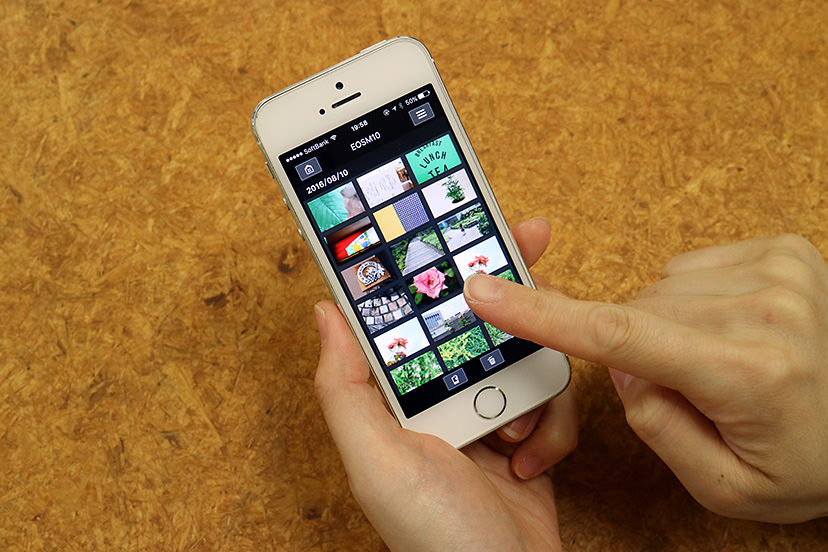 3. On Camera Connect, select the images you want to save to your smartphone, and tap the Save button to download them
Just like photos taken with your smartphone, you can share the transferred images on social media.
All you need to do next is snap some lovely photos to transfer to your smartphone
Capture important scenes you want to remember and share with the EOS M10. Once you pair your smartphone with the camera, you can share the images on social media on the spot. The image quality may just earn you lots of compliments and "Likes"!
EOS M10/ EF-M22mm f/2 STM/ Creative Assist/ Aspect ratio: 1:1
The whimsically-coloured inside of a doughnut, snapped at a café.
■How to Obtain Instagram-worthy Photos with Aspect Ratio 1:1
[Question 5] What should I do if the composition is lacking and doesn't seem right?
EOS M10/ EF-M15-45mm f/3.5-6.3 IS STM/ Creative Assist
Otters photographed at a marine park.
■How to use Creative Assist
EOS M10 Lesson 1: Controlling brightness and background blur to enhance your subject
EOS M10 Lesson 2: Controlling contrast and saturation to enhance your subject
EOS M10/ EF-M15-45mm f/3.5-6.3 IS STM/ Creative Assist
Beautiful illumination with bokeh circles.
■How to Photograph Bokeh Circles
[Lesson 5] Techniques that make use of "bokeh"
You can also use your smartphone as a remote control
Another unique feature of the EOS M10 is how you can control it from a distance once you use Camera Connect to link your smartphone and camera. Instead of going back to the camera, you can easily set aperture value (f-number), shutter speed, ISO speed and other specifications on your smartphone screen.
Here are some scenarios where this feature will come in handy!
Scenario 1: Selfies
You can adjust composition, brightness, etc. on your smartphone screen even as you snap away—great for getting that selfie shot to look just the way you want.
Scenario 2: Group photos
How many times have you seen this happen: The photographer carefully positions the camera on the tripod, sets the timer, and runs to get into frame…except that the shutter goes off before they get into position! Save the hassle, cut the risk of awkward-looking, less-than-glamorous shots and use your smartphone as a remote control to release the shutter after everyone has taken their position.
Scenario 3: Photographing animals
You can even photograph animals that shy from humans. Just place the camera at your desired location and control it from a distance. Your subject may even get curious about your camera, resulting in an adorable, one-of-a kind photo opportunity.
Receive the latest updates on photography news, tips and tricks by signing up with us!
Etica
The team behind Japanese camera magazine,"Camera Biyori" as well as numerous other books. Also organizes events and runs the "Tanoshii Camera School", a photography school.