Tips & Tutorials >>
All Tips & Tutorials
In Focus: M200- Part4
Great Videos Made Simple With the EOS M200
Do you enjoy creating vlogs? Or are you thinking about starting one? Then the new Canon EOS M200 is the camera for you. As a content creator, you know the importance of having a high-quality camera that can elevate your videos. No matter if you're shooting videos of your exciting travels around the world, nights out with friends, or just filming yourself as you share your wisdom, the new Canon EOS M200 is your ultimate companion. Easy to use, and packed with powerful video recording features, it is sure to make your next video more beautiful and fun to watch.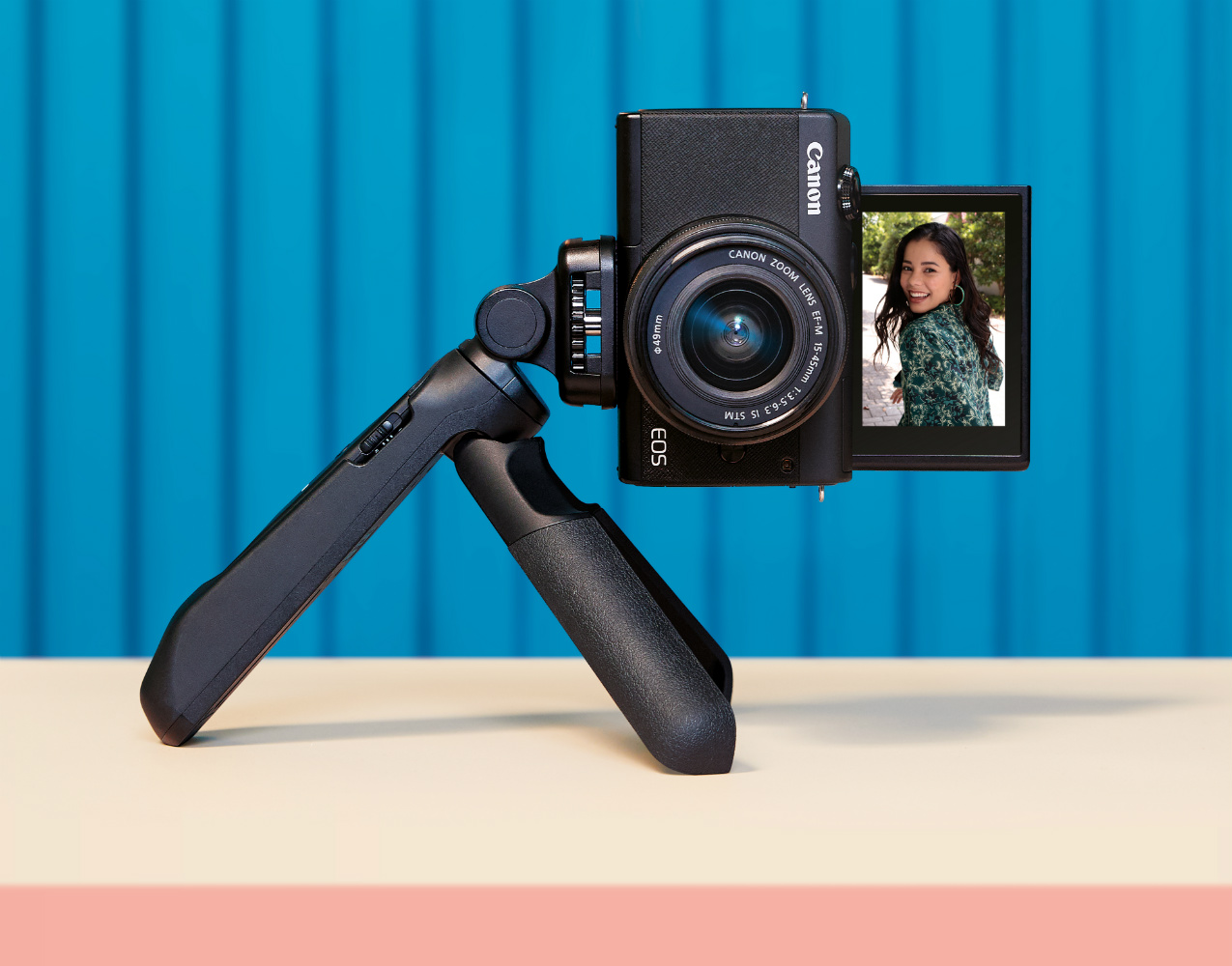 The EOS M200 can be used with the Tripod Grip HG100-TBR for more comfortable shooting.
Better video quality horizontally and vertically
Before you start shooting your videos, you should make sure that you have the right equipment to bring your vision to life. The EOS M200 is a new mirrorless camera from Canon offering a new world of opportunities compared to a typical smartphone camera. It boasts an impressive 24.1-megapixel APS-C sized CMOS sensor and a DIGIC 8 image processor, which is technical language for crisper and higher-quality videos.
You also know that in this day and age when we consume so much social content on our mobiles, it's important to be able to record in vertical format. With this camera, it's as easy as just flipping the camera vertically and shoot. Your video will playback in the correct orientation when you export it to your smartphone. There is no need for any conversion or editing software to rotate the video, which saves you plenty of time and energy. The LCD touchscreen display can also be tilted 180 degrees for more convenient selfie-shooting.
The EOS M200 is also compatible with the Canon Tripod Grip HG100-TBR, which offers more stability for easier handheld filming and also more flexibility for filming at high or low angles. By using a Bluetooth-enabled wireless remote control, such as the BR-E1 that comes with the tripod grip, you can control the camera remotely from a distance, such as when starting or stopping a movie recording when the camera is mounted on a tripod away from your hands.
See the world in 4K
Now that we have the equipment figured out, it's time to start filming. The first great function we should talk about is the Movie Self-timer. This feature gives you enough time to get ready for the action and saves you the trouble of editing out those awkward moments right after you press the record-button and remove your hand.
You will also be able to film yourself and everything you see in stunning detail as the camera supports 4K videos. This adds extra clarity and rich details, which gives you more creative freedom when editing the videos afterwards. With 4K you can also capture stunning time-lapse movies, for example the Milky Way.
Fully autofocused
Furthermore, the powerful Dual Pixel CMOS AF is like having a reliable director living inside your camera. This function helps you autofocus on moving subjects with absolute precision during everyday scenes, such as when you record a friend cycling, a train passing by, or someone running. Capture those fleeting moments in crystal clear resolution and switch the focus quickly as the foreground and background changes. Meanwhile, the Eye Detection AF function makes focusing on the face and eyes easier so that your shots are always sharp and in focus.
So, with that in mind, the only thing you have to do is find your location, practise what to say, and start shooting!
Upload with ease and press play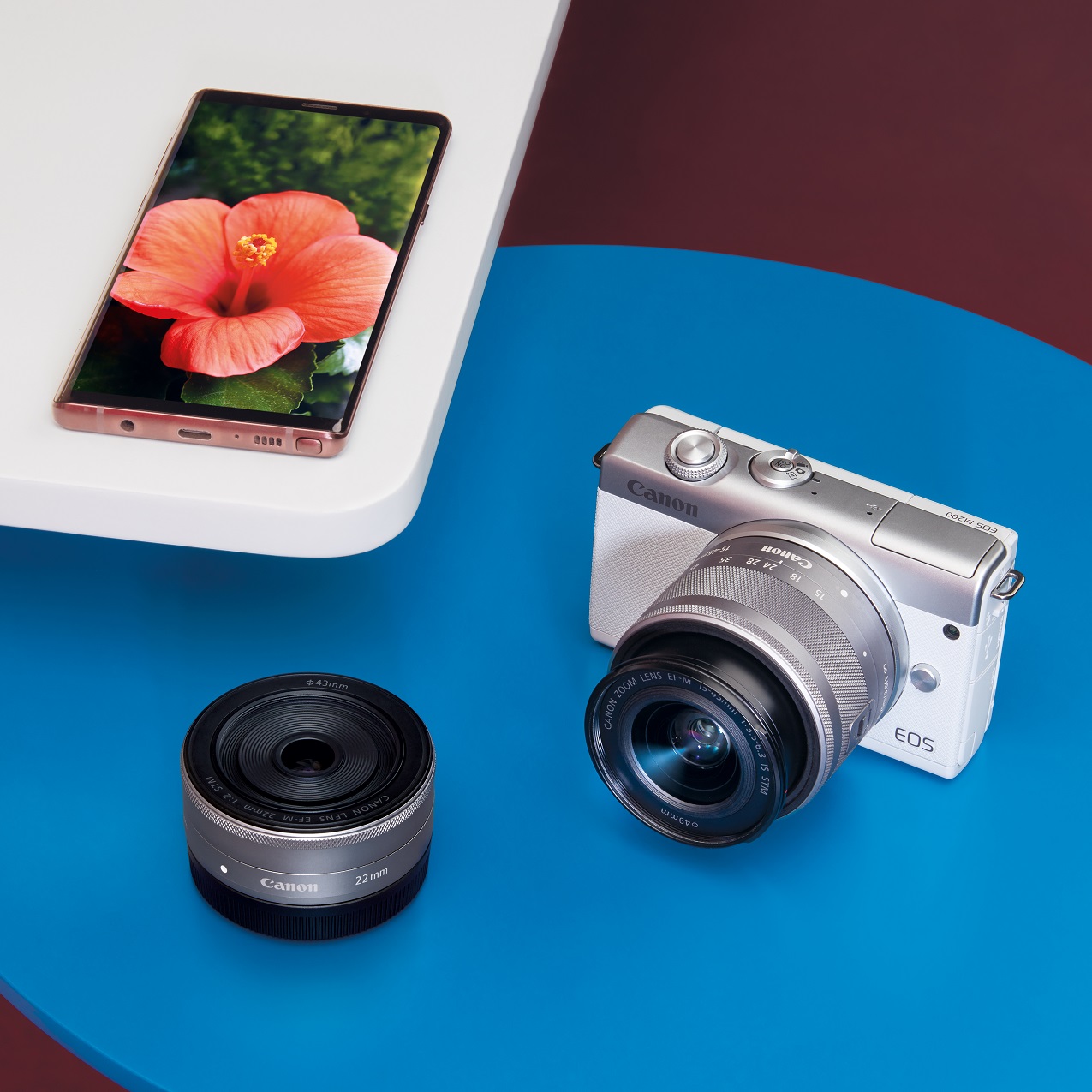 So now when you have shot your content, you shouldn't let your followers wait too long to see it. Even if you're out on-the-go, it's very easy to upload your videos to your vlog or Instagram feed with the built-in Wi-Fi. Just follow the on-camera instructions to pair the camera with the Canon Camera Connect App on your smart device and start transferring. And with a Bluetooth connection, you can also playback on your smart device, even when the camera itself is still inside your bag.
So, roll the camera and start sharing all your new and better videos with the world!
Read more about the EOS M200:
EOS M200: A Smarter and Easier-To-Use Camera for You
EOS M200 : Your Style and Social Media Companion