Products >>
All Products
[Impressions] EOS 90D: Taking the APS-C DSLR to New Heights
High speed, high image resolution. The EOS 90D combines the best of both worlds in an APS-C sensor DSLR body, succeeding both the EOS 80D and the EOS 7D Mark II, which was much beloved as an action camera for capturing sports, trains, wild birds and other fast-subjects. Aviation photographer Charlie Furusho used the camera for a month, and tells us about his experience. (Reported by Charlie Furusho, Digital Camera Magazine)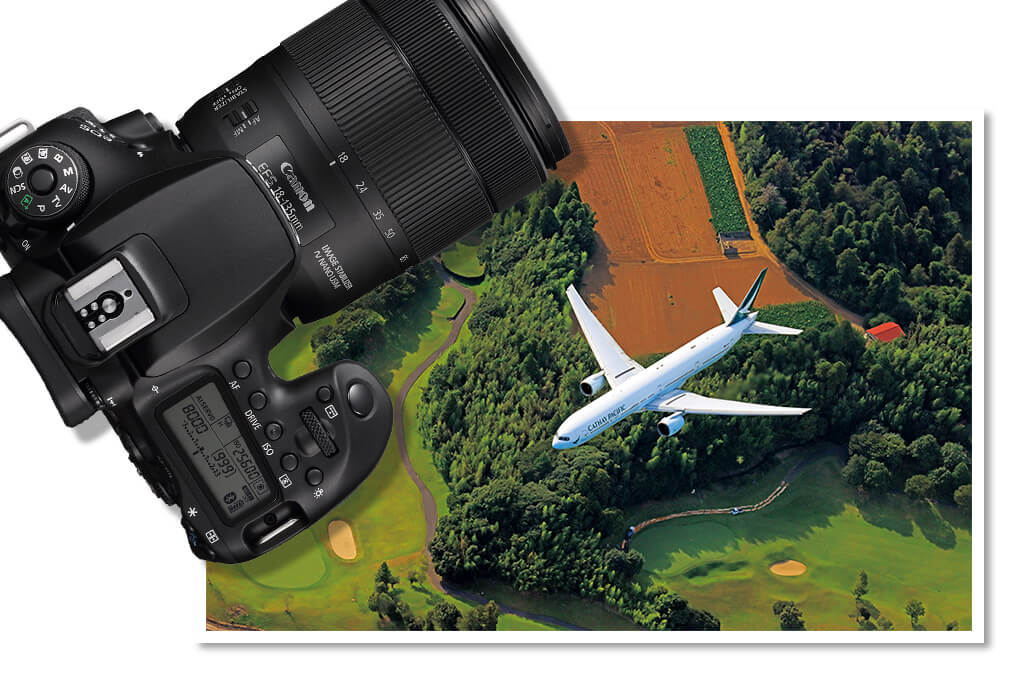 1. Introduction: APS-C cameras and aviation photography
2. 7 key specifications to know
3. Field test impressions
4. In summary
High speed, high resolution: Leveraging the advantages of a DSLR camera
APS-C sensors: Providing that extra reach necessary for aviation photography
APS-C cameras are extremely essential to aviation photography, as the 1.6x crop gives us extra reach on the telephoto lenses that we use so frequently. This also allows us to use wider apertures at longer focal lengths. For example, using the EF70-200mm f/2.8L IS III USM, we would be able to obtain a full-frame equivalent of 320mm and use the maximum aperture of f/2.8.
I loved using the EOS 7D Mark II, which was very popular as Canon's fast, action-geared APS-C DSLR camera model. However, it has been over 5 years since it was first released, and I was looking forward to an equipment update. The EOS 90D may be positioned as the successor to the EOS 80D because of its build, but it certainly has the potential to succeed the EOS 7D Mark II in terms of its high-speed capabilities.

EOS 90D with the EF100-400mm f/4.5-5.6L IS II USM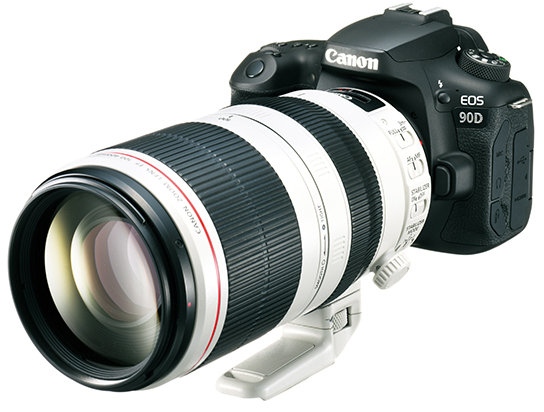 7 key specifications to know

1. 32.5-megapixel resolution with DIGIC 8
Crop your images closer while retaining image quality
The EOS 90D boasts approximately 32.5 megapixels on its APS-C CMOS sensor, enough to retain the same resolution as the 24.2-megapixel EOS 80D after cropping. This is supported by the new DIGIC 8 image processor, which also supports an enhanced Dual Pixel CMOS AF system (see point 2 below).
2. Live View Shooting with Dual Pixel CMOS AF
Compose more freely than before
The Dual Pixel CMOS AF system has evolved since the EOS 80D and EOS 7D Mark II were released. During Live View shooting with a compatible lens, AF is now possible over a larger area that covers approximately 88% horizontally by 100% vertically of the image frame. This lets you place subjects almost anywhere you want without having to worry if there is an AF point nearby to keep it in focus.
3. 45 all-cross-type AF points during OVF shooting
Capture any subject
For optical viewfinder (OVF) shooting, the EOS 90D has up to 45 all-cross-type AF points, just like the EOS 80D. This is less than the 65 points on the EOS 7D Mark II. However, compared to the EOS 7D Mark II, as many as 27 out of the 45 points on the EOS 90D are capable of focusing at f/8 (shown in red), allowing easy focusing even when shooting with an extender.
EOS 90D

EOS 7D Mark II

4. Single-point Spot AF
Precise pinpoint focusing
The Single-point Spot AF method uses an extremely small AF frame. It is convenient for focusing on small subjects, and for precise focusing in scenes such as when you want focus on an element located at the back while avoiding those in front.
On the EOS 7D Mark II, this method was available only during OVF shooting, but the EOS 90D has it for both OVF and Live View shooting (see image).
5. Up to 10 fps high-speed continuous shooting
Catch picture-perfect moments in a split second
With the ability to burst shoot at up to 10 fps, I could capture picture-perfect scenes of aircraft without missing a moment.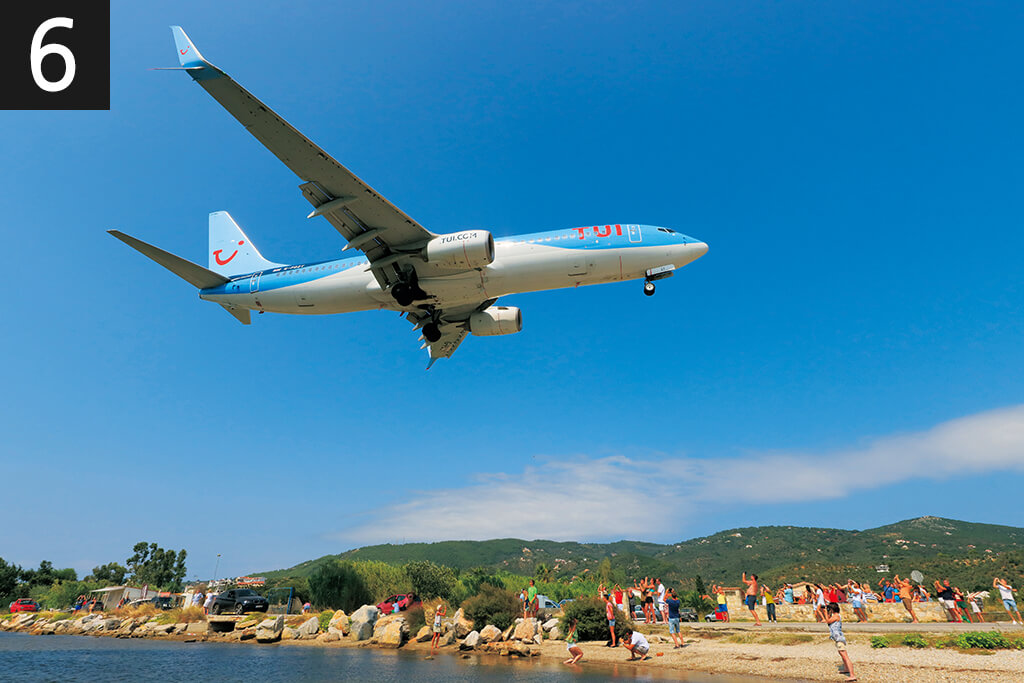 EOS 90D/ EF11-24mm f/4L USM/ FL: 11mm (18mm equivalent)/ Shutter-priority AE (f/9, 1/1,600 sec, EV-0.3)/ ISO 400/ WB: Auto
6. 1/16,000 sec electronic shutter speed
Capture things you never could before
In bright backlight, the EOS 90D allows you to shoot at previously-impossible settings such as f/3.5 at 1/16,000 of a second. Not only does this let you capture things that you couldn't before (such as fighter jets), it also enables new forms of photographic expression that involve using a wide aperture even in broad daylight.
7. Has the same joystick controller as the EOS 7D Mark II
2 multi-controllers for easier AF control
The EOS 7D Mark II had a joystick multi-controller, which was extremely useful for controlling the AF points while looking through the OVF. This is also included on the EOS 90D, in addition to the multi-controller wheel on the back of the camera.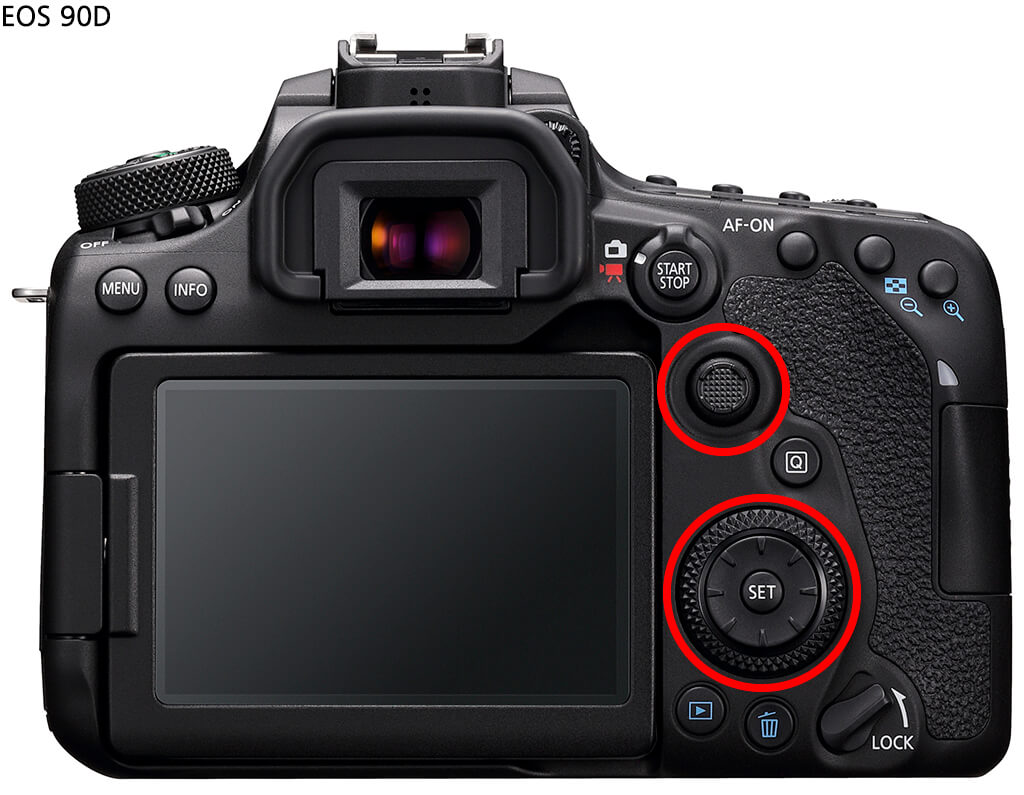 The rear button layout on the EOS 90D looks similar to that on the EOS 80D, with the addition of the joystick controller, well-placed in an easily accessible location. The Quick Control dial is smaller than that on the EOS 7D Mark II but the same size as the one on the EOS 80D.
Field test impressions: Easy, fast operations that helped me to capture crucial moments

Powerful low-light capability
For almost 1 month, I used the EOS 90D as I travelled between Japan and overseas. One thing that I have to say about it is that its low-light performance is among the highest among all the APS-C cameras that I have tried. I was amazed by how I didn't have to worry about noise, even when shooting under extremely dim conditions such as in the countryside or airports at night. ISO 12,800 is no issue at all. In fact, if your images don't have to be too large, even ISO 25,600 is fine for daily use.

AF was perfectly precise, even when I was shooting from an aircraft
I put the camera to the test by attempting aerial photography with it. Despite the shaky conditions in the air, focusing precision was impeccable. Once, from the open door of an aircraft that was travelling at 200km per hour, I aimed a passenger plane that was taking off at a speed of 300km per hour. The AF tracked the passenger plane relentlessly. At that moment, I truly felt the power of the 45 all-cross-type AF point system.

Dual Pixel CMOS AF was such a joy to use, I shot in Live View more than before
In Live View shooting, Dual Pixel CMOS AF performed just as impressively. I used the touchscreen to focus on Mount Fuji through the aircraft window, and the EOS 90D kept focus on it even when I changed the camera orientation to shoot vertically. I didn't have to refocus at all.
I don't usually shoot in Live View, but the improvements to Dual Pixel CMOS AF were a joy to experience. I was encouraged to use it more, and had a lot of fun trying out new ways of shooting, such as low-angle shots with the Vari-angle LCD monitor.

A significant increase in battery life
It was a 6 day, 4 night trip to Greece where I experienced for myself the EOS 90D's significant increase in battery life. The official specifications state that EOS 90D can take up to 1,860 shots with the OVF, which is almost twice the approximately 960 shots possible on the EOS 80D. My experience proved that the stated shot count was quite accurate.
In summary
Inheriting the strengths of the EOS 80D with those of the EOS 7D line makes the EOS 90D powerful both in terms of image resolution and speed. Coupled with the powerful image processor, enhanced AF performance and super-fast 1/16,000-second maximum electronic shutter speed, I daresay that it is as close to perfect as an APS-C DSLR can be.
EOS 90D/ EF300mm f/2.8L IS II USM + Extender EF2xIII/ FL: 600mm (960mm equivalent)/ Shutter-priority AE (f/5.6, 1/1,000 sec, EV±0)/ ISO 800/ WB: 8,300K
EOS 90D/ EF100-400mm f/4.5-5.6L IS II USM/ FL: 286mm (458mm equivalent)/ Shutter-priority AE (f/7.1, 1/2,500 sec, EV-0.7)/ ISO 800/ WB: Auto
To learn more about the EOS 90D, check out:
EOS 90D: Capture Real-time Action with 32.5MP of Detail
Focus x Speed: EOS 90D
For more tips on aviation and aerial photography, see:
How I Nailed the Shot (3): Tips for Stunning Images of Airplane Smoke Trails
The Allure of Aerial Photography: Capturing Unpredictable Landscapes Under Challenging Conditions
Shooting from a Bird's Eye View

---
Receive the latest update on photography news, tips and tricks.
Be part of the SNAPSHOT Community.
Sign Up Now!
---
About the Author
A monthly magazine that believes that enjoyment of photography will increase the more one learns about camera functions. It delivers news on the latest cameras and features and regularly introduces various photography techniques.
Published by Impress Corporation
Born in 1972 in Tokyo, Furusho is an aviation photojournalist who holds a pilot's licence. He became a freelance photographer after working for domestic and international airlines. Besides being involved in producing advertisements, publications and calendars for airlines and travel agencies, he also teaches aviation photography and gives talks. Furusho is a lecturer for Canon Japan's EOS Gakuen.