Products >>
All Products
Interview with Developers: EOS-1D X Mark II (Part 3) – Dual Pixel CMOS AF, 4K Movie Shooting
The EOS-1D X Mark II is the first full-frame EOS camera to be equipped with Dual Pixel CMOS AF. Another spec that users find appealing is the 4K/60p movie shooting feature. Here in Part 3, the developers tell us their reasons for introducing these features on the EOS-1D X Mark II. (Reported by: Junichi Date)
(From left to right)
Mitsuaki Hattori (Image Communication Products Operations)/ Takeshi Sakaguchi (Image Communication Products Operations)/ Tomoya Masamura (ICP Division 2, Image Communication Products Operations)/ Masato Seita (Image Communication Products Operations)/ Teruyuki Okado (ICP Development Center 2, Image Communication Products Operations)
Reason for employing Dual Pixel CMOS AF
The EOS-1D X Mark II is the first full-frame EOS camera to employ Dual Pixel CMOS AF. Did the pixel structure of Dual Pixel CMOS AF affect the image quality and highest ISO speed in any way?
Okado: Indeed, the pixels are separated to enable image plane phase-difference detection AF, but adopting this structure does not lead to any deterioration in the S/N ratio.
- Was it more difficult to achieve Dual Pixel CMOS AF on a full-frame camera compared to an APS-C size one?
Okado: Yes. It was quite a challenge to manufacture a camera with a large full-frame sensor while maintaining a uniform level of pixel performance of the dual pixel structure throughout the entire image sensor area.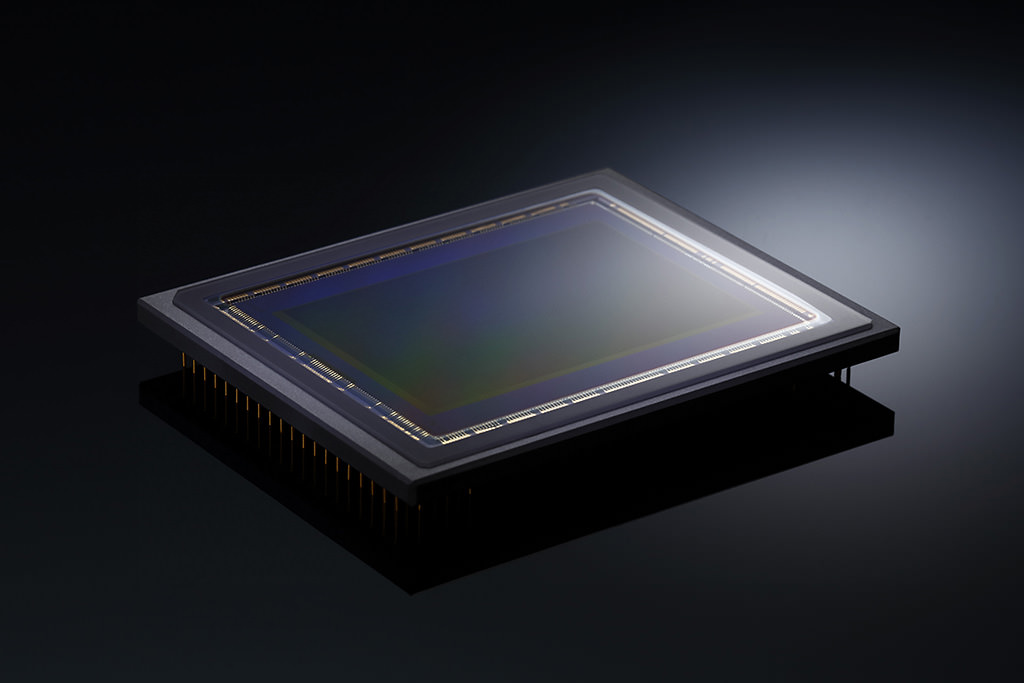 The 20.2-megapixel CMOS sensor on the EOS-1D X Mark II. This is the first time a Dual Pixel CMOS AF system that supports image plane phase-difference detection AF is used on a full-frame EOS camera.
Click here to find out more about Dual Pixel CMOS AF
- In the first place, what made you decide to introduce Dual Pixel CMOS AF on a flagship model that excels in high-speed continuous shooting?
Masamura: More and more professional photographers are beginning to shoot movies in addition to still images. In other words, whether AF can also be used for movie shooting is an important factor when we consider the user-friendliness of the camera.
When shooting a movie using the EOS-1D X Mark II, what we have in mind is a scenario where both stills and movies are captured by the photographer working alone, as opposed to a big crew such as that often involved in the filming of a movie or television drama.
Without the presence of a focus puller, autofocusing would be extremely useful too when shooting a movie using a camera. We therefore decided to employ Dual Pixel CMOS AF in order to achieve autofocusing in movies with a high level of precision.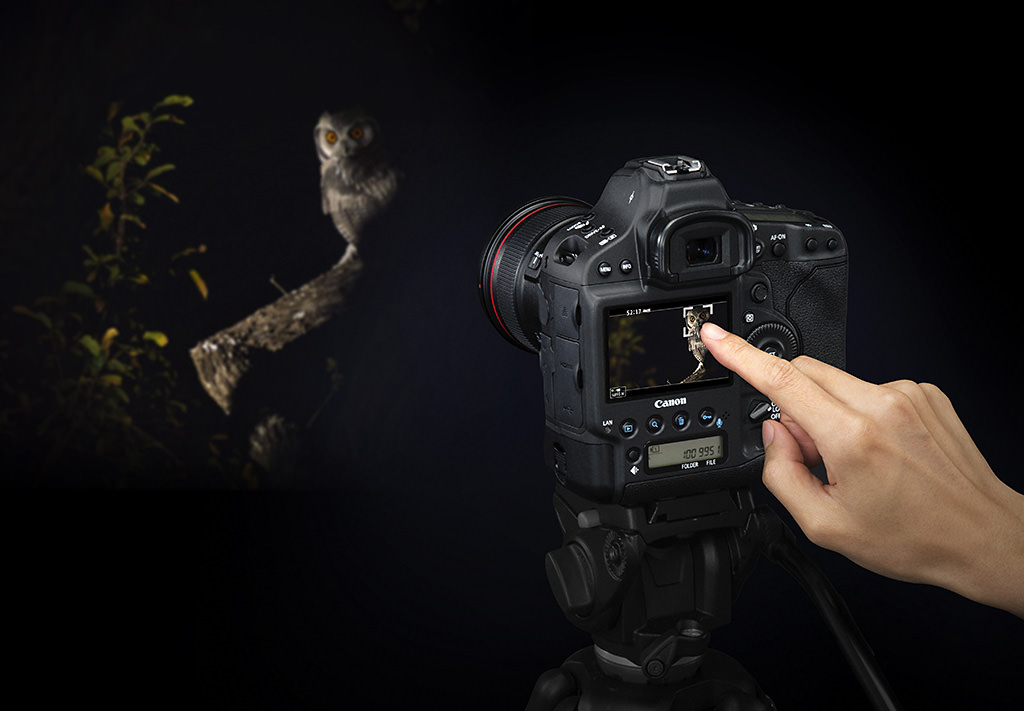 EOS-1D X Mark II is the first full-frame EOS camera to be equipped with Dual Pixel CMOS AF. During Live View shooting, high-speed and smooth AF can be carried out via touch-screen operation.
- Speaking of Dual Pixel CMOS AF, the new EOS 80D that was released earlier this spring now supports Servo AF up to a maximum speed of approximately 5 fps during Live View AF shooting of still images. Since these two cameras were developed at different timings, I suppose it's inevitable that this feature is not included on the EOS-1D X Mark II. Is there a possibility that Canon would release a firmware update in future to enable Servo AF during Live View shooting on the EOS-1D X Mark II?
Sakaguchi: As the Servo AF in this case will be installed on an EOS-1 series camera, we would need to deliver the same level of precision as that of Servo AF during viewfinder shooting. This is in order to enable smooth transition between viewfinder shooting and Live View shooting.
The main reason why the Dual Pixel CMOS AF on the EOS-1D X Mark II does not support Servo AF during still image shooting is because we were unable to achieve this level yet. Be it the frame rate or capability to track moving objects, the level of performance and accuracy that is expected from the EOS-1D X Mark II is very much higher than that from the EOS 80D.
- I see. So you did not want to include features that are half-baked. By the way, for the Live View AF of the EOS 80D, I am very curious about the timing at which Servo AF performs focusing during high-speed continuous shooting.
Sakaguchi: The camera carries out focus prediction control of moving objects by inserting Live View images between continuous shots for focusing. To enhance tracking accuracy, the latest Live View images are inserted.
- While the EOS-1D X came with two CF card slots, the EOS-1D X Mark II offers two slots that support CFast 2.0 and CF cards respectively. Although CFast 2.0 memory cards resemble conventional CF cards in shape and size, they are not compatible with each another. Wouldn't this cause confusion? People could get the wrong card ready, or find themselves momentarily hesitating because they're unsure about which slot to insert the card into...
Masamura: First of all, the reason for introducing CFast is to enable processing at a higher speed. We received feedback from some users saying that the maximum burst during continuous shooting in the RAW or RAW+JPEG mode is rather low even on the EOS-1D X. The bottleneck lies in the speed of writing to the memory card, but CF cards are no longer able to support speeds higher than what they can handle now.
So, by employing CFast 2.0, a next-generation media that supports high-speed recording, we were able to increase the maximum burst substantially. When you carry out high-speed continuous shooting at approximately 14 fps and record in RAW format, the maximum burst is about 73 shots when a UDMA7-compatible CF card is used. With a CFast 2.0 card, we can increase the maximum burst to as many as approximately 170 shots.
Also, CFast 2.0 is indispensable for the camera to support 4K/60p movies. If we were to use a CF card, we would only be able to record 4K/60p movies with a duration of not longer than 10 seconds.
The second card slot now supports CFast 2.0 cards, a media for high-speed recording. This has helped to enhance the maximum burst during continuous still image shooting, and also enables 4K movie shooting.
Among the various next-generation high-speed recording media, the reason why we chose the CFast card is because it has already been employed on Canon's products such as the XC10 professional digital camcorder.
Seita: We have implemented measures to prevent users from inserting the cards into the wrong slot or in the incorrect direction, so this would not be a cause for worry.
4K movies – a high-spec feature for DSLR cameras
- Currently, Canon offers the Cinema EOS System, a series that specialises in movie shooting. Frankly speaking, I wasn't expecting Canon to introduce a movie shooting feature as distinctive as 4K/60p on the EOS series, which is used mainly for capturing still photos. What was the reason for incorporating such a high-spec movie shooting feature?
Masamura: Users who wish to shoot movies with a DSLR camera place quite a lot of importance on image quality, and want to produce high-definition and smooth movies. Actually, I think that's essentially what users of DSLRs will wish for.
EOS cameras in the past were able to support up to the Full HD quality, but in our quest to find out just how high a level of movie shooting performance we can deliver in our DSLRs, we managed to achieve not just 4K resolution, but also a high recording frame rate of 60p. This is an unsurpassed spec among all DSLR cameras which I believe our users would find very appealing.
- I thought the intention of placing importance on the 60p recording frame rate was to allow users to capture the decisive moment more easily by extracting still image frames from 4K movies.
Masamura: We have in mind two ways of utilising the 4K Movie recording feature: To record movies, and to extract still frames from movies. With the introduction of Dual Pixel CMOS AF, AF can also be employed during movie shooting, so another feature that characterises this model is that it is easier to obtain images that are sharp in focus when you extract frames from movies.
- The images that users expect to produce are different between stills and movies. Am I right that the same Picture Style effects can be applied to both still images and movies, not just in the case of the EOS-1D X Mark II but to EOS Movies in general?
Hattori: Basically, the camera is designed to produce stills and movies in the same way. Indeed, an alternative is to perform recording in the video range of 16 to 235. However, while it is easy to compress videos recorded in a wider range at a later timing, widening a narrow range would adversely affect the image quality.
This is why for EOS Movies, both still images and movies are recorded in the full range from 0 to 255. However, this is compressed to the video range during HDMI output, so there is no worry that blowout or black crush might occur when the camera is connected to an external monitor.
Besides, if the images for stills and movies are produced in a different way, those who are used to viewing images produced by video cameras might find the contrast of EOS Movies a little too high. On the other hand, many users like the idea of recording movies with the distinctive image style that is characteristic of still images. This was why we adopted a design to produce both stills and movies in the same way for our EOS Movies.
Also, many are still unaware of this, but you can download the "Video Camera X Series Look" Picture Style effect for free from our website. By importing this Picture Style file into your camera and selecting it when shooting a movie, you can obtain a gradation that is close to that of video camera images.
The Picture Style special site. You can download the Picture Style files here.
- I didn't know about that. If that's the case, then it would be all the more ideal if we could store the Picture Style settings separately for still images and movies. And if I could ask for more, since the camera is already equipped with such a distinctive movie shooting feature, it would also be good to support shooting in Log, which is a recent trend in movie shooting.
Masamura: The reason why we did not include Log recording is because the EOS-1D X Mark II is not the successor of the EOS-1D C, which is a Cinema EOS model. Instead, it is positioned as the successor of the EOS-1D X and therefore inherits the EOS Movies design concept, which enables shooting of movies in the same way still images are produced. For Log recording, which basically requires grading, we recommend the use of professional equipment such as Canon's Cinema EOS System.
---
---
Junichi Date
Born in Hiroshima in 1962. Graduated from the Department of Image Science, Faculty of Engineering, Chiba University. Besides his career as a photographer such as for magazines, Date is also involved actively in writing using his expertise.

Digital Camera Magazine
A monthly magazine that believes that enjoyment of photography will increase the more one learns about camera functions. It delivers news on the latest cameras and features and regularly introduces various photography techniques.
Published by Impress Corporation