In street photography, the photographer captures shots of what he or she finds beautiful or new in day-to-day scenes or while on a trip. With Canon's EOS DSLRs, you can produce more impressive street shots using the wide variety of camera settings available. Here, we will feature some camera settings and introduce tips from professional photographers that would entice you to go out there and take more shots.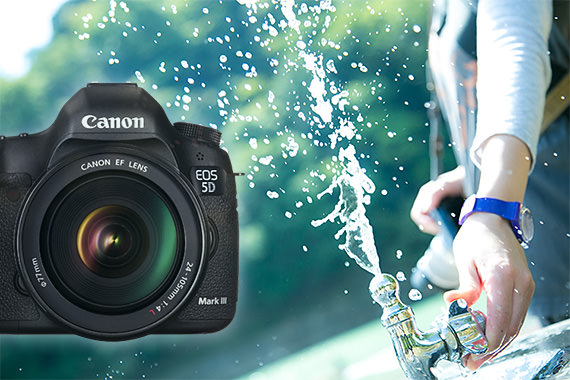 Freezing the Dynamic Motion of Splashing Water
EOS 5D Mark III/ EF24-105mm f/4L IS USM/ FL: 58mm/ Shutter-priority AE (f/4, 1/1,000 sec., EV+1.7)/ ISO 400/ WB: 4,200K
To capture the dynamic motion of water splashing out of a tap in the park, I selected a fast shutter speed for the shot. The key point here is to choose a shutter speed that is not too fast.
(Photo and text: Kazuo Nakahara)
Adjust the shutter speed to freeze the motion of water droplets
To freeze the motion of water splashes from the tap, a shutter speed of 1/1000 second is recommended. Doing so allows the water splashes to appear slightly blurry, thereby adding a dynamic touch to the photo. If you want to freeze the motion entirely, use a shutter speed of 1/2000 second or faster.
Compensate the exposure for a cool, refreshing effect
To convey the cool, refreshing feel of the splashing water, I set exposure compensation to EV+1.7. I tried to bring out the water droplets by choosing a dark background, but the entire image turned out too dark as a result, so I brightened it by adjusting the exposure.
Capturing Street Shots of Moving People
EOS 5D Mark II/ EF24-105mm f/4L IS USM/ FL: 35mm/ Shutter-priority AE (f/6.3, 1/8 sec., EV+2.0)/ ISO 125/ WB: 4,900K
I used a slow shutter speed to blur the movement of passers-by on the street. Here, I added a more dynamic touch to the moving people by creating a contrast with the stationary shutter door in the background.
(Photo and text: Kazuo Nakahara)
Select a shutter speed that blurs the motion of the passers-by
In general, a slow shutter speed of about 1/10 second is appropriate if you want to blur the motion of moving people. Select the Shutter-priority AE mode so that you can keep the shutter speed setting constant.
Produce an image that brings out the moving subject
To create a dynamic effect in your photos, what you can do is to compose a shot by contrasting the moving subject with a stationary object. Here, I set the focus on the shutter door in the background and waited for someone to pass by before I took a shot.
Capturing a Natural Shot of Children
EOS 5D Mark III/ EF70-200mm f/2.8L IS II USM/ FL: 145mm/ Aperture-priority AE (f/9, 1/400 sec., EV+1.0)/ ISO 400/ WB: Auto
Here, I wanted to capture a clear shot of a child who was running around energetically on the grass. I chose to photograph from a distant location to create a natural and cheerful atmosphere that conveys the lively expression of the subject.
(Photo and text: Maiko Fukui)
Choose an appropriate focal length to bring out the natural expressions of the subject
To capture the natural expressions of the child, I chose a telephoto lens and set the focal length to 145mm to photograph from a distance which prevents the subject from being overly conscious of the camera. I took this shot quietly from a distance while she was playing with her parents.
Select an f-number that captures the subject clearly
I set the aperture to f/9 so that I could capture a clear shot of the child. Since I am using a telephoto lens, a background blur effect is created at f/9, which allows the subject to stand out. Be sure that the shutter speed does not become too slow.
Kazuo Nakahara
Born in Hokkaido in 1982, Nakahara turned to photography after working at a chemical manufacturing company. He majored in photography at the Vantan Design Institute and is a lecturer for photography workshops and seminars, in addition to working in commercial photography. He is also a representative of the photography information website studio9.
Maiko Fukui
Born in 1983 in Osaka. Photographer. Actively involved in magazine and advertising photography, book writing, photography workshops and so on.

Digital Camera Magazine
A monthly magazine that believes that enjoyment of photography will increase the more one learns about camera functions. It delivers news on the latest cameras and features and regularly introduces various photography techniques.
Published by Impress Corporation