A flash is not only useful for night and indoor photography. In fact its effect can also be clearly demonstrated outdoors, and even in macro photography. In this article, I will explain the different methods of using a flash that are employed by professionals during macro photography. (Report by: Masayuki Kato)
Making backgrounds bright that have a tendency to appear dark
For someone like me who often shoots outdoors in natural environments, a flash is indispensable as an artificial light source. Besides using a flash with a small guide number when taking pictures of small plants and animals, I have also ever used 5 to 6 flash units when shooting at night to make the scene look like it was shot in the day. The slave function is crucial for such occasions. Additionally, if your digital camera is of a more recent model, it's relatively easier to take beautiful shots without the background turning out dark despite your use of the flash. Generally speaking, flash is rarely used in macro photography, but I would definitely recommend using it.
EOS 5D Mark II/ MP-E65mm f/2.8 1-5x Macro Photo/ Aperture-priority AE mode (f/2.8, 1/10 sec, EV+0.3)/ ISO 400/ WB: Auto *Flash used: Macro Twin Lite MT-24EX (EV-0.3)/ Top(A)-Bottom(B) Flash Ratio : 1:2 (A:B)
There was a water droplet left on a single dandelion fluff, so I used a MP-E65mm f/2.8 1-5x Macro Photo to take the shot at 5 times magnification. By increasing the magnification, I was able to capture a never-before-seen world. When you compare this to the example taken below without a flash, there is a clear effect on the brightness of the background.
Description of set-up
The magnification needs to be increased substantially when shooting the single fluff, which might cause the background to end up dark. Flash head A of the Macro Twin Lite is held by hand from above so that the light is not cast directly onto the fluff, while flash head B is set up to shine from below on a tripod with the light turned towards the background.
Without any flash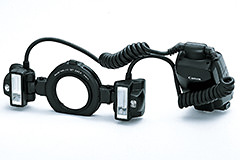 Flash used in the example
Macro Twin Lite MT-24EX
Maximum Guide Number: 24 for both flash heads, Single flash head 26 (ISO 100 per m)/ Main power source: 4 AA batteries/ Dimensions: Control unit 74×125.9×97.4mm, Flash unit+ mount ring 235×90.4×49mm/ Weight: Approx. 585g (excluding batteries)
The Macro Twin Lite MT-24EX lets you take pictures with a natural shadow cast on the subject by allowing you to change the position, angle and intensity of the individual flash units on the left and right.
Points for Selecting and Using a Flash
POINT 1
Changing the left:right flash ratio allows you to make fine adjustments to the shadow.
POINT 2
A smaller guide number is suitable for macro photography.
POINT 3
Sychronise multiple flash units with the slave function.
Masayuki Kato
Born in Kanagawa Prefecture in 1952. Taking pictures of mainly Japanese landscapes and animals, he continues to be active in nature photography both overseas and in Japan. His works have been used in serial publications such as the Mainichi Shimbun, Nihon Keizai Shimbun and Kanagawa Shimbun. He also provides technical coaching services through seminars on digital cameras throughout Japan. His notable works include the "Hayashi no Ichinen" (published by Froebel-kan) among others.

Digital Camera Magazine
A monthly magazine that believes that enjoyment of photography will increase the more one learns about camera functions. It delivers news on the latest cameras and features and regularly introduces various photography techniques.
Published by Impress Corporation