Tips & Tutorials >>
All Tips & Tutorials
Photographing the Everyday: Colours in a Minimalist Summer Day Scene
The beauty of photography is that it doesn't always have to commemorate special moments or occasions. With some creative vision, supported by the appropriate techniques, you can make even simple, everyday scenes express a mood or memory. Here, Taishi Arashida deconstructs how he used colour and composition to create this minimalist yet expressive picture of an idyllic summer afternoon. (Reported by: Taishi Arashida, Digital Camera Magazine)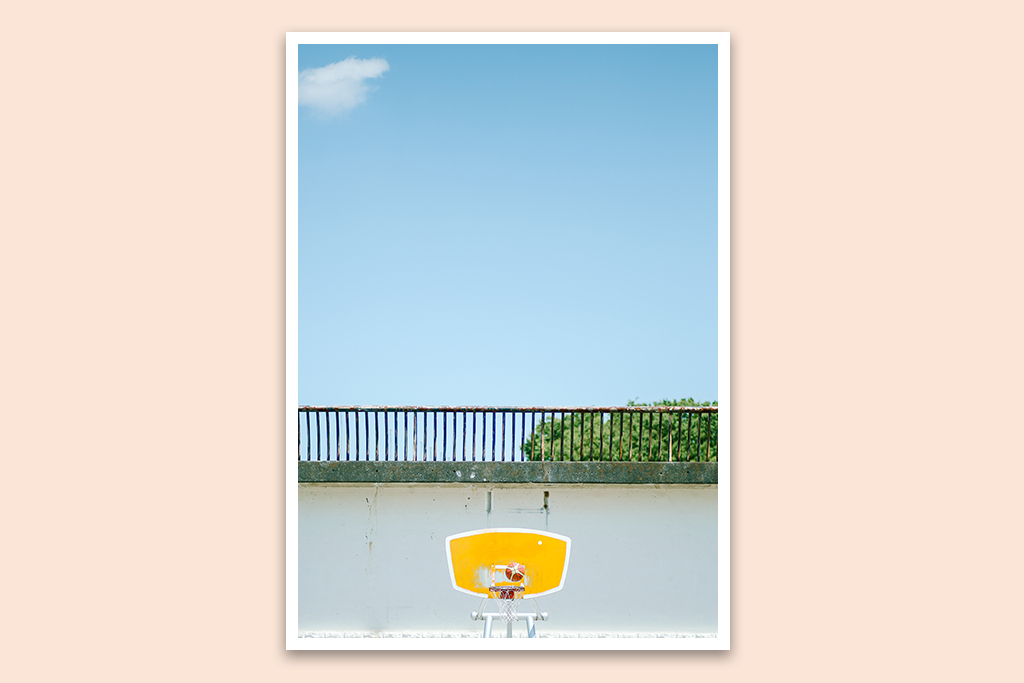 EOS 5D Mark III/ EF85mm f/1.8 USM/ Aperture-priority AE (f/1.8, 1/8,000 sec)/ ISO 100/ WB: Auto
EOS 5D Mark III/ EF85mm f/1.8 USM/ Aperture-priority AE (f/1.8, 1/8,000 sec)/ ISO 100/ WB: Auto
The vision behind the shot
When I conceptualised this, I wanted to create an image that would not clash with interior decors when hung on a wall. Ideally, it would be like a window—the kind that you'd find yourself staring out of.
Achieving the intended results requires a minimalistic composition with lots of white space. However, it's easy for such images to end up looking bare and lacking instead. Therefore, I decided to incorporate striking colours to make up for the simplicity in composition.
Step 1: Incorporate lots of blue sky into the composition
White space doesn't have to be white, but what you fill it with sets the mood of the shot
It's good to be particular about what colour the white space is made up of, especially if it takes up the biggest area in the frame. That colour sets the impression that your image gives.
For this shot, I've used the sky. Incorporating lots of sky is one of the easiest ways of creating white space. I made sure I shot it on a fine day, with the sun shining behind me. If there were fluffy, summer-like clouds, I would have incorporated them too. Because it occupies so much space, a grey and cloudy sky would have looked out of place.
The summery blue sky takes up about two-thirds of the frame, creating white space that doesn't look out of place.
Also see:
Minimalist Landscape Photography with the Sky
Step 2: Add an accent in a complementary colour
A monochromatic palette doesn't work for every scene
Different colours are said to have different psychological effects. Blue is calming, which is why it is my favourite. Many of my shots contain either blue sky or sea!
It's perfectly fine to fill almost the whole frame with one colour—monochromatic images have their charm. However, depending on the subject and composition, such shots could easily end up looking dull and boring. To give them more interest, incorporate a pop of colour as an accent.
An image with no contrasting colours can look dull.
In the main shot, I've included the basketball goal and basketball, which are in shades of orange—a colour that complements the blue sky. These objects also add rhythm to the image.
Tip: Understand the colour wheel
A colour wheel is a chart that represents the relationship between colours. Colours that are opposite each other on the wheel are called "complementary colours". When these appear together, they make each other look more prominent.
Learn about how you can use complementary colours to draw attention to a subject in:
How Do I Use Colour Accents to Draw Attention to a Subject?
I used the complementary relationship between blue and orange in this shot to create a well-balanced minimalist image. How would you do the same with other complementary colours? Perhaps you can try something using green and red!
Find out more about other types of colour relationships in:
Understanding Colour Theories: A Photographer-Friendly Guide

For more tips on how to make your images of ordinary scenes tell a story, see:
How to Capture Fascinating Images of Ordinary Things
Silhouette Frame Composition: A Way to Spotlight the Mundane
Street Photography Quick Tip: Framing to Express a Subject's Emotions
About the Author
A monthly magazine that believes that enjoyment of photography will increase the more one learns about camera functions. It delivers news on the latest cameras and features and regularly introduces various photography techniques.
Published by Impress Corporation
Based in Tokyo, Taishi Arashida photographs mainly families and urban scenes, provides images to local and overseas media platforms, and is also a photography instructor. He is the author of two books: Dejitaaru de Firumu o Saigenshitai [Replicating Film in a Digital Medium], and Kamera ja naku, Shashin no Hanashi o Shiyou [Let's Talk About Photography, Not Cameras], both published by Genkosha.