When the going gets tough, the tough get shooting. Faced with hundreds of other photographers, how does one stand out in competitions like the annual Canon PhotoMarathon? We speak to seasoned photographer and Canon PhotoMarathon Judge, Arthur Chen, and suss out his secrets to keeping your stress levels down on the big day.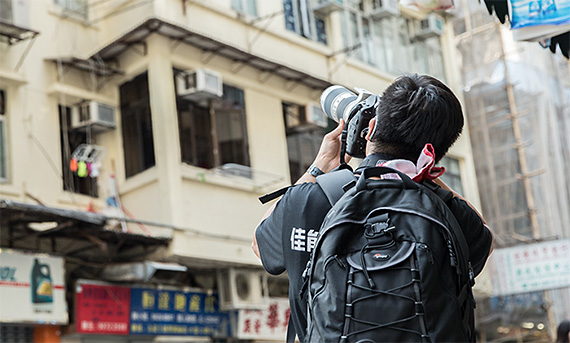 Ready, on your mark, get set… shoot! The Canon PhotoMarathon, held every year in cities around Asia, is one of the largest photography competitions in the region. Drawing thousands of participants in some locations, the competition challenges photography enthusiasts to put their skills and stamina to the test. For the uninitiated, the Canon PhotoMarathon lasts a few hours in which photographers have to submit a single best photo per theme. The winners receive a top-of-the-line Canon camera, as well as an all-expenses paid trip to attend a Canon Photo Clinic in Japan!
Arthur Chen is no stranger to the world of photography. A veteran judge of Malaysia's Canon PhotoMarathon, Arthur is the Editor and Publisher of Digital Camera Magazine (Malaysia), and has been shooting professionally for advertising, fashion, editorial, and travel since 2003. His eagle-eye has spotted many winning photographs, while overseeing numerous PhotoMarathons has given him insights that many photographers would find valuable.
If when getting a good shot on a normal day is hard enough, how does one manage the tough pressure-cooker atmosphere that arises during the competition?
KNOWLEDGE IS POWER
"Read Digital Camera Magazine for shooting tips!" Arthur laughs, giving his magazine a cheeky mention. He reveals that participants who get stressed early on by the time and themes most probably need to improve their photography knowledge. Creativity works best if you have the right preparation. "So read up, be prepared, and enjoy the ride!" is his advice for all participants.
ASK QUESTIONS
One of the most common mistakes participants make - which leads to panic and stress - is not asking enough questions. Arthur has a valuable tip: "If you don't understand what the (competition) topics mean, please ask!" It makes a huge difference in getting the right shot, so don't hesitate to consult the staff.
BE LENS READY
Arthur revealed a couple of secret weapons that a participant should always prepare in his arsenal. First, always have a good lens with you. "If you don't have one, buy or borrow one," Arthur says, as a good lens makes for good quality images.
PICTURE-PERFECT PROCESSING
There's no time to post-process your photos during the competition, so Arthur's next weapon-of-choice is Canon's Picture Style. It's one of the most important features in your DSLR during the competition, with its built-in image editing software.
With these essential tips and tricks, you'll definitely have the confidence to take on the pressure. Now let's get ready for the next Canon PhotoMarathon! See you next year!
Arthur Chen
Arthur Chen is the Publisher and Editor of Digital Camera Magazine Malaysia. He has been active in photography since 1987, engaging in shoots that range from studio to fashion to commercial. Besides being the principal photographer of Velocity Studios he is also an avid diver, as well as the judge for several Canon PhotoMarathons in the past.