Tips & Tutorials >>
All Tips & Tutorials
Stunning Sakura Scenes in West Japan to Shoot with a Telephoto Lens
Heading to West Japan during sakura season? Here are two scenes you might want to catch. Tip: Bring along your superzoom or telephoto lens to capture these places at their best. (Reported by: Yoshiki Fujiwara, Katsuhiro Yamanashi, Digital Camera Magazine)
EOS 6D/ EF70-300mm f/4-5.6L IS USM/ FL: 124mm/ Manual exposure (f/10, 1/80 sec)/ ISO 320/ WB: Auto
Month/Time of day: Mid-April/ 9.30am
Photo by: Yoshiki Fujiwara
Spot #1: Mount Yoshino (Nara Prefecture)
A dreamy sakura landscape on a fog-shrouded mountain
With over 30,000 sakura trees and countless mentions in traditional art and literature, Mount Yoshino ("Yoshinoyama") is one of the most beloved sakura viewing spots in Japan. In 2004, it was designated as part of a UNESCO World Heritage Site in 2004 called "Sacred Sites and Pilgrimage Routes in the Kii Mountain Range."
I shot the above image with a telephoto lens so that I could capture the blooming sakura around Kinpusenji Temple, which one of the landmarks on the mountain. The skies were dark and I didn't want to use a shutter speed that was too slow, so I shot with a tripod and a shutter release to prevent camera shake.

Technique 1: Plan to catch the fog—Pay attention to the weather forecast
Fog is formed from tiny water droplets suspended in the air. Though it forms on places like Mount Yoshino quite easily, planning is still required. The best times to catch the mountain shrouded in fog are:
i) Early morning on a day with a huge temperature change; or
ii) On a rainy day
For this shot, I aimed for a day with heavy rain, as I thought that the combination of rain and fog would make the shot look more mystical. The colder air temperature and increased humidity on a rainy day means more water droplets in the air, resulting in a thicker fog.

If there's no fog, the shot will look too real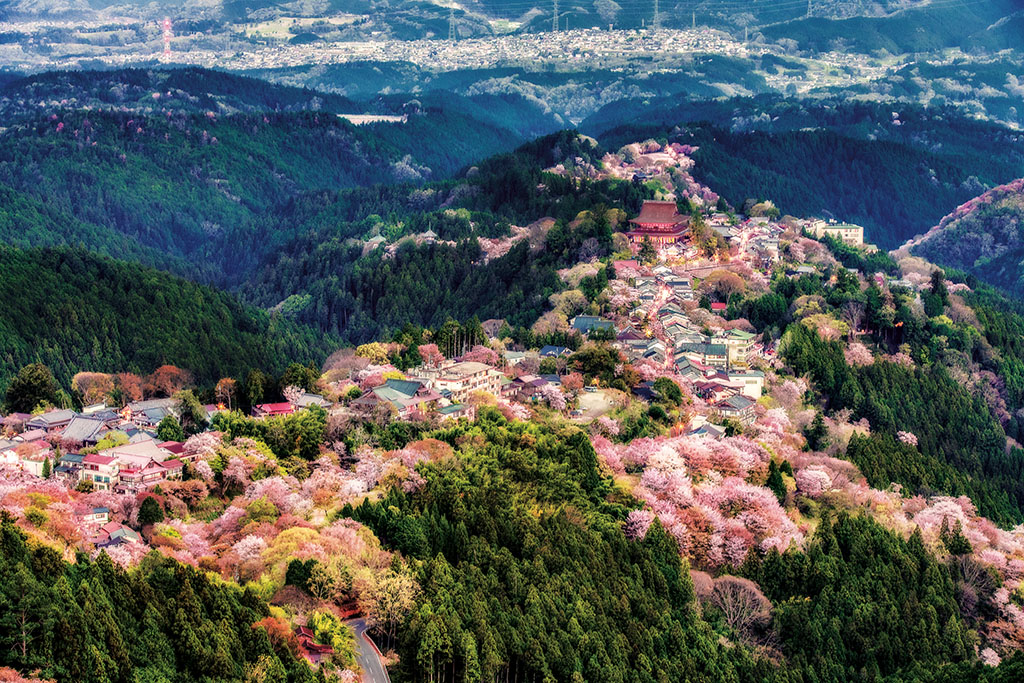 If you shoot on a morning where there isn't as much of a temperature change, there won't be any fog to create the dreamy, mystical feel. The details of the town at the top of the image will be depicted very clearly, making the shot look realistic.

Technique 2: Make the overall shot look more distinct in post-processing
I further enhanced the foggy effect when I post-processed the image in Lightroom:
Step 1: Decrease 'Clarity' to make the entire image look hazier.
Step 2: Use the 'Dehaze' tool to reduce the haze and enhance the colours.
For this shot, I set Clarity to -30 and Dehaze to +60. These steps help to make the image look more dream-like and surreal. Tip: Pay attention to how your adjustments affect the entire image, instead of focusing on just one part,

Getting to the shooting spot: Hanayagura Viewpoint
Address: Kami Senbon, Yoshinoyama, Yoshino-machi, Yoshino-gun, Nara Prefecture
Click here for Google Map
Public transport: Take the Kintetsu train line and alight at Yoshino Station.
Car: Entry to personal vehicles is restricted during sakura season. You will have to park at the Mount Yoshino Tourist Carpark, which has space for up to 400 cars.
The shooting spot is in the Kami Senbon ("upper 1000 trees") area of the mountain. As there is no shuttle bus or ropeway in the early morning, you will have to walk about 2 hours from the carpark to the shooting spot. For the return trip, you can take the shuttle bus from the Naka Senbon Park bus stop back to the carpark.
Attire tip: Dress for the cold
Although this was shot in April, it still can be quite cold on Mount Yoshino. Dress like how you would for a winter mountain climb.
Spot #2: Matsuyama Castle (Ehime Prefecture)
Sakura in full bloom surrounding a famous castle
EOS-1Ds Mark III/ EF28-300mm f/3.5-5.6L IS USM/ FL: 80mm/ Aperture-priority AE (f/11, 1/125 sec, EV +0.3)/ ISO 250/ WB: Auto
Month/Time of day: Late March/ 12.30pm
Photo by: Katsuhiro Yamanashi
Built on a steep hill, Matsuyama Castle is one of only twelve castles in Japan with castle towers that survived the Meiji Restoration in 1868. On the day that I took this low angle shot, the sunlight was beautifully diffused at around noon, lighting up many of the somei yoshino sakura blossoms in the frame, which appeared close to white instead of pink.

Technique 1: Use a telephoto lens to cut out unnecessary elements
Using a superzoom lens allowed me to try framing the shot using longer focal lengths. I found my ideal framing at a mid-telephoto focal length of 80mm, which not only cut out the tourists in the foreground, but also made the sakura look bigger.
Leaving unnecessarily elements out of the frame results in a tighter composition.

50mm: Will capture tourists in the frame
Shooting at 50mm from the same angle captures tourists in the frame, but it results in a stronger perspective effect compared to 80mm. If you want to achieve this composition, stand on something or adjust your tripod so that your camera is in a high position. This will keep the people out of the frame.
For more tips on how to take advantage of lens characteristics in your compositions, check out:
Professional Composition Techniques (3): Making Good Use of Lenses

Technique 2: Use exposure compensation
As the framing includes the sky and the flowers are well-lit and very light in colour, using an autoexposure mode is likely to result in an underexposed shot. Use exposure compensation: I recommend EV +0.3 to +0.5.

Getting to the spot: Matsuyama Castle
Address: Marunouchi, Matsuyama-shi, Ehime Prefecture
Click here for Google Map
Public transport: At JR Matsuyama Station, change to Tram Line #5 on the Iyotetsu Tram line and get off at Okaido Station. Walk 5 minutes to get to the Matsuyama Castle Ropeway (cable car) station.
Car: Approx. 15 minutes to the Matsuyama Castle Ropeway station from Matsuyama IC on the Matsuyama Highway.
You can also hike about 20 minutes up Mount Katsuyama to the castle from Okaido Station or Ninomaru Garden. Beware: The route is scenic but steep!

For more sakura shooting spot recommendations and tips, check out the following:
Photographing Sakura in Japan: Scenic Spots & Pro Photography Tips (1)
Photographing Sakura in Japan: Scenic Spots & Pro Photography Tips (2)
Photographing Sakura in Japan: Scenic Spots & Pro Photography Tips (3)
How to Capture Detailed but Dreamy-Looking Cherry Blossoms With a Soft Filter
Photographing Cherry Blossoms: Should I Shoot Wide-angle or Telephoto?
---
Receive the latest update on photography news, tips and tricks.
Be part of the SNAPSHOT Community.
Sign Up Now!
---
About the Author
A monthly magazine that believes that enjoyment of photography will increase the more one learns about camera functions. It delivers news on the latest cameras and features and regularly introduces various photography techniques.
Published by Impress Corporation
Formerly a professional snowboarder, Fujiwara took the opportunity to embark on a second career as a photographer after retiring due to an injury. He has since won a number of international photography awards for his nature photography and cultural portraits. In 2019, he became the first Japanese person to win an award in the 'People' category of the 2019 National Geographic Travel Photo Contest. Besides providing photos for National Geographic, Fujiawa also contributes to camera magazines in Japan and abroad, and engages in a wide range of activities including books, talk shows, and company calendars.
http://www.yoshiki-fujiwara.com/
Instagram: @yoshiki_fujiwara
Born in Tokyo in 1945, Yamanashi worked at a publishing company after his graduation from the Tokyo College of Photography (now known as the Tokyo Polytechnic University), and for 4 years, journeyed around Japan visiting and photographing famous sightseeing spots. After he left the company, he became a freelance photographer, eventually establishing his own company, Yamanashi Photo, in 1989. Besides taking stock images, he also provides photographs for corporate calendars, camera and travel magazines, and posters for Japan Railways.