Tips & Tutorials >>
All Tips & Tutorials
Telephoto Macro Technique: An Ordinary Leaf Gets the Limelight
Mention "nature photography" and many people will think of either ultra wide-angle lenses that capture vast landscapes, or macro lenses that let you capture tiny insects and flowers close up. But telephoto and super telephoto lenses are capable of their own unique effects too. We find out how GOTO AKI used his super telephoto zoom lens to give an ordinary leaf a chance at the spotlight. (Reported by: GOTO AKI, Digital Camera Magazine)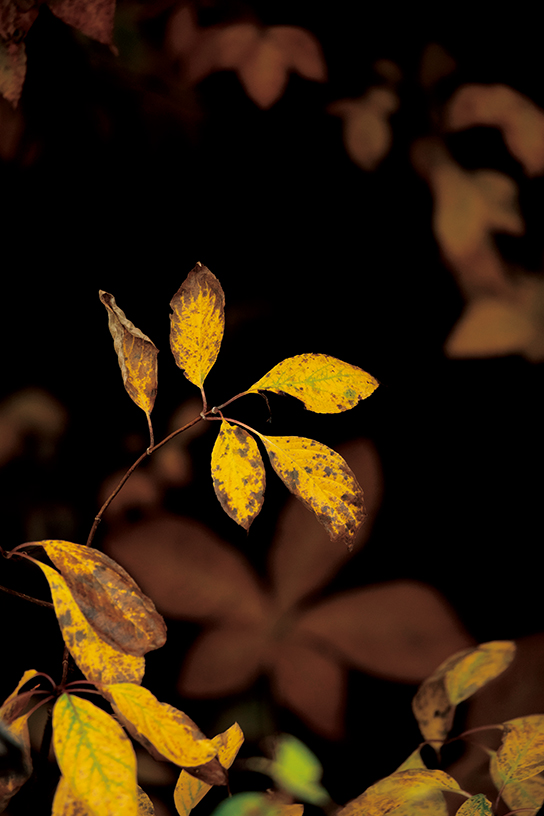 EOS 5D Mark IV/ EF100-400mm f/4.5-5.6L IS II USM/ FL: 360mm/ Aperture-priority AE (f/5.6, 1/80 sec, EV -0.7)/ ISO 800/ WB: Daylight
The little leaves that almost escaped attention
Out on a walk one autumn, I found this modest little spray of leaves at the base of a tree full of fiery autumn leaves. It was yellow and drying—certainly not in the best condition for a photograph. But I decided to challenge myself and shoot it in a way that would make it look compelling.

Step 1: Position the camera so that the shadows are behind the subject
The background was too cluttered, which overwhelmed the subject. Furthermore, the colours of the subject are earthy and rather dull, so if I shot it the way I saw it, it would not stand out at all, much more inspire a viewer!
This is what I got when I shot the leaves the way that I saw them, using a slightly wider angle of view. The cluttered background overwhelms the subject.
I shifted so that the shadows of the surrounding plants were right behind the spray of leaves. This not only simplified the background and removed distraction, the yellows of the leaves also looked more vibrant against the darkness.
Step 2: Use a super telephoto lens to frame the shot
To further simplify the shot and make the leaves the centre of attention, I used the narrow angle of view of a super telephoto zoom lens to crop out the surrounding distractions. I made slight adjustments to the focal length until I found the perfect framing at 360mm.
Long focal lengths like this also give you a shallower depth of field, creating background bokeh even at f/5.6. The bokeh helped to separate the subject from the background so that its colours seem to "float up" in space and stand out better.

Notice this: The out-of-focus leaves in the background appear closer and larger because of the unique perspective compression effect that gets stronger at longer focal lengths. It adds an extra layer of visual interest to the shot.
Also see: Creating a Captivating Scene with Telephoto Leading Lines

In summary:
- Draw attention to subjects by simplifying the background. The narrow angle of view and shallow depth of field of a super telephoto lens is great for this.
- To further enhance the effect, consider how the subject and background relate to each other.
- Use background shadows as a dark backdrop to make dull colours stand out better.

Try these lenses:
EF100-400mm f/4.5-5.6L IS II USM
---
Receive the latest update on photography news, tips and tricks.
Be part of the SNAPSHOT Community.
Sign Up Now!
---
About the Author
Born in 1972 in Kanagawa Prefecture and graduated from Sophia University and Tokyo College of Photography. Goto published a photo collection work titled "LAND ESCAPES" and is also actively engaged in works such as "water silence" an installation that merges photographs with videos.
A monthly magazine that believes that enjoyment of photography will increase the more one learns about camera functions. It delivers news on the latest cameras and features and regularly introduces various photography techniques.
Published by Impress Corporation