Kyoto, one of Japan's oldest cities, is the country's spiritual heart with more than 2,000 temples and shrines. From traditional architecture to breathtaking parks and gardens, this cultural capital offers every form of photography opportunity a travel photographer could ever ask for.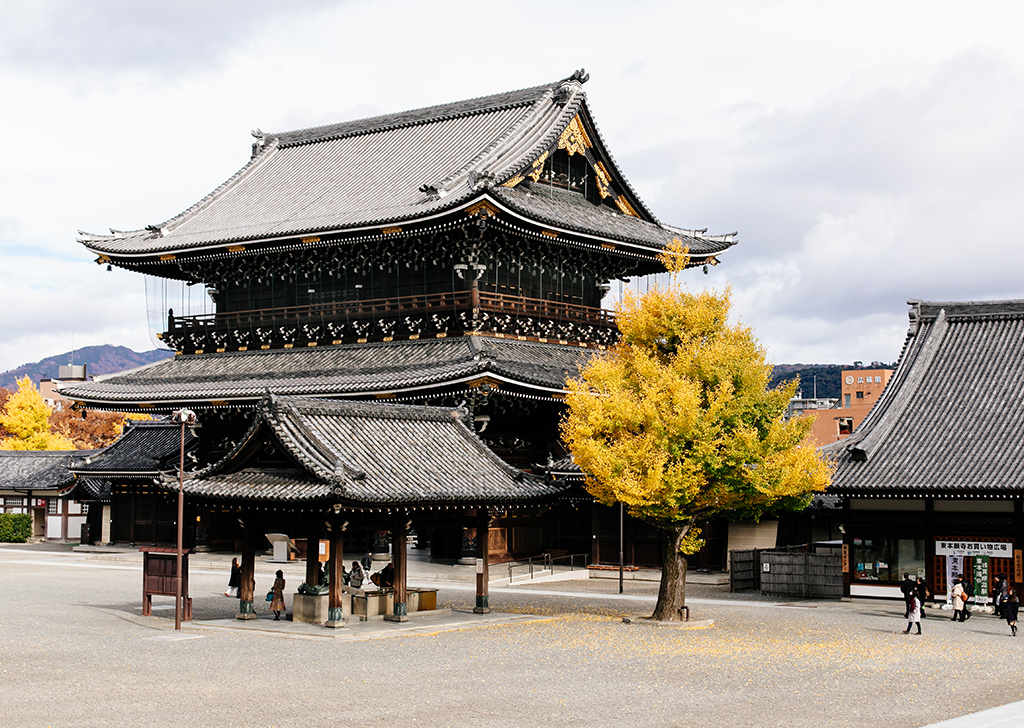 EOS 5D Mark IV, EF50mm f/1.4 USM lens, f/5.6, 50mm, 1/2000sec, ISO400
The inner grounds of Higashi Honganji temple
The beginning of winter has seen leaves on trees turning from deep green to luminous red and yellow – a splendid sight against the dark brown branches and trunks. The Higashi Honganji temple is enveloped by an air of tranquility, the kind that brings relief from the bustling streets right outside its gate. The Goeido, or Founder's Hall, is the largest building on the grounds, and is named one of the largest wooden structures in the world.
EOS 5D Mark IV, EF50mm f/1.4 USM lens, f/2.8, 50mm, 1/5000sec, ISO400
A visitor approaches the Founder's Hall
Photographing architecture with an EF 50mm f/1.4 USM lens is an unconventional choice, but it is not impossible. As a prime lens lacks the luxury of a zoom function, it would require the photographer to take as many steps back as possible to include as much structure in the frame. Thankfully, the spacious Higashi Honganji temple has given photographers the chance to do that. This zooming restriction may not necessarily be a bad thing – it forces one to rethink and frame the shot more creatively.
EOS 5D Mark IV, EF50mm f/1.4 USM lens, f/2.8, 50mm, 1/4000sec, ISO200
One of the many low-rise commercial buildings in Kyoto thanks to the Kyoto City Landscape Policy
The Kyoto Imperial Park was once the residence of Japan's Imperial Family until 1868. The park houses the Kyoto Imperial Palace, an expansive piece of land that stretches for more than a kilometre long and 700 metres wide.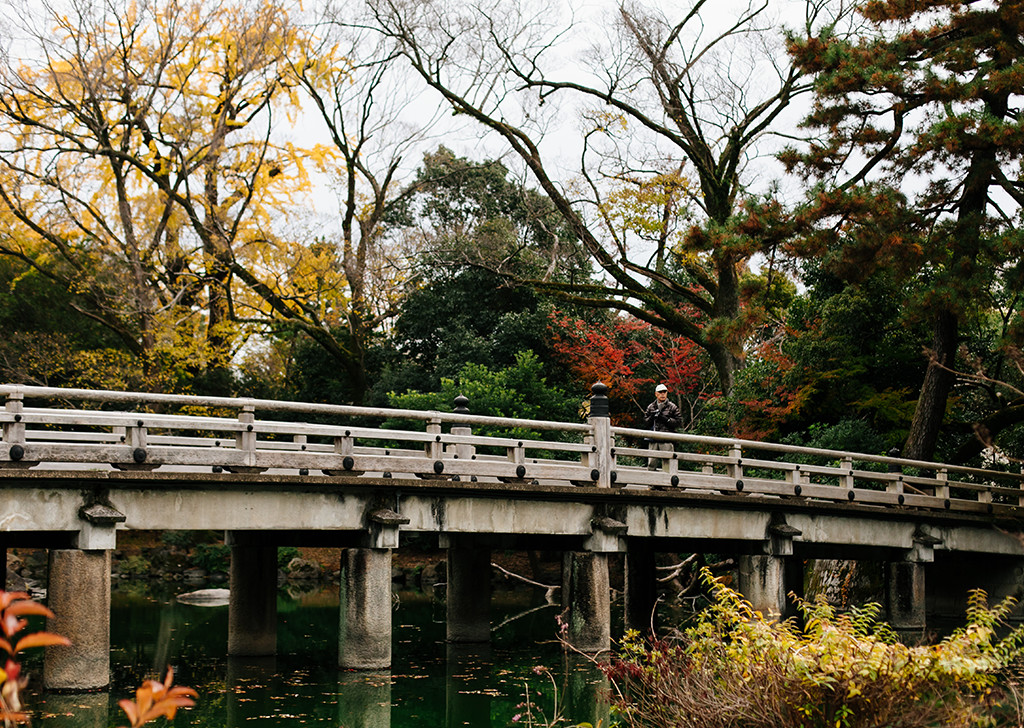 EOS 5D Mark IV, EF50mm f/1.4 USM lens, f/2.8, 50mm, 1/4000sec, ISO400
An early winter has given the trees a burst of colours
EOS 5D Mark IV, EF50mm f/1.4 USM lens, f/2.8, 50mm, 1/1600sec, ISO400 (left)
EOS 5D Mark IV, EF50mm f/1.4 USM lens, f/2.2, 50mm, 1/1600sec, ISO400 (right)
A walk around the Kyoto Imperial Park
Shouts echo from the edge of the park, and the sleepy park is stirred awake by a group of high school students who appear to be practising for a sporting event. Standing from a distance away and shooting with a prime lens may seem to be a problem, but the EOS 5D Mark IV, which is equipped with a 30.4 megapixel full-frame CMOS sensor, gives one the flexibility to crop without sacrificing the image quality, like the photo of these young students.

(image cropped from above)
EOS 5D Mark IV, EF50mm f/1.4 USM lens, f/2.8, 50mm, 1/2000sec, ISO400
High school students practise for their sporting event at the edge of the imperial park
There is nothing more welcoming than a hot meal to meet the ravenous appetite one acquires after a long walk at the imperial park. A stop at Saredo Cafe is a much needed break. Photographing food may be tricky when one is seated with the EF 50mm f/1.4 USM lens because of its tight framing. The solution is simple: Taking a step back will see the dish fitting nicely in the frame.
EOS 5D Mark IV, EF50mm f/1.4 USM lens, f/3.2, 50mm, 1/200sec, ISO200
Two Taste of Curry (Japanese & Thai) at Saredo Cafe
Getting around Kyoto is effortless – by foot, bus or train. It is a wonderful destination for travellers who enjoy walking and exploring. It is a great relief to be using a lightweight EF 50mm lens instead of say, an EF24-70mm lens or a telephoto EF 70-300mm lens when walking around the city, as the EF 50mm lens is definitely easier on the neck and hands even after a couple of hours.
Northeast of Kyoto Station, about an hour and a half by foot through Gion (Kyoto's geisha district), lies an exquisite area called the Philosopher's Path. The stone path follows a canal alongside hundreds of cherry trees, connecting the neighbourhood Nanzenji and Ginkakuji (Silver Pavilion).
EOS 5D Mark IV, EF50mm f/1.4 USM lens, f/4.0, 50mm, 1/1250sec, ISO640
A stroll along the Philosopher's Path
The Philosopher's Path ends at Ginkakuji, a now Zen temple built in 1482. The pavilion may not be impressive, but the nature surrounding it is. There is something surreal about the Silver Pavilion – not only is the compound breathtakingly beautiful, there is also an inexplicable air of Zen within, an intangible value that seems to be a true reflection of the cultural capital.
EOS 5D Mark IV, EF50mm f/1.4 USM lens, f/2.8, 50mm, 1/160sec, ISO800
The woods near Ginkakuji on Higashiyama
Is the EF 50mm f/1.4 USM lens a trusty travel companion?
The answer is simple: Yes. There is much more to the prime lens than just a portrait lens. From landscape, food, architecture to fast-motion subjects, the lens is as versatile as it is lightweight. It is also a lens that is close to the eye field of view, which gives the photos a more pleasant and natural feel. To prove that the lens is great for low light, the ISO has never been pushed past ISO 800 on this trip.
If a picture is worth a thousand words, then let's have these pictures do the talking.
EOS 5D Mark IV, EF50mm f/1.4 USM lens, f/2.8, 50mm, 1/800sec, ISO400
Framing the shot with leaves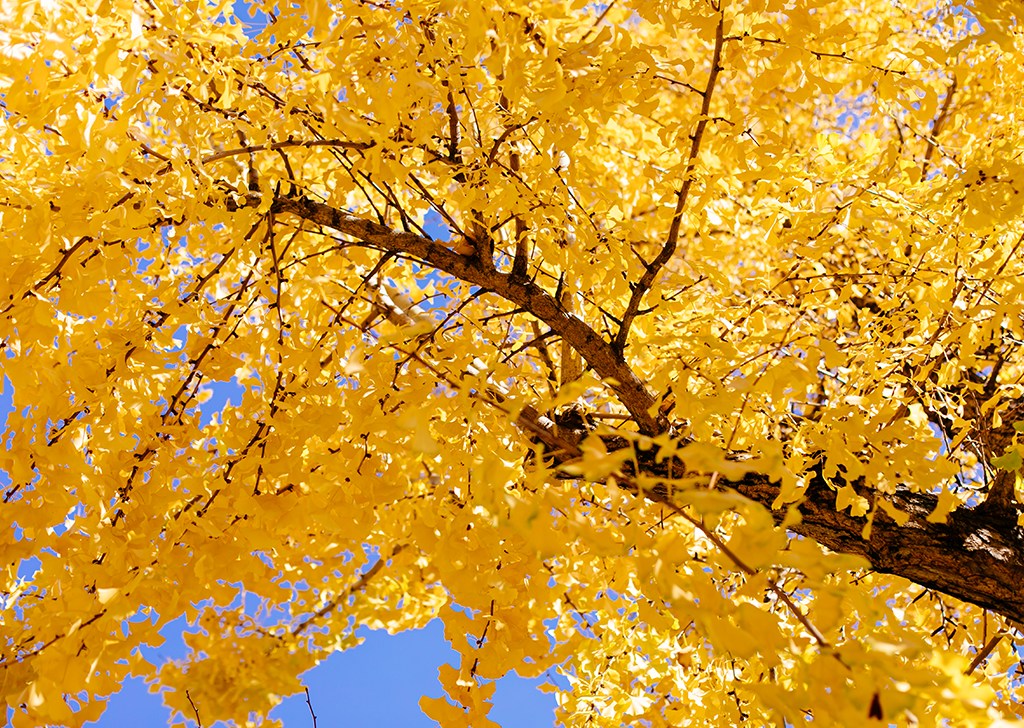 EOS 5D Mark IV, EF50mm f/1.4 USM lens, f/2.8, 50mm, 1/3200sec, ISO200
Winter leaves against the afternoon sunlight
EOS 5D Mark IV, EF50mm f/1.4 USM lens, f/2.8, 50mm, 1/800sec, ISO200
Creating lovely bokeh with an f/2.8 aperture
For more travel inspiration, browse the following articles:
Over the lands and seas: Life of a travel photographer
5 Places to Visit for Travel Photographers
Travel Photography with Canon EOS M6 Mirrorless Camera: Exploring Italy
Travel Photography: Capturing Diversity with Joseph Mak
---
Receive the latest update on photography news, tips and tricks.
Be part of the SNAPSHOT Community.
Sign Up Now!
---