Want to get a dramatic portrait shot of that moment where your model whips her head around to look at you, her hair flying? Find out how one photographer decided on her shutter speed, and what else you should consider when you shoot. (Reported by Haruka Yamamoto, Digital Camera Magazine. Model: Atsumi Mizuno)
Question: Can you guess what shutter speed was used to capture the following shot?
EOS 5D Mark III/ EF70-200mm f/2.8L IS II USM/ FL: 200mm
Options
a) 1/250 sec
b) 1/500 sec
c) 1/2,000 sec
d) 1/8,000 sec

Hint: The shooting conditions
Where: There was a park with trees behind the model. I wanted to simplify this background by creating strong background bokeh.
Subject distance: The model was about 5m away.
Lighting conditions: Backlight
Instructions to model: Stand with her back to me and turn quickly to the right on cue.
Why this shutter speed?
1. To get a sharp, detailed shot of every single strand of hair
Each strand of hair is fine and light, which also means that it moves really quickly. You will need to use a very fast shutter speed to freeze them with no visible motion blur. It is true that motion blur will make the shot look more dynamic. However, for portraiture, you want to draw more attention to the subject's facial expression, and too much motion blur can be distracting.
2. So that the skin looks smooth
Using a shutter speed that is very high (such as 1/8,000 sec) will require you to increase the ISO speed. A very high ISO speed can result in visible graininess from noise, which makes the skin look less smooth.

Let's take a look at the same shot captured at different shutter speeds.

a) 1/250 sec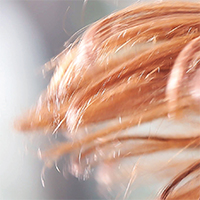 The shutter speed is too slow: Notice the strong motion blur in the hair.

b) 1/500 sec
Still a bit too slow: There is still motion blur and you can't really see the separate strands of hair.

c) 1/2,000 sec
The strands of hair appear much sharper. This is my ideal shutter speed setting.

d) 1/8,000 sec
The hair is sharp. But I had to increase the ISO speed to ISO 1250 to ensure sufficient exposure, which runs the risk of visible image noise. A newer camera model would probably be able to handle high ISO speeds better, but to play safe, it's better to use the lowest ISO speed possible.
The finer details: How to get an even better shot
1. Use the maximum aperture to simplify the background
Shot at f/8
The deep depth-of-field at f/8 makes the model's hair appear sharp. However, the background looks more cluttered because of the weaker bokeh effect, causing the subject to stand out less. To achieve better separation, use a wider aperture.
Here's what f/8 is good for shooting:
f/8: Capturing the Details of Buildings and Structures
2. Get the model to stop at a fixed point
The shot above is what happens if the model turns her head too much and goes past the front of the lens. It would be a pity if you managed to freeze the flying hair but didn't catch the model's face! Make sure she stops the head toss at a point where you can see her face.
Tip: She should also be in a comfortable position when she looks at the lens—that will also help you to get a nice, natural looking facial expression.
There is more than one way to do a hair toss! Did 1/2,000 sec work for you? Let us know—share your shots with us on My Canon Story and stand a chance to get featured!

Here are some more settings and camera features that will help you to get a proper shot of those facial expressions:
It's All in the Eyes: A Quick Way to Create Mesmerizing Portraits
f/2.8: Great for Capturing Facial Expressions
Built-in Flash Techniques #1: Dealing with Harsh Shadows in Backlight
For more outdoor portrait shoot ideas, check out:
2 Instant Techniques to Liven Up Your Outdoor Portraits
5 Portrait Photography Techniques to Take You from Day to Night
How to Create Dreamy, Colourful Portraits with Foreground Bokeh
Built-in Flash Techniques #3: Create Dramatic Portraits with Daylight Sync
Also see: 5 Portrait Techniques to Express Your Love for Her
---
Receive the latest update on photography news, tips and tricks.
Be part of the SNAPSHOT Community.
Sign Up Now!
---
About the Author
A monthly magazine that believes that enjoyment of photography will increase the more one learns about camera functions. It delivers news on the latest cameras and features and regularly introduces various photography techniques.
Published by Impress Corporation
Born in Tokyo, Yamamoto is a freelance photographer who shoots for a variety of mediums that include magazines, CD jackets and advertisements. She also has her own blog, where she posts shots from an ongoing photography series "Otome-graphy [Maiden-graphy]", which seeks to remove existing stereotypes of young women as well as address Yamamoto's own issues about aging. A collection of these shots was published in book form in 2018.