Bang Dzoel is no ordinary photographer. Born without any limbs, he has faced many challenges, prejudices and difficulties throughout his childhood and adult life. But now, Bang Dzoel is an acclaimed photographer who shoots all over the world, inspiring others wherever he goes.
Bang Dzoel is an Indonesian photographer whose work has garnered him local, national and international acclaim. Whether it is portrait, nature, or wedding photography, he works assignment to assignment from country to country. He is also a law student, expert skateboarder, and skilled keyboard and bass player.

Needless to say, Bang Dzoel has influenced so many people with his outlook on career and life, proving that any struggle can be overcome with enough drive and determination.

This interview offers a glimpse into Bang Dzoel's life and how photography has helped him become an inspiration for so many.
Dzoel, could you please introduce yourself to us, where you come from and what you do?
Peace be upon you, my name is Ahmad Zulkarnain. I am also used to being called Bang Dzoel or Zul, and I'm from Indonesia. In Indonesia, as a photographer, I am always searching for moments to capture. I keep searching until I find one moment extraordinary enough to capture using the camera I own.

How do you feel when you hold a camera, capturing the photographs?
Through photography, I am able to get to know myself better and find my identity, making me feel extraordinary. I have been trying to find a talent or a potential within myself, whether through music, skateboarding or other things I've tried to learn. But it was through photography where I discovered my identity.
What did you learn about yourself through photography?
Actually, I had to go through a lot to become a Professional Photographer. It took me a while to learn to get to this level - 5 to 6 years. I took up photography through my first job as an identification photographer, such as passport photos, and I had to borrow a camera. When I changed job, I used a camera on credit. It was a Canon 1100D and I had used it for about one to two years. After learning more and more skills, I upgraded my camera. I would read up on the information or search YouTube, so have learned photography through self-learning. Subsequently, I gained a scholarship to study Photography at Darwis Triadi School of Photography in Jakarta.
What style have you developed?
I tend to steer towards traditional stories and take photos that present folklore. Indonesia is rich in culture, so I want to document and capture it for use as an educational resource for future generations of Indonesia.

What would you consider your biggest achievement?
My biggest jobs to date are product shoots, particularly fashion. I have also taken portraits of the CEO of organisations.

Could you explain why product shoots are considered one of your achievements?
Product shoots are comfortable as I do not have to feel the heat of the sun - they are in a room. Work is not so tiring and I can also control the lighting, using lights however I want.

So it is your biggest achievement because you still manage to carry out the photography shoot in more unstable terrains and conditions, such as weather and environment?
Actually, there are no obstacles and there are no difficulties with terrain. In fact, my hobby is travelling and hiking, taking photos on top of mountains. I also like to do snorkelling, diving, and surfing.

You also give talks to inspire the younger generation. What do you include in your talks?
I always talk about cultivating the spirit and how we should appreciate all the things blessed by God to us. Most of us tend to forget how to be grateful and appreciative, and that is what I would usually emphasise in my talks. I may be the one with a disability, yet am still appreciative and grateful for my blessing. Most people without disabilities should also be a little more appreciative of what God has blessed them with too.

Is there any advice you would like to give for the younger photographers and for those people with disabilities?
First, not to waste time. If you only think about ways to bring yourself up without taking any action, then your life will not be worthwhile. Secondly, we are not disabled, but just different. To me, the truest form of disability is not through one's physical disability, but based on one's behavioural disability.

Have there been young people going up to you to tell you that you are an inspiring figure?
Many. And I feel proud because I did not expect my influence to be this wide. My influence is not limited to those in Indonesia, but also internationally. In 2018, I participated in a photo exhibition held in Istanbul, Turkey, and also held my solo exhibition in Surabaya, Indonesia. In May 2020, I will hold a solo exhibition in Brazil.

And did you discover anything about yourself? As in, did you gain confidence?
There was a group of friends who encouraged me to further my studies in photography. There was also a supportive community who embraced me when studying. However, on my journey to become a professional photographer – it has been only five to six years studying photography – I have also had a very bad past history. In the early days, I had attempted to commit suicide until I tried to change my perspectives, my way of thinking and my way of life until I rose up to become who I am now.

So what was it like growing up for you?
During my childhood I had already received discrimination from my family, my friends, schoolmates and playmates. Eventually, after elementary school, I quit school. I continued my education at an extraordinary school, a special school for children with disabilities. There I learned mental education and gained confidence to be in competition with people who are not disabled. Subsequently, I continued my education in a university, majoring in law.

Canon EOS 6D, EF50mm f/1.8L STM lens, f/1.8, 50mm, 1/640 sec, ISO100
If you're okay to share, what would be the most painful moment or heart-breaking experience for you?
One heart-breaking moment in my life was when both my parents did not accept me as their son and then I was dumped by the river and left, just like that.

How do you feel about that?
I am proud. I am proud because due to my parents' actions, it became a boomerang effect. It has become a motivation. A motivation for me to stand up and prove to Indonesia and the world that disability is not a virus, disability is not a disease. Disability is not trash. Actually, people with disabilities are merely different people with different abilities and they need chances to get on with life and opportunities for them to work. They need opportunities for them to discover their own future.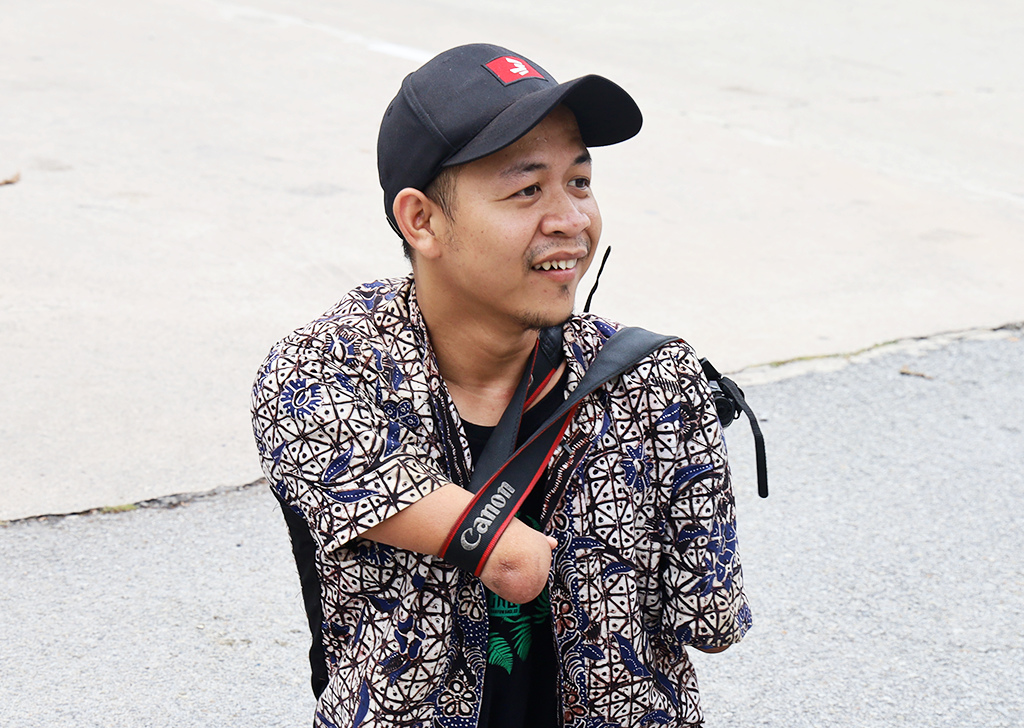 It's amazing that despite having left you by the river, they found compassion and took you in again, and then you even went to form a strong bond with them, especially your mother. How did you and your parents manage to build a strong bond?
After a while, they realised that I was entrusted to them by God; it was fate's doing. In the end, they began acknowledging my existence, though reluctantly, until it grew into a strong relationship.

So has there been anyone who has motivated you, or helped you along the way?
Yes, my mother! She always told me that I was the 'chosen one': "You are the chosen one who will one day make it big." And these are her words that I hold on to today, even after her passing

When did your mother pass away, and how?
My mother passed away 4 years ago due to cancer.

That's very sad. How did you overcome and handle the loss?
Those were very, very chaotic times for me because she was my main motivator and I lost everything. To rise up again, it took about one year. And when my mother passed away, I was still unemployed, so had no source of income. And from then I thought, if I continue thinking about my loss, I would not be able to continue with my life. What would happen to my family then? What would happen to my father? So I thought to myself that I had to rise up and work, to earn and support my father.

Canon EOS 5D Mark II, EF50mm f/1.8L STM lens, f/2.8, 50mm, 1/250 sec, ISO200
Was it after that when you picked up photography? How did you become a photographer?
Yes, it was only after the passing of my mother that I focused on learning photography.

Does photography remind you of your mum?
Hmm, yes. In the past, my mother had a desire for me to have a job that did not require physical work, such as working on a field. This is because I am unable to work on a field. And minimally, you work with your intelligence. It is through photography that I have found it all.

What was the toughest thing you faced while learning to become a photographer?
There are a lot of challenges and difficulties I have faced. One of which would be the discrimination faced among other photographers. There was a time when I wanted to attend a course but was not allowed. When I asked why, they said it was because I was disabled. However, I did not stop there because I had to explore my potential. One of the ways to do this was through my best teacher: Google and YouTube.
Was that one of the biggest challenges that you faced, technical-wise? And how did you overcome those challenges?
Actually there isn't any specific techniques that I use, I just adapt. So from the old camera to the new camera, I have to adapt, because I do not only use my fingers to operate the DSLR camera, I also use my mouth.

You mentioned that you fell off a cliff while taking a photograph! Could you share that experience?
That was because it was my first time learning photography. So, before fashion and product photography, I initially learnt landscape photography. I knew that the terrain around the waterfall was not easy and knew I had to go through it. At its end, I fell from a height of 10m. However, the first thing I looked for were not the injuries I had sustained, but my camera.

Canon EOS 6D, EF70-200mm f/4L USM lens, f/4, 184mm, 1/200 sec, ISO640
Can you describe yourself? Are you fun? Adventurous? Like to laugh, or serious?
In the Indonesian language, maybe 'Goplak'. 'Goplak' is a term used to describe someone who likes to have fun. I am able to communicate and interact with anybody, without taking into consideration if anyone has disabilities or not.

Do your friends call you 'Goplak'?
Oh yes, many of them.
So you like to go hiking and snorkelling, but are you not afraid?
No, I'm not. In fact, with God's willing, in the future, I would like to try underwater photography.

What is your favourite gear?
My favourite gear is the Canon 5D Mark II, Canon 6D, and Canon 1DX.

Is it heavy for you when you carry the equipment?
No. I have even used a Canon 5D Mark II with a telephoto lens F2.8. That is my favourite camera.

So you're strong, huh?
Maybe, ha!

Is there anything else that you would like to say?
Essentially, I would like to say thank you for Canon's support these past three years. Some of my equipment is due to the support I received from Canon Indonesia. There was a recent incident where I called Merry Harun from Canon Indonesia to request for help as I needed a speedlite for my trip to Singapore. She agreed and even sent it to where I was staying in Bayuwangi.

Wow, special delivery, that's nice! Are there any inspirational words you would like to give to those reading this Q and A?
Keep on working and never give up!

You can see Bang Dzoel's photos on his Instagram. Watch the video version of Bang Dzoel's interview with Canon here: