The social media scene is tough. The difference between a good Instagram feed or blog and an average one is the quality of your photos! Canon put me in touch with blogger Lumi (@lovelumi) to test out the EOS M10 and here's a glimpse of what we have learnt!
Read till the end to find out how you can win your very own EOS M10!
Challenge 1: Food Lay
I was introduced to Lumi over lunch, where we gave flat-lays our first shot.
Food flat-lays are a race against time (I hate it when my food gets cold). They're also a matter of strategy from the moment you enter the restaurant - which seat has the best natural light? Are you willing to endure the heat outdoors for better lighting?
Tips:
Use a higher aperture (about f/3.5 – f/5) to ensure that all the elements in your image are in-focus
If you're shooting from a top-down angle, use guiding lines to hold your camera parallel to the table
This is also where the tilt-screen comes in super useful - I was relieved that we didn't have to stand on a chair to see what we were shooting
Our final image!
Challenge 2: Portraiture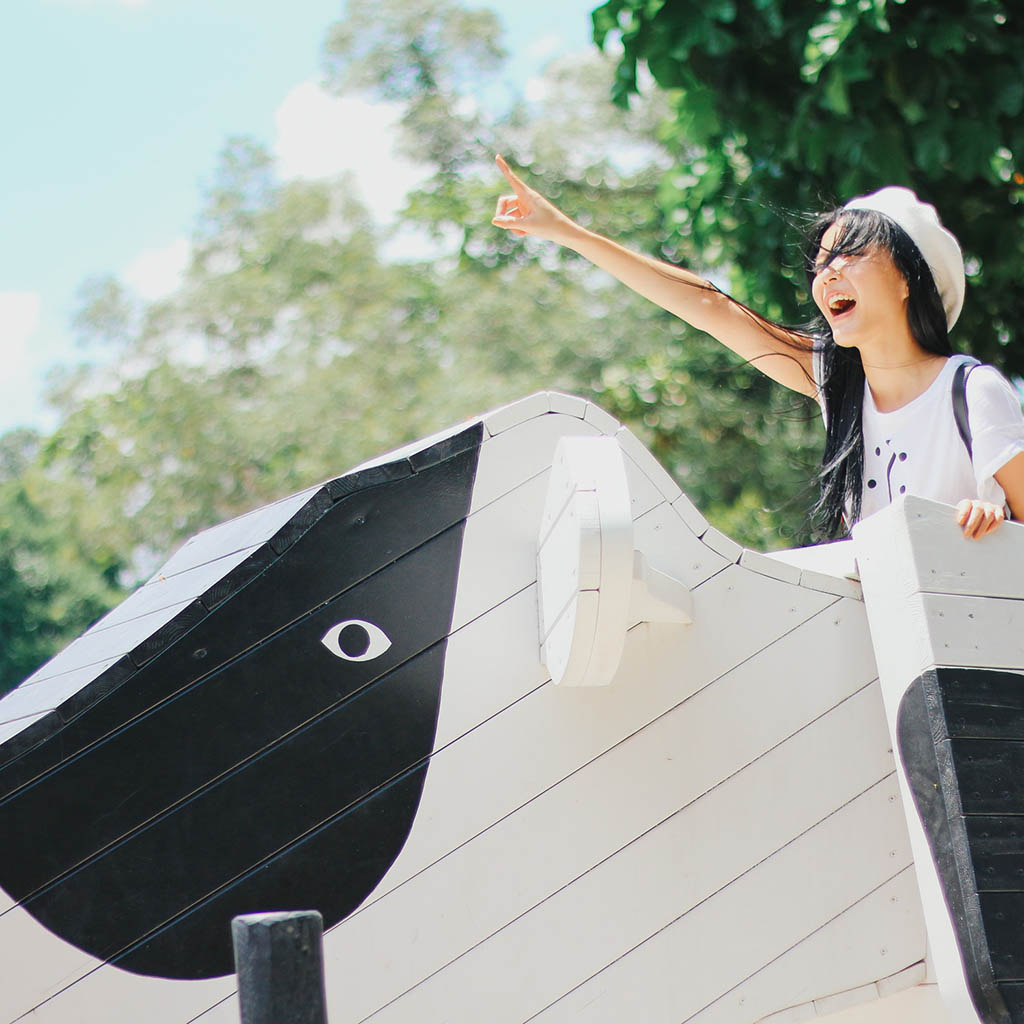 What really surprised me was how these images, shot at the crack of noon, turned out:
I was expecting a lot of clipping with the heavy shadows that the sun was bound to create, and was really surprised to find that the camera coped well.
In addition, having the option to use the EF-EOS M mount adapter to attach my other lenses is the best part for a photographer like me. Fortunately, the camera is pretty sturdy.
I used aperture mode on f2.8, paired with a EF 50mm F1.8 STM lens for this. Was impressed by the depth of field!
Tips:
Use a reflective surface to reflect an even lighting where possible! Any white or reflective surface will do - be it a white shirt or the back of an aluminum tray
Using a longer lens compresses the image and makes your subject look slimmer
Challenge 3: Creative Composition
There are many ways to compose an image. Besides simply capturing what you see in front of you, take it a step further by composing other elements into your image.
We took it a step further on day 2, when I invited Lumi to come hang out at my studio as we created a simple set for a beauty product flat-lay!
Totally glamorous Kindergarten-level arts and crafting
We created our own mini set-up by cutting up lots of construction paper. It's that simple - try this at home! The tilt-screen came in really useful, and Lumi could simply stand over the objects as she framed the shot she wanted.
Lumi's final photo!
Experience using the EOS M10
Quality of images
I was especially impressed with the 18-megapixel APS-C sensor because of the compact size of the camera. The results when paired with an EF lens (adaptor required) are amazing, especially since you can shoot images in RAW format.
Size & Weight
I thought it was really small and light, but as someone who lugs gear around all day, my perception might be inaccurate. (For accuracy, it weighs 301g)
Appearance
To me, it's the inside that counts, but thankfully, the EOS M10 can look cute, or cool, or whatever you want it to be with interchangeable jackets. My favourite is probably the black-and-white striped case! The interchangeable camera skins are a also great (and stylish) addition.
Interface
The interface, which features a touchscreen, is easy to use and to get used to. It features the usual exposure modes: Manual exposure, Shutter priority, Aperture priority, Program etc.), as well as a wide variety of beginner-friendly Creative Assist modes.
The Creative Assist modes can do fancy things in-camera: such as smoothen your complexion, or add preset filters to your photos so that it's social media ready. The camera has Wi-fi NFC connectivity, so you can easily transfer images to your phone with the help of Canon's Camera Connect app (available at Google Play Store and Apple App store).
Video function
I wasn't expecting much from a mirrorless camera, and I personally had a good time shooting a video on the EOS M10!
In conclusion: Personally, I'd recommend this camera for Canon users looking for a compact, portable option for everyday photos. I think it'd make a great travel or daily camera that's capable of producing high quality videos on the go. The EOS M10 is ideal for beginners who want more control over their images (and was probably designed with that purpose in mind).
#EOSM10diaries Contest
Now that you're armed with tips and the low-down on the camera, find out how to win one of your own!
Using the tips outlined in this article, Lumi's posts on the Instagram hashtag #m10diaries, or those featured in our tutorial video, we want to hear (see?) about your day through creative photo entries!
Here are the steps to take part in this contest -
Step 1: Follow @canonasia on Instagram!
Step 2: Post a photo inspired by a tip from the #EOSM10diaries series, along with a description of how you achieved the shot. (Remember to make your profile public!!)
Step 3: Tag #EOSM10diaries and #canonasia - many times. Make sure they notice you.
The contest ends on 28th May 2016. Terms and conditions apply.
I can't wait to see your entries! Good luck, and may the odds be ever in your favour.
Lenne Chai
Based in Singapore, Lenne Chai is a fashion photographer featured in local and international publications such as NYLON Japan, Elle Girl (Japan), Harper's Bazaar Singapore, Designaré, and SPUR (Japan). She regularly spends time in Tokyo, where she has shot commercially for brands such as Bang & Olufsen. She enjoys creating with her own two hands, constructing sets and props to weave stories out of photographs.