Products >>
All Products
Introduction to EOS Movie Shooting for EOS 5D Mark IV Users (Part 1)
4K movie shooting is now supported on the EOS 5D Mark IV with the availability of many features such as Dual Pixel CMOS AF. In this series of articles, I will outline the outstanding movie-shooting performance of the camera together with examples on how to put the EOS Movie features to good use. (Reported by: Nobuyoshi Kodera, Model: Sayaka Aramachi (OSCAR PROMOTION CO., LTD.))
Movie-shooting performance of the EOS 5D Mark IV
The EOS 5D is a renowned series that has left a deep impression among experts in movie shooting. The release of the EOS 5D Mark II immediately stormed the movie industry with its support for Full HD quality and the profound world of "bokeh" created by its full-frame sensor. In the following, let us take a look at the movie-shooting performance of the latest member in the family – the EOS 5D Mark IV.
Feature 1: EOS 5D Mark IV now supports movie shooting in 4K/30P and Full HD/60p
The most appealing movie-shooting feature of the EOS 5D Mark IV is none other than its support for 4K resolution, the first in the EOS 5D series. Prior to this, 4K shooting was available only on the EOS cameras in the EOS 1D series. In this sense, its availability on the 5D series is of great significance, making the feature available to users who find EOS 1D-series cameras beyond their means.
As frames in a 4K movie can be saved as still images with the 4K Frame Grab feature, the 4K shooting mode can also be employed as a continuous shooting feature that captures stills at a speed of 30 fps. Not only so, this can be done quietly since no shutter operation sound is emitted. Considering this, even if you are only into still photography at the moment, it won't hurt to get hold of the EOS 5D Mark IV—if you decide to try out movie shooting in the future, you will have a powerful tool readily available.
Main Movie-shooting Features on the EOS 5D Mark IV
[Movie recording size] 4K: 4,096×2,160, Full HD: 1,920×1,080, HD: 1,280×720
[Frame rate] 4K: 30p/25p/24p, Full HD: 60p/30p/24p, HD: 120p/60p/30p
[ISO speed] 4K: 100 to 12800, Full HD: 100 to 25600
Feature 2: Supports the DCI 4K cinema resolution standard
4K movies come in two frame sizes, known as the UHD and DCI standards. The UHD standard is about twice the size (both vertically and horizontally) of Full HD quality and has a resolution of 3,840 x 2,160 pixels. Meanwhile, the DCI standard is a size used for movies, and has a resolution of 4,096 x 2,160 pixels.
Although there are some cameras that allow users to select one of these two sizes for movie shooting, only the DCI size is supported on the EOS 5D Mark IV. Also, the angle of view is narrower than that of stills or HD movies during 4K shooting due to limitations of the sensor readout area.
Angle of view is narrower during 4K movie shooting
As illustrated in the examples below, the angle of view becomes significantly narrower when we compare 4K movies recorded using the EOS 5D Mark IV with still images. It is therefore important to bear in mind to choose a lens with a wider angle than what you would usually choose for still photography.
Angle of view of still images at 24mm
Angle of view of 4K movies
Feature 3: Pleasant AF operation with Dual Pixel CMOS AF
Dual Pixel CMOS AF, which allows for high-speed AF, also demonstrates outstanding performance during movie shooting. Three AF methods are available for selection during movie shooting: Face Detection + Tracking, FlexiZone – Multi AF and FlexiZone – Single.
Switching the AF operation abruptly while recording would result in movies that are not so pleasant for viewing. By selecting FlexiZone – Single, this issue is addressed as it allows users to adjust the AF speed, AF response speed, as well as adjustment of other settings in detail. These AF methods come in handy such as when shooting at crowded places where there are people walking past the front of the camera.
Movie Servo AF characteristics are customisable
The focusing speed is adjustable when you are shooting a movie, so it is recommended that you adjust it to the ideal speed according to the location of the shoot or your expressive intention. Also, you can set Movie Servo AF tracking sensitivity to "Locked on" or "Responsive" depending on whether you want the camera to maintain focus on the subject you are tracking when a different subject enters the composition.
AF Speed
Movie Servo AF Tracking Sensitivity
Feature 4: Four movie-shooting features on the EOS 5D Mark IV
1. 8.8-megapixel 4K Frame Grab
With a maximum continuous shooting speed of approximately 7 fps on the EOS 5D Mark IV, you sometimes may not be able to capture the crucial moment as desired. However, this can be resolved by shooting a 4K movie at a frame rate of 30 fps, followed by using the Frame Grab feature to extract the ideal moment as a still photo. 4K recording uses Motion JPEG without inter-frame compression, a format that goes well with the Frame Grab feature. While the resolution is limited to 4,096 x 2,160 pixels, you will not miss out on any decisive moment with this feature.
Select the frame to save as a still photo from the movie playback panel, and then tap the Frame Grab button as shown above.
Saves the best moment as a still photo
Although the resolution of the image captured via Frame Grab is lower compared to still shots, you can make use of the feature in the same way as a continuous shooting function to capture objects whose shape is changing constantly or a fleeting moment without experiencing any frame drop.
2. High Frame Rate feature for recording slow-motion movies
High Frame Rate (or slow motion) is a feature which any user would find enjoyable in using. With the EOS 5D Mark IV, you can record movies at 120p and play them back in slow motion at 1/4 speed (30p). Although the resolution becomes 1,280 x 720 pixels when you shoot a High Frame Rate movie, deterioration in the S/N ratio, which is likely to occur during high frame rate shooting, is minimal. You can therefore fully enjoy shooting slow-motion movies without worry.
In the Movie recording quality menu, set High Frame Rate to "Enable". Note that the movie recording size is limited to HD in this case.
Conveys small movements in detail
The High Frame Rate movie feature has the ability to capture every single detail of a movement, and thus can beautifully reproduce a scene you suddenly chance upon.
3. HDR movies for capturing scenes with high contrast in brightness
The conventional way of creating HDR movies, which are showing signs of growing popularity, is to shoot a movie with a gamma curve that preserves the dynamic range. Meanwhile, Canon adopts a new methodology for HDR shooting on the EOS 5D Mark IV, which alternates between standard and decreased exposures while shooting in HD/60fps, followed by merging the high dynamic range images into a 30-fps movie.
[A] Standard Exposure
[B] Decreased Exposure
[C] Merge inside Camera
[D] HDR Movie
HDR: Off
HDR: On
Reproduces a larger amount of information with less blowout and black crush
Above is an example of a high-contrast scene with light from the setting sun. When HDR is turned on, I was able to reproduce information such as shadows cast on the ground as well as the colours in the resulting movie.
4. Time-lapse movie for combining still images into "fast-forward" movements
Time-lapse movie is a feature that combines still shots taken over a specific interval into continuous movements with a "fast forward" effect. While this function is available on many cameras, they mostly capture stills as continuous frames and do not allow you to view the resulting movie on the camera immediately after shooting. Meanwhile, the Time-lapse movie feature on the EOS 5D Mark IV shoots a movie by adding one frame at a time to a video file, so you can preview the movie on the camera.
Conveys changes over a period of time
You can use the Time-lapse movie feature to create intriguing movies when you observe a constantly-changing scene from a fixed point, such as movement of the clouds or people on the street.
More Settings 1: Picture Style options can be selected for movies
As with still photography, you can now select a Picture Style option for the movies according to the scene. If the Picture Style effect is too subtle, you can also fine-tune settings such as contrast and saturation using the Detail setting option.
More Settings 2: Behaviour when shutter button is pressed is customisable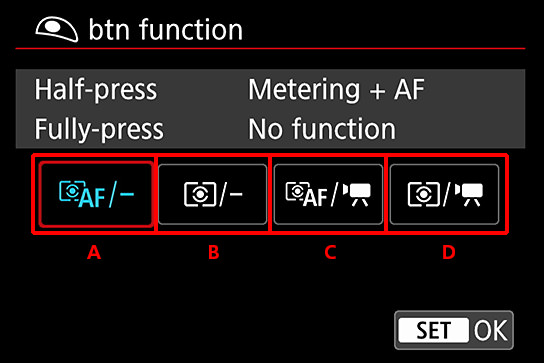 [A] Press halfway: Metering and AF start/ Press completely: No function
[B] Press halfway: Metering start/ Press completely: No function
[C] Press halfway: Metering and AF start/ Press completely: Start/stop movie recording
[D] Press halfway: Metering start/ Press completely: Start/stop movie recording
Receive the latest updates on photography news, tips and tricks by signing up with us!
About the Author
A monthly magazine that believes that enjoyment of photography will increase the more one learns about camera functions. It delivers news on the latest cameras and features and regularly introduces various photography techniques.
Published by Impress Corporation
Kodera has more than 10 years of professional experience as a technical director for TV programmes, commercials and promotion videos. He is also a writer for a diverse variety of genres ranging from video and audio to contents based on the motto of making complicated content simple and simple content sophisticated.