Products >>
All Products
[Part 1] First Impression of the 50.6-megapixel Resolution
The EOS 5DS and EOS 5DS R are Canon's ultra-high resolution cameras. In this article, two photographers who were the first to test them out talk about their impression of these two new models. (Reported by: Rika Kasai, Photos by: Hiroyuki Kato)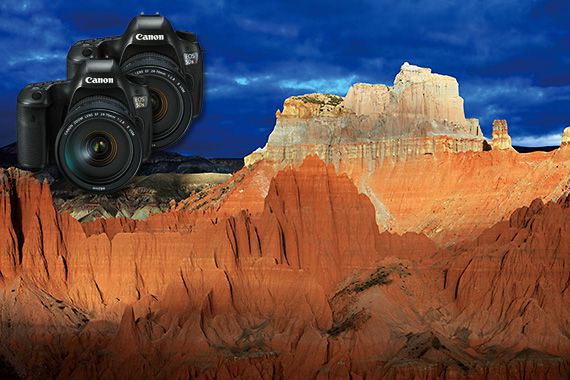 Pages: 1 2
Tension reminiscent of film photography
- Compared to existing full-frame cameras, in what ways do you feel the higher pixel count has brought about changes to the expressive power?
Nomachi First of all, I am overwhelmed by their expressive power. I think that the performance of the EOS 5DS and EOS 5DS R is best maximised when the photo is enlarged into the B0 size (1,030 × 1,456mm). While the photo-shooting process may have become easier with advancements made in the technology, the EOS 5DS and EOS 5DS R had a feel that reminded me of the film camera era.
Ishibashi I totally get what you mean. With these cameras, I feel compelled to get myself ready for the shoot.
Nomachi If we do not analyse the light carefully, the details won't show up.
The EOS 5DS and EOS 5DS R are the first EOS camera to be equipped with an image sensor with an effective resolution of 50.6 megapixels.
Ishibashi I wonder if we have become too used to the convenient functions of digital cameras. Using the EOS 5DS and 5DS R requires the photographer to really concentrate. It enhances our awareness in photography. We can't allow ourselves to press the shutter button until we have determined the composition and are certain that we have adequately understood our subject, and this creates a sense of tension during the shoot. We would need to make full use of the knowledge and experience that we accumulated during the film camera era. Also, If our aim is to display large-scale versions of the images we have captured, one of the options we could consider in future is to present them on high-definition displays such as those with a 4K resolution.
Nomachi I tried printing out an image captured in the JPEG Large mode into a B0-size format, and the result was amazing. A large format changes our perception of a photographic work, so I'd encourage everyone to enlarge their photos and take a look. This is particularly true if you are using the EOS 5DS and EOS 5DS R.
* Click on the image to enlarge.
EOS 5DS R/ EF24-70mm f/4L IS USM/ FL: 55mm/ Shutter-priority AE(f/8, 1/180 sec, EV-1.0)/ ISO 100/ WB: Auto (Photo by: Kazuyoshi Nomachi)
An eroded plateau that unfolds on a highland at an altitude of 4,000m in the southwest part of Bolivia . The 50.6-megapixel resolution produces a thorough and fine depiction of sunlight penetrating through the clouds like a ray of spotlight, bringing the perfect gradation into relief. The more I enlarged the photo while processing the RAW data, the more fine details I discovered hidden within the high-resolution data. In other words, the gradation does not go out of balance easily even with heavy handed image processing. This shot was taken handheld, as I was on an unstable and steep slope where a tripod could not be used. Even so, I managed to have an actual feel of the stable shutter operation thanks to the new internal system for controlling mirror vibrations.
Changes resulting from the high pixel count
- With the ultra-high pixel count and cancellable low-pass filter effect, have there been any changes to how images are reproduced?
Nomachi I did not pay particular attention to the low-pass filter during the shoot. When I compared images captured by the EOS 5DS and EOS 5DS R, there were no substantial differences. I think there will be differences only under specific conditions.
Ishibashi There were hardly any changes in terms of image reproduction. Expression of the colour gradation is superb, although this is one element that depends on the subject. Subtle colours and the gradation between colours are richly expressed. However, you'll need good-quality lens.
Nomachi In my case, after returning from the shoot and selecting the shots I wanted to use, I realised most of them were taken by the EOS 5DS R, although this had not been a conscious choice on my part. I might be able to tell the differences if I enlarge them into super large sizes.
- Just now you mentioned something about the lens. Is there a specific lens you would choose to use with the high pixel count of these cameras?
Ishibashi I think the EF11-24mm f/4L USM would be an interesting choice. I would like to use it to take a shot that I can crop into a wide format, and create an end product that looks like a folding screen painting. It is capable of capturing images of a space without any distortion.
Nomachi In my opinion, wide-angle lenses such as the EF14mm f/2.8L II USM work well with the EOS 5DS and 5DS R. I also use the EF16-35mm f/4L IS USM, and it's good, too. For telephoto lenses, I would go for the EF70-200mm f/2.8L IS II USM.
Ishibashi I'd also recommend the EF100-400mm f/4.5-5.6L IS II USM. It's even better than the telephoto zooms that I had been using until recently.
Lenses recommended for use with the EOS 5DS and EOS 5DS R
- Are there any points to take note of when using a camera with a high pixel count?
Ishibashi I would give priority to the image quality when taking landscape shots, so I would refrain from decreasing the aperture [i.e, increasing the f-number] excessively and raising the ISO speed unnecessarily. However, I want to increase the depth of field at the same time, so it is a challenging task trying to find the right balance. With a resolution as high as about 50.6 megapixels, the aperture and ISO speed settings will have a greater impact on the image quality, and this may affect the choice of subjects to some extent.
Nomachi Judging from the test shots by the EOS 5DS and EOS 5DS R, the image quality is good from about f/8 to f/11. However, I don't really worry too much about stopping down the aperture, as long as the resulting shots are not out of focus. Besides, the Digital Lens Optimizer feature is also available these days. While I understand the desire to bring out the apparent resolution of the 50.6 megapixels, there is no need to get too fixated on this particular point.
Using the Digital Lens Optimizer feature in the "Digital Photo Professional" software that is supplied with the camera, diffraction that occurs when the aperture is stopped down can be corrected to restore the image to its undistorted form.
Ishibashi Yes, we often find ourselves paying too much attention to the camera's specs when we try to achieve detailed expression in landscape shots.
Nomachi For long-exposure shots, I thought the result was fine up to a shutter speed of about 4 seconds and an ISO speed of 400. Of course, at ISO speeds of 100 and 200, you'll probably find yourself using a tripod more often. Even so, you can even take handheld shots with the cameras if you are not too concerned about bringing out the resolution of 50.6 megapixels.
Ishibashi On the EOS 5D Mark II, with its normal ISO speed range of up to 25600, we were able to capture images of night views that were not possible in the film camera era. In contrast, the EOS 5DS and EOS 5DS R offer slightly less flexibility in nightscape photography as their maximum normal ISO is 6400.
* This article is created based on a trial model. Aspects such as the appearance and image quality may differ slightly from the actual product.
EOS 5DS
EOS 5DS R
Kazuyoshi Nomachi
Born in Kochi in 1946. Nomachi began studying under photographer Takashi Kijima in 1968, and embarked on coverage of Nile, Ethiopia and other arid regions of Africa after his trip to the Sahara desert in 1972. The current locations of his shoot are Andes and India. Awarded the Medal with Purple Ribbon in 2009.
Mutsumi Ishibashi
Born in Chiba in 1947, Ishibashi travelled around the country since his late teens to explore the nature of Japan. Since 1975, he narrowed down his theme to the nature of the Tohoku region. His lifetime work centres on expressing the unique natural beauty of Japan created by the humid climate. Author of many forest-themed publications.

Digital Camera Magazine
A monthly magazine that believes that enjoyment of photography will increase the more one learns about camera functions. It delivers news on the latest cameras and features and regularly introduces various photography techniques.
Published by Impress Corporation