Inspirations >>
Photos & People
Behind the Craft with the EOS M5 - The Art of Suit making
As his fingers moved along the neatly tucked seams, travelling across from shoulder to shoulder, he placed a reassuring hand on his subject's shoulder in an unspoken command for a half turn.

 Jonathan Wong poked a shiny pin into the pant leg of his subject, a client who is customising a suit for his upcoming wedding. Together with his fellow entrepreneurial partner, Gary Ong, they own local suit-making outfit, Mr. G.

Trends come and go, but some things just remain as timeless as a classy suit. Introducing the sleek new EOS M5 mirrorless. With a classic design resembling a mini-DSLR, the EOS M5 has been tailored for the discerning crowd, sporting the highly demanded electronic viewfinder and all new touch-and-drag auto focusing, perfect for capturing those fleeting moments of inspirations in everyday life. In part 1 of #EOSM5creators, we set out to capture the art of suit making, with the art of photography.
EOS M5/ EF24mm f/1.4L II USM/ FL: 24mm/ Manual (f/2.8, 1/200sec.)/ ISO 400/ WB: Auto
In a world rife with fast fashion brands, custom-made clothing seems to be an indulgence for the privileged, but Singaporean suit-making outfit, Mr. Gentleman proves that theory wrong with affordable and accessible custom tailoring.
Mr Gentleman take great pride in their craft. As travelling suit-makers that not only fit you for comfort, they fit from the comforts of home or the workplace.
Original
EOS M5/ EF24mm f/1.4L II USM/ FL: 24mm/ Manual (f/1.4, 1/200sec.)/ ISO 320/ WB: Auto
No one wants to look like a penguin, so for bespoke suit-makers, like Mr. G, the key is in the fit and wearability.
Tip: Give your subject the sharp, confident look he deserves by shooting at a lower angle to change up the perspective. This makes him look taller and also works to indicate a sense of power. With the tilting screen of the EOS M5, we framed the first shot with ease.
Original
EOS M5/ EF14mm f/2.8L II USM/ FL: 14mm/ Manual (f/3.2, 1/200sec.)/ ISO 400/ WB: Auto
Each project is different, each piece unique to the wearer's style and needs. Mr G. makes it a point to learn about the personality of each client, as well as understand the occasion they will need the suit for before designing the piece.
Tip: Whether it's suit making, or photography, we can always learn from our subjects. Communicate with your subject to understand what is special about them or the topic of the shoot, to inspire you on the must-have shots.
Bonus tip: Give clear direction to your subject on positioning, and allow him to review the images taken, to see how best to correct his posture in order to achieve the best composition.
Original
EOS M5/ EF24mm f/1.4L II USM/ FL: 24mm/ Manual (f/2.8, 1/400sec.)/ ISO 200/ WB: Auto
When it comes to making suits, a small change can make a huge difference, and it's better to tapper in slowly to fine-tune the final output.
Tip: A pro tip to making sure you get the rule-of-thirds right, is to shoot wide and crop later. In addition, the presence of other props framing your subject not only adds to the context but also isolates him from a messy background.
Original
EOS M5/ EF-M28mm f/3.5 Macro IS STM/ FL: 28mm/ Manual (f/3.5, 1/800sec.)/ ISO 200/ WB: Auto
The immaculate intricacies in each suit designs are testament to the craftsman's dedication Like the art of photography, that takes skill as much as practice, the art of tailoring can only be qualified with the details.
Tip: Here we used a dedicated macro lens, the EF-M 28mm f/3.5 Macro IS STM to capture the fine details and enhancing texture. The in-built ring-light of this lens can also be used to balance the light and shadows that become evident when shooting up-close. When shooting in macro, minute changes in aperture make a huge difference in the appearance of depth, so stop up a little and choose a faster shutter speed to prevent motion blur, resulting in micro movements.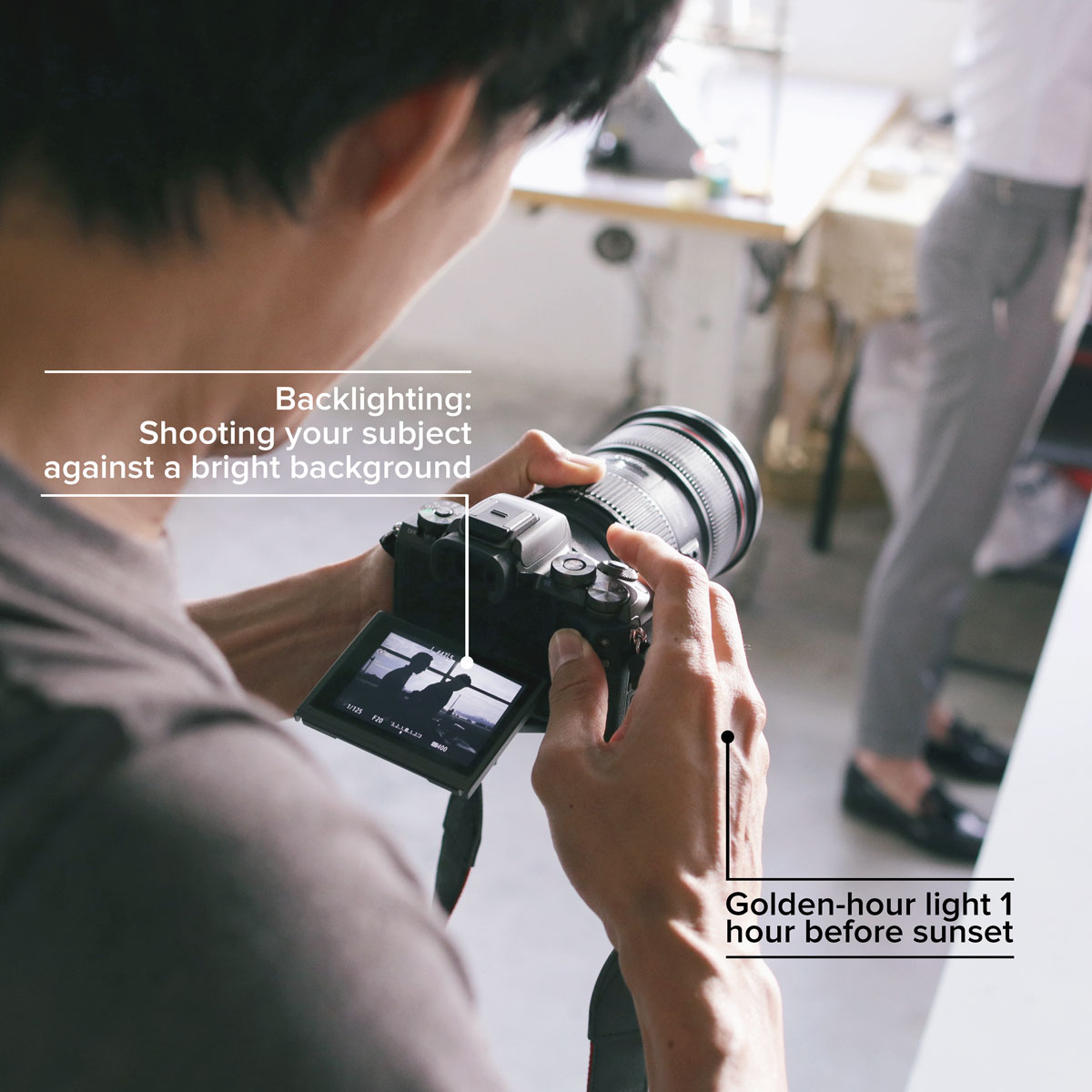 Original
EOS M5/ EF24-70mm f/2.8L II USM/ FL: 24mm/ Manual (f/2.8, 1/160sec.)/ ISO 400/ WB: Auto
Mr. G brings the concept of mobility back to suit making by bringing their expertise to the doorsteps of their clients, giving advice on matching the right angles on the spot.
Tip: Playing with light and exposure builds an entirely different mood. Try out backlighting or challenge yourself to shoot during the Golden Hours. The light during the Golden Hour presents itself as a soft golden glow that casts contrasting shadows or a dreamy glow on subjects.
Why should you turn to custom suit-making instead of getting one off the rack? It's because we are all unique individuals – with distinctive contours and different lifestyle needs. And it's the same for photography, with the finest interchangeable-lens mirrorless camera yet – the EOS M5. Tailor it to suit your lifestyle, to capture moments exactly the way you experience them, to celebrate inspiration with the art of photography.
Stay tuned for the next #EOSM5Creator right here and on Instagram (@canonasia).
Receive the latest updates on photography news, tips and tricks by signing up with us!