Chinese New Year goodies, exuberant relatives, redecorated houses, or even a short getaway, there is much to photograph this festive season. From capturing the holiday spirit with beautiful and memorable portrait photography to showing off your sumptuous reunion dinner in food photography or the tossing of Yusheng on social media, we got you covered with these amazing camera lenses to pair with your full frame camera.
Unleash the food blogger in you with a powerful macro lens, which lets you capture beautiful close-up shots of dishes prepared by your loved ones. This macro lens captures distinctive details and help you create composition better than other types of lenses, and gives your photos a beautiful background blur with its wide aperture. Compare it to an EF50mm lens (which is also amazing), the EF100mm f/2.8L Macro IS USM lens allows you to play with distance – up close for stunning macro shots, or stand further away to snap a photo of the person preparing the food!
Improve on your food photography with Taking Food Photos Like a Pro.
There are two things you need to know about the EF85mm f/1.2L II USM lens: its wide aperture gives you the power to take stunning shots of fast moving subjects such as indoor sports and under low light conditions (without the need for flash), and the capability to produce a breathtaking background blur that not many lenses can measure up to. Compare the aperture of f/1.2 to f/4.0 or f/8.0, the difference is striking – less noisy ISO speed, crisp image quality, complete with a shallow depth of field. With the ability to produce spectacular image quality, this lens is perfect for photographing your family and relatives all dressed up for this festive season.
Learn to shoot portraits from the best in Hues of Hue – Portraiture Styles.
Your aunt has a new home which she can't wait to show off, your grandparents are so proud of the Chinese New Year decorations they have spent hours doing up… Capture the beauty of all these within one frame with the ultra-wide angle lens EF16-35mm f/2.8L III USM. The latest model in the EF16-35mm series, this lens far surpasses its predecessor with outstanding image quality, and has a one stop wider aperture – twice the amount of light (which means using the same ISO setting even with a wider aperture). With this lens, you'll be able to capture a wider frame no matter how tiny the interior is. That aside, this wide-angle lens is also commonly used for taking compelling landscape shots thanks to its focal length of 16mm, allowing the photographer to take in bigger scenes.
Be a pro at interior photography with these tips in Interior Photography: 5 Tips on Shooting Commercial Spaces
Amateur, enthusiasts or professional, the versatile EF24-105mm f/4L IS II USM lens is a wonderful general purpose lens perfect for your Chinese New Year getaways. The focal length range is useful for numerous scenarios from capturing landscapes to tight spaces, as well as portrait shots. Think cityscape, interior and exterior of architecture, the beautiful countryside… This zoom lens covers it all. It also comes with image stabilisation, enabling you to take photos with less motion blur in medium or low light conditions without a tripod. If you're looking for a lens for your travels, this is one of it to look out for.
Need inspirations for your getaway? Here's 5 Places to Visit for Travel Photographers.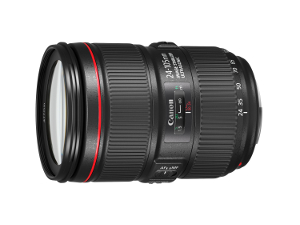 Receive the latest updates on photography news, tips and tricks by signing up with us!