Food photography is more than just pointing a camera at your meal and snapping away. With Chinese New Year around the corner and feasting abound, there's no better time to learn how take your food photography up a notch. Here's what you should do and what to avoid to fill your Instagram feed with drool-worthy food photos.
DO choose the best angles for your dish

EOS R, RF24-105mm f/4L IS USM lens, f/7.1, 70mm, 1/13sec, ISO100
Ensure your food photos stand out from all the others on Instagram by shooting your dish from different angles. When thinking about the angle to shoot from, take a cue from how the dish is plated. If the dish is built vertically, shoot it straight on to achieve depth in your photo. In this example, the love letters are stacked to give height to the dish. If the dish is built flat, shooting from above might be a better option to show off the dish.
Tip: Whether you're a fan of flat lays or prefer shooting straight down, angles help to create your Instagram feed's signature style.
Learn how to take food shots with a difference in 3 Composition & Styling Techniques for Food Photography.
DON'T shoot from common angles only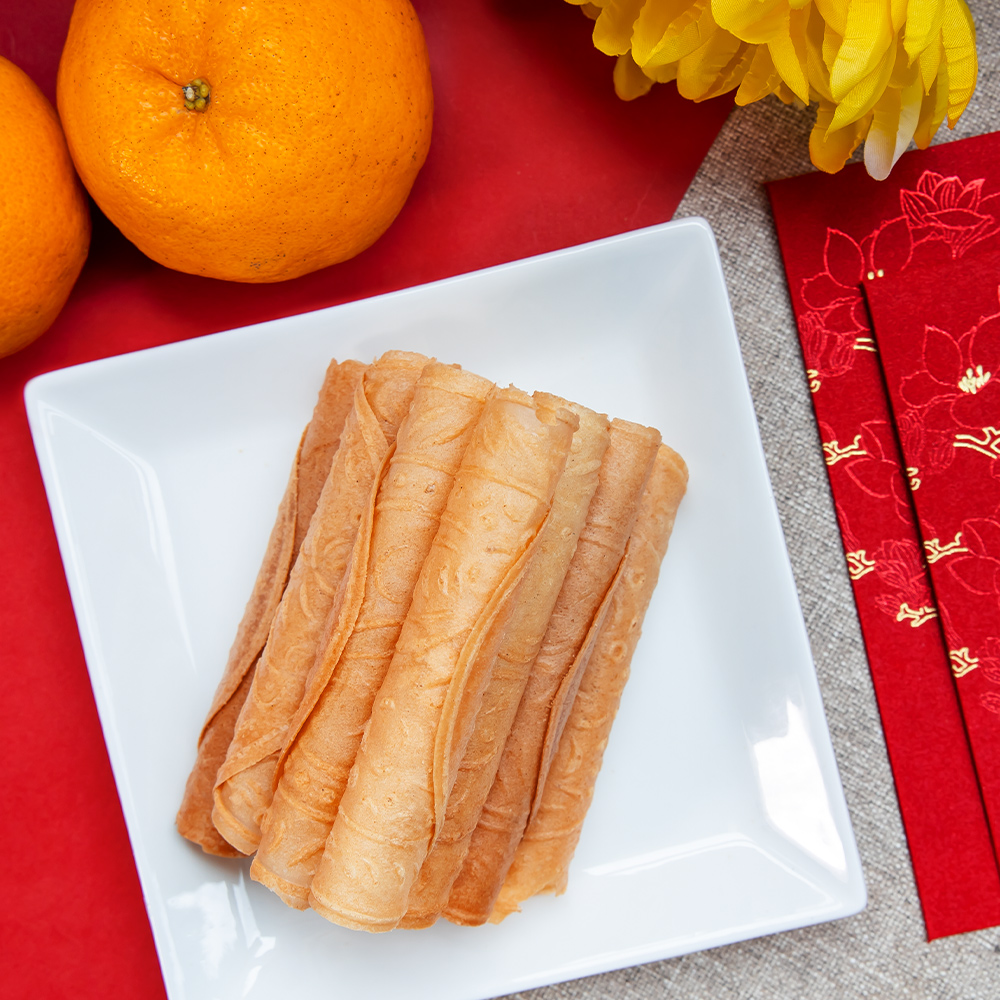 Just because the overhead shot is popular doesn't mean it works for all dishes. Even the typical 45-degree angle might not capture your dish in the best way. Go right down to the level of the dish and shoot from there, or try capturing a close-up. Experiment and don't be afraid to move, even if it means standing on a chair to achieve the best angle for your dish.
DO look for natural daylight

EOS R, RF24-105mm f/4L IS USM lens, f/4, 83mm, 1/400sec, ISO400
Always shoot in natural daylight for mouthwatering food images. If you're at home, set up your shot just outside where the light spills in. If you're going to a restaurant, reserve or find a seat next to a big, bright window. Light your food from one side or slightly from the back to show texture and contrast of the food. In this example, using a plain white plate also helps the colourful ingredients to stand out.
Tip: Add motion or a human element to help craft a better narrative of your dish. To capture the moment plum sauce is poured onto the yu sheng, we used the EOS R's high-speed continuous shooting mode and set a shutter speed of 1/400 seconds.
Discover how to tell a more captivating story with your food shots in 3 Ways to Elevate Your Food Photography with Canon EOS R.
DON'T use flash or artificial light incorrectly
Using flash properly can prevent your food photos from appearing flat and unappetising, or worse, overexposed. If you're tucked away in the corner of a restaurant, point your portable flash at an angle so the light bounces off a wall for a backlit effect. Shooting food at night is not a problem when you use flash correctly. Position your portable flash outside a window and point it towards the room. As the flash is a small light source which can be harsh, use a flash diffuser to scatter the light to produce a soft and natural daylight effect.
DO pick the best focal point

EOS R, RF24-105mm f/4L IS USM lens, f/4, 65mm, 1/320sec, ISO400
When it comes to choosing focal point in your food photography, you want to highlight the most delicious area of the dish. With up to 5,655 selectable AF points, the EOS R enabled us to focus on the square piece of bak kwa and thus make the image stronger. Notice that because the background is blurry, this draws attention to the bak kwa, allowing the background and foreground to act as a passive space to frame the main subject.
Tip: Avoid patterns or too much decoration in the background so you don't distract from the main interest of the photo, which is the dish.
DON'T focus incorrectly
Ensure you're using your focus points correctly. Use manual focus if the AF points are not helping you get the right focus. In this image, the eye wants to focus on the bak kwa but instead rests on the oranges in the background. This makes your eye go all over the place and creates a frustrating, incohesive image. Tip: If you're shooting top down photos, away higher apertures to avoid blurry photos.
For more inspiration on food photography, check out
5 Ways to Up Your #Foodstagram Game
Taking Dramatic Food Photos in Chiaroscuro Style
Handmade Popiah Skins: Two families. Two countries. One shared heritage
---
Receive the latest update on photography news, tips and tricks.
Be part of the SNAPSHOT Community.
Sign Up Now!