Products >>
All Products
In Focus: M200- Part2
EOS M200: Captivating Images, Handbag-Friendly Portability
On 25 September 2019, Canon announced a new addition to its EOS M series of APS-C mirrorless cameras: The EOS M200, successor to the petite EOS M100 and the lightest EOS camera to date. Equipped with the new DIGIC 8 image processor, improved imaging and autofocus (AF) capabilities, and support for 4K movie shooting, it's an ideal choice for those who want it all: High-quality images, the ability to switch between different lenses, and a slim form factor that fits easily into a handbag with ample space to spare for other essentials.
The EOS M200: Your new handbag essential for taking high-quality images
At a mere 299g (body with battery and memory card), the EOS M200 weighs even less than its predecessor, the EOS M100. But don't be fooled—it comes with packed with features that make it easier to create beautiful, high-quality images, regardless of whether you are taking holiday shots or simply capturing the everyday things and experiences that you want to remember.
Here is a look at some things that the camera can do.
Imaging: Enhanced by the new DIGIC 8 image processor

24.1-megapixel image resolution, so that you can crop away and still maintain image quality
The camera's 24.1-megapixel APS-C CMOS sensor provides sufficient resolution to ensure that images still look crisp and detailed after you have cropped them, even when viewed on a larger screen. It's perfect for making your compositions look tighter and more impactful—and for cutting out things that you don't want all your social media followers to see!
Tip: 24.1 megapixels is also sufficient for making high-quality, A3-sized 300 dpi prints.
Eye Detection AF and a wider AF area, making easier to get shots in-focus quickly
With Canon's Dual Pixel CMOS AF system, all image sensor pixels within the AF area are capable of both imaging and phase detection. The new DIGIC 8 image processor enables the camera to process more information, and the AF system is one of the biggest beneficiaries.
Firstly, there is the larger AF area. On the EOS M100, this was approximately 80% × 80% (horizontally × vertically), but has been expanded to up to 88% × 100% (horizontally × vertically)* on the EOS M200. This means that subjects can be detected quickly and precisely even if they are at the edges of the image frame, allowing you to achieve sharp, in-focus images regardless of how you compose the shot.
* On compatible lenses.
Then, there is the new Eye Detection AF feature, an enhancement to Face Detection that makes shooting portraits easier than ever. In addition to the usual still shots, it can also detect and track the subject's eyes even in continuous shooting mode (with Servo AF enabled) and Movie mode, ensuring that your focus is on point even with a moving subject.
Learn more about Eye Detection AF here:
It's All in the Eyes: A Quick Way to Create Mesmerising Portraits

Your subject's face does not need to be in the centre for the camera to achieve sharp focus on his/her eyes!
Fast-moving subjects are not an issue either.
Beautiful, high-quality self-portraits
Taking a we-fie to preserve memories of a fun outing with friends? Pair the EOS M200 with an ultra-wide-angle lens, and you will be able to capture details of the place too.
Taking selfies with the EOS M200 is easy. Just flip up the 180-degree tilt-type LCD touchscreen, enable the Touch Shutter function, and tap the screen to take the shot. The Self Portrait mode allows you to choose from different levels of background blur (bokeh) and skin smoothening effects to help you put your best face forward.
Natural bokeh, natural beauty
The background bokeh effect on many smartphones is achieved through image processing software, which can look unnatural: Do you notice parts of your subject getting blurred along with the background even though they are not supposed to be? The larger APS-C size image sensor on the EOS M200 works with the optics on your lens, creating a natural bokeh effect that beautifully isolates your subject from the background.
EOS M200/ EF-M32mm f/1.4 STM/ FL: 32mm/ Manual exposure (f/1.8, 1/60 sec)/ ISO 8000/ WB: Auto
Video: 4K video that supports vertical shooting

Get creative with an arsenal of lenses
The EOS M200 supports video recording at resolutions up to 4K 25p (PAL)/24p (NTSC)*. You also have seven native EF-M lenses at your disposal, and over eighty EF and EF-S lenses you can use via the Mount Adapter EF-EOS M, ensuring that you are well covered if you choose to shoot your movies ultra-wide-angle, telephoto, or even fish-eye. (Learn more about different lenses in Lenses 101)
Up the creativity quotient by shooting 4K time lapse video, or slow-motion video with the HD High Frame Rate 100p/120p feature. Shoot them in vertical orientation, and that will be the same orientation you get when you play them back on a smartphone or social media, with no conversion needed.
* 4K movies are shot with Contrast AF and will be cropped.
Movie Digital IS for stable, seamless footage
Shooting while walking? The EOS M200 is equipped with Movie Digital IS, which uses in-body gyro sensors for 3-axis image stabilisation, reducing the shake in your footage. With lenses that have image stabilisation, Combination IS** is effective, further enhancing the stabilisation effect.
** Compatible lenses: EF-M15-45mm f/3.5-6.3 IS STM, EF-M18-150mm f/3.5-6.3 IS STM
Film yourself easily
The new features on the EOS M200 include:
- An on-screen "Record" button in Movie mode, which you can simply tap to start recording when filming yourself; and
- A movie self-timer function, which saves you the trouble of having to edit out those awkward moments right after you've pressed the "Start" button and are retracting your hand.
You can also append GPS information to your movie clips via a paired smartphone—all the better to show that you really are experiencing the sights and sounds of that dream destination.
Easy connectivity with smartphones and social media
EOS M200 is compatible with both Wi-Fi and Bluetooth. Simply install the free Canon Camera Connect app on your smartphone to transfer images and videos. You can also set the camera to automatically transfer files to your smartphone as you shoot. To manage and transfer files without taking your camera out of your bag, pair your devices with Bluetooth for an always-on connection, even when the camera is powered off.
Tip: The Bluetooth connection also allows you to use your smartphone as a remote control for releasing the shutter—perfect for full-body group shots, jump shots and OOTDs.
Also check out: 7 Reasons Why Canon's Mirrorless Cameras Will Up Your Social Media Game
EOS M200 key specifications
Image sensor
approx. 24.1 effective megapixels; APS-C format CMOS sensor
Image processor
DIGIC 8
Native ISO speed (still shooting)
100 – 25,600 (expandable to 51,200)
AF (Live View)
Dual Pixel CMOS AF
LCD monitor
3.0-inch, approx. 1.04-million dot tilt-type touch panel
Continuous shooting (max.)
6.1 fps (One-Shot AF)
4.0 fps (Servo AF)
Movie shooting
4K: up to 25p/24p
Full HD: up to 60p/50p
HD: up to 120p/100p
Size (approx.)
108.2 × 67.1 × 35.1mm
Weight (approx.)
299g (with battery, memory card)
EOS M200 (black)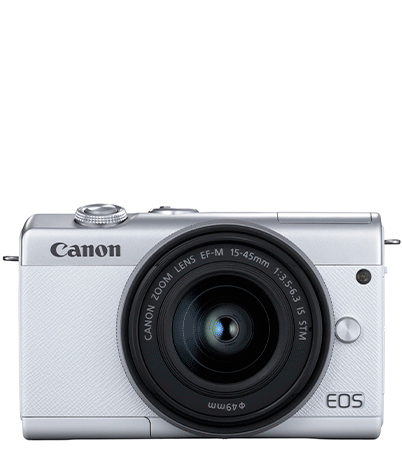 EOS M200 (White)
Sample Photo
EOS M200/ EF-M11-22mm f/4-5.6 IS STM/ FL: 16mm/ Manual exposure (f/9, 1/200 sec)/ ISO 100/ WB: Auto
EOS M200/ EF-M32mm f/1.4 STM/ FL: 32mm/ Manual exposure (f/4.5, 1/125 sec)/ ISO 1250/ WB: Auto
EOS M200/ EF-M22mm f/2 STM/ FL: 22mm/ Silent mode (f/2.8, 1/80 sec)/ ISO 250/ WB: Auto
---
Receive the latest update on photography news, tips and tricks.
Be part of the SNAPSHOT Community.
Sign Up Now!
---