Products >>
All Products
EOS R7 or Advanced APS-C DSLR? (Part 2): Core Capabilities
The EOS R7 is touted as the true successor to the EOS 7D Mark II, Canon's advanced APS-C DSLR renowned for its speed and performance. How are they different? What can you expect if you're upgrading from a DSLR camera? In this two-part series, find out how your shooting experience will change, and pick up some usage tips along the way.
In Part 1, we looked at the key changes to the button and dial configuration on the EOS R7, and examined the possibilities provided by the EVF. Part 2 focuses core performance features, such as the AF, low light performance, and continuous shooting capabilities. (Reported by: Kazuo Nakahara, Digital Camera Magazine)
AF: A leap in AF performance, modes that are easier to understand
The EOS R7 not only has more powerful autofocusing (AF), its AF options are also easier to understand than those on an EOS DSLR.

AF area modes: Similar but simpler to operate
EOS R7
EOS 7D Mark II
8 modes (During EVF and Live View shooting)
- Spot AF
- 1-point AF
- Expand AF area: above, below, left, right
- Expand AF area: Around
- Flexible Zone AF 1
- Flexible Zone AF 2
- Flexible Zone AF 3
- Whole area AF
During OVF shooting: 6 modes
- Single-point Spot AF (Manual selection)
- Single-point AF (Manual selection)
- AF point expansion (Manual selection: above, below, left, right)
- AF point expansion (Manual selection, surrounding points)
- Zone AF (Manual zone selection)
- Large Zone AF (Manual zone selection)
- 65-point automatic selection AF

During Live View shooting: 3 modes
- FlexiZone – Multi
- FlexiZone – Single
- Face Detection + Tracking Priority AF
EOS DSLR cameras have two AF systems:
- Viewfinder AF system: Active during OVF shooting. Uses a separate AF sensor.
- Live View AF system: Active during Live View shooting. Most recent DSLRs use the Dual Pixel CMOS AF system; some older DSLRs use contrast detection AF.
What's Dual Pixel CMOS AF? What are its advantages over traditional viewfinder AF and contrast detection AF? Find out in:
Canon Technology Explainer: What is Dual Pixel CMOS AF?
In comparison, the EOS R7 has only one AF system that works during both EVF and Live View shooting: the Dual Pixel CMOS AF system. This means that the AF works the same way, regardless of how you choose to shoot.
The Spot AF, 1-point AF, Expand AF area, and Whole area AF modes on the EOS R7 are similar to the AF area modes available on APS-C DSLRs during OVF shooting, so users switching over should find them familiar. The Flexible Zone AF modes allow you to preregister a custom AF area size and store it for future use, providing additional flexibility.
With the Flexible Zone AF modes, you can set the AF area as small, wide, or long as you wish.

AF detection segments/ area
EOS R7
EOS APS-C DSLR (EOS 7D Mark II)
The EOS R7 has a bigger AF area with denser coverage compared to a DSLR camera. The EOS 7D Mark II, with its 65 AF points, has the most AF points of all the non-professional EOS DSLR cameras, and is only beaten by the professional EOS-1D X Mark III which has 191 AF points. However, they cover only the area shown in the image above. Compared to this, the EOS R7 has 651 AF zones that cover the entire image area. This was made possible by mirrorless camera technology.
During OVF shooting on DSLR cameras, AF is conducted by AF sensors located at the bottom of the camera, which carry out detection based on the light reflected onto them by the sub-mirror. Structurally, not all the light entering the camera can reach these sensors. As a result, AF is possible only in the centre of the image frame, where the AF points are located.
On the other hand, the EOS R7 adopts the image sensor-based Dual Pixel CMOS AF II system, where all pixels on the image sensor are also capable of phase detection. This enables not only denser AF coverage over a larger area of the image, but also quicker, more accurate AF, even if the subject is in the corners of the frame.
Know this: Lens compatibility
It is a given that almost all RF lenses support 100% AF coverage on the EOS R7. However, there are many compatible EF lenses too!
Find out more in:
RF Lenses vs EF Lenses: What's the Difference and How to Decide?

Subjects detected
EOS R7
EOS APS-C DSLRs
- People (Face, eyes, head, torso)
- Animals (Dogs, cats, birds)
- Vehicles (cars, motorcycles)
- Human faces (during Live View shooting)
- Human eye detection* (during Live View shooting)
*Older cameras like the EOS 7D Mark II don't support eye detection.
The EOS R7 works closely with the EOS iTR AF X subject recognition and tracking system, which uses deep learning technology to identify subjects (people, dogs, cats, birds, and vehicles). It can do so even if only part of the subject is visible. This improves the speed, accuracy, and tenacity of AF and subject tracking tremendously!
Technology has come a long way: most EOS DSLR cameras are capable of only face and eye detection at best, and even then, only during Live View shooting.
EOS R7/ RF600mm f/4L IS USM/ Aperture-priority AE (f/4.5, 1/4000 sec, EV +0.7)/ ISO 640
On the EOS R7, you can expect a better success rate even when photographing small, active birds thanks to the help of its deep learning-based subject detection and tracking algorithm.

AF working range
This range tells us the darkest and brightest conditions where AF operation is possible.
EOS R7
EOS 7D Mark II
EV -5 to 20
OVF shooting: EV -3 to 18
Live View: EV 0 to 20
The EOS R7's EV -5 low light AF limit should be reassuring when you are shooting in poor lighting conditions. This also suggests that AF is possible even on lenses with maximum aperture f/22.
Also see:
Camera FAQ: How Does the Low Light AF Limit Impact My Shots?

AF drive modes
EOS R7
EOS APS-C DSLRs
One Shot AF
Servo AF
One Shot AF
AI Focus AF
AI Servo AF
The streamlining of AF drive modes makes operation easier. Read this article to learn more about when to use One Shot AF and Servo AF!

Servo AF characteristics
EOS R7
EOS 7D Mark II
Case 1 to 4, Auto
Case 1 to 6
(Not available on recent EOS XXD models)
Like the drive modes, the number of Servo AF characteristic modes ("Cases") have been streamlined on the EOS R7. The 'Auto' mode is quite accurate and should be sufficient in ordinary situations!

Pro usage techniques: Use the Quick Control Menu to set AF settings
In Part 1, we mentioned that the EVF of mirrorless cameras like the EOS R7 allows you to configure and change settings without taking your eye off the viewfinder. This also applies to AF settings.
Press the Q button to display the Quick Control menu. This displays the overlay in the image above, where you can change many important camera settings.
Here's how to navigate this menu without looking away from the viewfinder:
- Quick Control dial: Turn this to scroll through items on the left and right side of the screen.
- Main dial (located on the top of the camera next to the M.Fn button): Turn this to scroll through the options at the bottom of the screen.
You can also use the cross keys if you prefer, but the dials will work faster.

Level up: Customise Quick Control menu items!
For quicker access to your most frequently used settings, you can customise the Quick Controls that are displayed. Simply go to the SHOOT8 menu and select "Customize Quick Controls". I would recommend putting these commonly adjusted AF settings next to each other:
- AF drive
- AF area
- Drive mode
For even faster access to a frequently used AF setting, you could also assign it to the M.Fn button.
Did you know that the EOS R7's AF interface was inherited from the professional-grade EOS R3? While it doesn't have the latter's ground-breaking Eye Control AF, the AF area modes and how subject tracking/detection work are similar. Read more about these in:
Unravelling the AF Features on the EOS R3
Maximum continuous shooting and shutter speeds
Super-fast continuous shooting and shutter speeds
Here's a comparison of the shutter speed and continuous shooting specifications of the EOS R7 with the EOS 7D Mark II and EOS 90D:
EOS R7
EOS 7D Mark II/90D

Fastest shutter speed

1/8,000 sec (mechanical shutter)
1/16,000 sec (electronic shutter)
1/8,000 sec (mechanical shutter)
EOS 90D only: 1/16,000 sec
(electronic shutter)

Fastest continuous shooting speed

15 fps (mechanical shutter)
30 fps (electronic shutter)
10 fps
EOS 90D only: up to 11 fps in Live View (One Shot AF)

Maximum continuous shots per burst
(RAW + JPEG-Large)

approx. 46 shots
EOS 7D Mark II: approx. 18 shots
EOS 90D: approx. 26 shots

Approx. number of shots on full batteries

500 (EVF)
770 (rear LCD monitor)
EOS 7D Mark II:
670 (OVF)
250 (rear LCD monitor)

EOS 90D:
1300 (OVF)
450 (rear LCD monitor)

Powerful bursts, high-resolution images
As of December 2022, the EOS R7 boasts the fastest mechanical shutter continuous shooting speed in the EOS R system: up to 15 fps. It also offers up to 30 fps continuous shooting with the electronic shutter while capturing high-resolution 32.5-megapixel images. This is all achieved with AF/AE tracking, which follows moving subjects and adjusts the exposure to account for sudden exposure changes.
There are three shutter modes available on the EOS R7, whereas the EOS 7D Mark II supports only the mechanical shutter mode.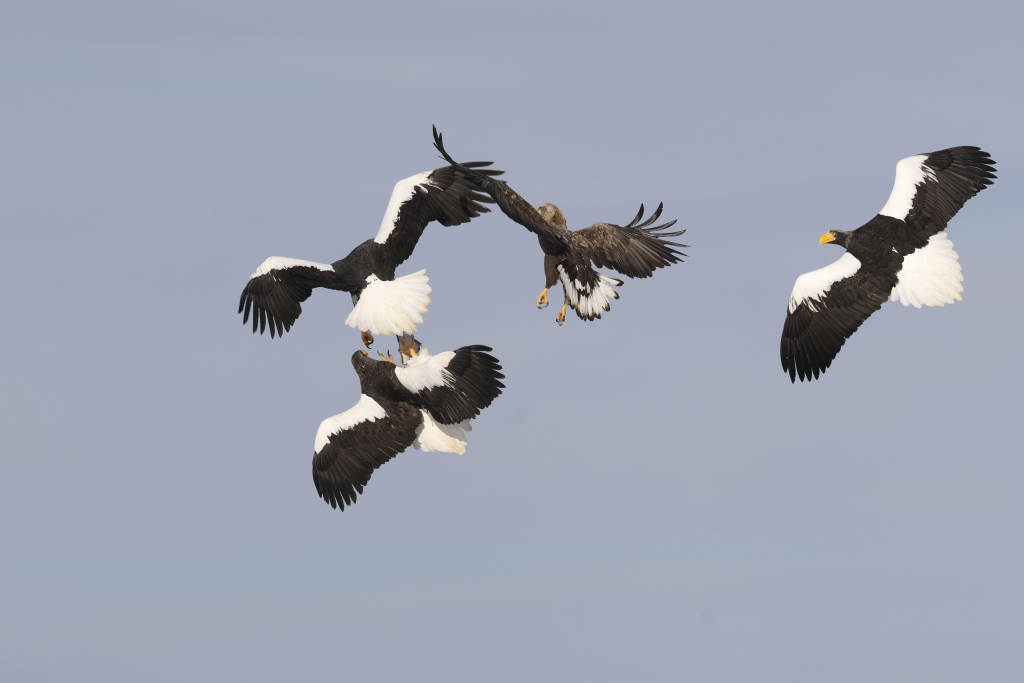 EOS R7/ RF600mm f/4L IS USM/ Manual exposure (f/8, 1/2000 sec)/ ISO 400
Drama in the sky? Increase your chances of capturing that peak moment with a faster continuous shooting speed.

The benefits of an electronic shutter
As the electronic shutter works by timing the data readout from the image sensor pixels, there are no mechanical shutter blades involved. This has three benefits:
- Silent shooting without mechanical shutter sounds
- Reduced camera shake, which tends to occur when mechanical shutter blades open and close.
- Enables much faster shutter speeds than possible with the mechanical shutter: up to 1/16,000 sec.
A faster shutter speed enables more flexibility not only for freezing action, but also when creating bokeh under bright conditions.

Pro usage technique: When to use the electronic shutter mode?
Despite its benefits, the electronic shutter mode has one disadvantage: the risk of rolling shutter distortion. This is because signals from the image sensor pixels are read row by row during the exposure. The readout occurs quickly, but fast-moving subjects that move during this process might appear distorted due to the time lag. Use the electronic shutter mode discerningly.

It's okay to use the electronic shutter mode when…:
- The subject is slow-moving or stationary
- The subject takes up only a small part of the frame
- The subject is moving towards or away from you
- You're taking wide-angle shots with visible perspective exaggeration effects
- You don't need the subject's shape to be rendered faithfully
Rolling shutter isn't obvious in this shot because the train is moving from the back of the image to the front.

When the electronic shutter mode is not ideal:
- When the subject is moving or rotating very quickly
- When the subject takes up a large part of the frame
- When the subject is travelling horizontally across the frame
- When you are shooting with a telephoto focal length, where perspective distortion is not obvious
- Under a flickering light source
Rolling shutter "jelly-effect" distortion is visible in this image, which has three conditions not ideal for electronic shutter mode shooting: 1. a fast-moving subject that 2. takes up a large part of the frame and is 3. travelling horizontally across it.
Find out more about the different shutter modes in:
Shutter Modes & Continuous Shooting Modes: When to Use Which?
High ISO speed image quality
Increasing the number of pixels on an image sensor usually reduces the pixel pitch, which is detrimental to high ISO speed performance. However, the EOS R7's high ISO speed images are still decently clean. Credit to this goes to the noise reduction technology in the DIGIC X image processing engine.
As the images below show, while the EOS R7 and EOS 7D Mark II have comparable noise levels at ISO 3200, there is a huge difference in terms of how well details are rendered. In fact, details are well-retained on the EOS R7 up to ISO 12,800.
| | | |
| --- | --- | --- |
| | EOS R7 | EOS 7D Mark II |
| ISO 3200 | | |
| ISO 6400 | | |
| ISO 12,800 | | |
| ISO 25,600 | | |
Other features to consider
In-Body Image Stabilization (In-Body IS) on the EOS R7
This enhances the image stabilisation performance of RF lenses equipped with in-lens image stabilisation to up to 8 shutter speed stops' equivalent (depending on the lens). It also provides sensor-shift-type 5-axis image stabilisation for EF and RF lenses that do not have built-in image stabilisation. This means more possibilities with lenses such as the popular nifty fifties (50mm f/1.8 lenses)!
Also see:
What You Need to Know About In-Body IS

Video
The EOS R7 offers professional level video recording features, so you're covered if you ever decide to (or are already thinking of) getting more serious about video production.
EOS R7
EOS 7D Mark II
EOS 90D

Maximum video resolution

4K UHD 60p
(4K UHD Fine from 7K oversampling at up to 30p)
(3840 × 2160)
Full HD 60p
(1920 × 1080)
4K UHD 30p
(3840 × 2160)

High Frame Rate video

Full HD 120/100p
No
Full HD 120/100p

Canon Log/HDR PQ shooting

Yes

No

File formats

MP4
MOV, MP4
MP4

Internal microphone

Stereo
Monoaural
Stereo

External microphone options

External microphone IN terminal: 3.5mm stereo mini jack
Multi-function shoe: Compatible with Directional Stereo Microphone DM-E1D

External microphone IN terminal: 3.5mm stereo mini jack

Continuous recording time

6 hours

29 min 59 sec

Recording media (card slots)
EOS R7
EOS 7D Mark II
EOS XXD series
2 x SD cards
1 x SD card
1 x CF card
Single SD card slot

Battery pack
EOS R7
EOS 7D Mark II/EOS 90D/ EOS 80D
LP-E6NH
Also supports LP-E6N, LP-E6
LP-E6N
Also supports LP-E6
The EOS R7 also supports USB battery charging and power supply via USB Power Adapter PD-E1 or a PD-compatible USB Type-C cable.
Summing up
The EOS R7 is built for speed. With its mirrorless technology, advanced AF and tracking performance, imaging prowess and high-speed shooting capabilities, it offers tremendous advantages not just over the nearly decade-old EOS 7D Mark II, but even the relatively recent EOS 90D. Perhaps it's time to get moving and make the switch!

Thinking about upgrading to a full-frame camera instead? Check out the pros and cons in:
Full-Frame vs APS-C Camera: Which Should I Choose?
There's so much more about the EOS R7 that we couldn't cover here. Read more about it in:
EOS R7: Canon's Fastest, Highest-Resolution EOS APS-C Camera
Got your EOS R7? It shares many functions with its full-frame cousins, the EOS R5 and EOS R6. Read these to learn about some settings and configurations that could make your shoots more convenient!
5 Basic EOS R5/ EOS R6 Settings to Customise From the Start
7 Often Neglected Camera Settings that Ensure a Smoother Shoot
About the Author
A monthly magazine that believes that enjoyment of photography will increase the more one learns about camera functions. It delivers news on the latest cameras and features and regularly introduces various photography techniques.
Published by Impress Corporation
Born in Hokkaido in 1982, Nakahara turned to photography after working at a chemical manufacturing company. He majored in photography at the Vantan Design Institute and is a lecturer for photography workshops and seminars, in addition to working in commercial photography. He is also a representative of the photography information website studio9.