Inspirations >>
Photos & People
From Singapore to New York and Beyond: An Interview with Fashion Photographer Lenne Chai
Shooting for major brands in fashion capital New York City is many a young photographer's dream. We spoke with New York-based Singaporean fashion photographer Lenne Chai (Instagram: @lenneigh), who shared her experiences working in New York City and how they have shaped her perspectives and influenced her photography. (All images by Lenne Chai, courtesy of Lenne Chai Photography)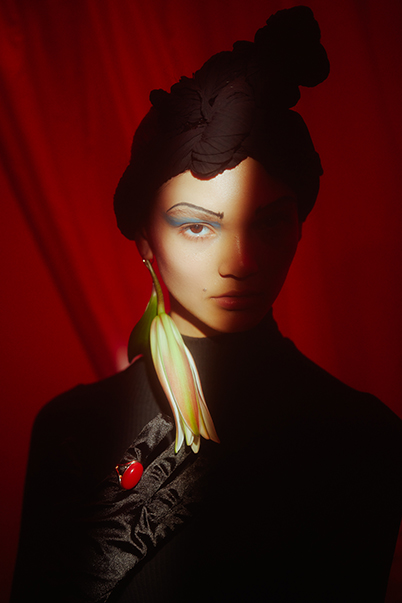 Series for Canon: Reinventing Perspectives, 2021.
EOS R5/ EF100mm f/2.8L Macro IS USM
On moving to New York City: from motivation to realisation
"I never imagined my work would stand out enough to be featured in an American publication. The Teen Vogue feature was an affirming experience that got me thinking."
Hi Lenne! The last time we interviewed you for SNAPSHOT, it was back in 2015. Back then, you were already making a name for yourself, shooting for influential publications and international brands like NYLON and Harper's Bazaar Singapore. The next major milestone we heard of was in 2019, when you moved to New York to further your career. Could you fill us in on what happened in between?
Hi again! I think our last interview took place shortly after I returned to Singapore from a short stint in Japan. I was seriously considering moving there – I was shooting for a number of Tokyo-based commercial and editorial clients, and had even spent a whole year studying Japanese full-time.
At some time around 2016, Teen Vogue featured my work on their Instagram and Tumblr, and this got me thinking about moving to the US instead. That feature was a very affirming experience as I never imagined that my work would stand out enough to be featured in a US publication.

And that's when you started to consider furthering your career in the United States.
Yes. It made me think that maybe I had a shot at the US market, and I decided to move to Los Angeles. In fact, years later when I was living in New York, Teen Vogue hired me for a few editorials, which truly felt like things had come full circle. I'm so grateful for all the opportunities they've given me!

How did you end up based in New York City?
I was in Los Angeles for about half a year, and it was there that I began to seriously consider moving to New York. Being one of the two English-speaking fashion capitals of the world, it felt like a good point of entry to pursue fashion photography. I reached out to over 70 New York-based photo agencies with my work, and then flew down for a dozen of in-person meetings. On my last day there, during my final meeting, the agency offered to represent me. It all happened really quickly.

It is a pretty big move. How does having an agency help?
It's notoriously hard to get a visa to work in the United States, so I was very lucky that my agency helped a lot with that.
An agency helps you to get more exposure and opportunities through arranging meetings and recommending you for potential jobs. Although New York has a thriving fashion and photo industry, and has more jobs available than in Singapore, competition is tough nonetheless. I'm grateful that my agency pushed my work as hard as they did.

What advice on portfolio building do you have for aspiring photographers who want to attempt the same route?
While clients in Asia value versatile photographers who can photograph many different genres, I feel that clients in the US prefer photographers with clear specialisations. The clients already have a style or look in mind, so they tend to pick the photographer who has perfected what they're looking for. When I presented my work, my clients would ask me why my portfolio was filled with so many different types of photography. I think it confused them.
Here's a good piece of advice that a photo agent once shared with me: When you show your portfolio to an agency, it's a bit like a first date. You don't want to show them everything at one go – you want to tease them by showing just enough to interest them, and make them feel curious and interested enough to call you back.
The Unbeatables, 2020.
EOS 5D Mark IV/ 50mm f/1.4 lens
Buzzcut Season, 2020.
EOS 5D Mark IV/ EF100mm f/2.8L Macro IS USM
The New York City experience: navigating cultural differences
"The style of working in Asia tends to be more hierarchal, so it was interesting to see how much more collaborative the crews were in the US."
Prior to your move to New York City, most of your experience was in Asia—in Japan and Singapore. What were some challenges that you faced in a new environment?
I wouldn't say it's a challenge per se, but the work culture on set definitely feels different. The style of working in Asia tends to be a bit more hierarchal, so it was interesting to see how much more collaborative the crews were in the US. I enjoyed receiving more creative input from the team with regards to shaping the direction of the image. For example, they would be like, "Oh, have you tried this?" "What about doing this instead?" or "I think this will suit the concept better".

How did you manage all that, while ensuring that the overall look is still coherent and consistent? Is it about being more assertive?
It's important to be confident in your opinion, but I also understand that people contribute their opinion out of care – we're all putting something of ourselves in the work after all. While I do my best to be firm with the overall direction to ensure that we have a cohesive result, I'm learning to become more open-minded, tactful, and to be a better listener overall.

How do you think your experience working in the United States has changed your approach to photography?
When I was younger, I was under the impression that fashion shoots had to serve a Eurocentric idea of beauty. After living abroad, I've come to realise that the most unique thing I can bring to the table is my Singaporean perspective. I'm inspired by experiences unique to our Singaporean upbringing, and now enjoy photographing subjects through that lens.
For instance, in a recent fashion editorial shoot for Harper's Bazaar, I wanted to pay tribute to the plastic chairs we see in Kopitiams (local coffee shops) everyday, and painted them pastel for the shoot. They're so common that I took them for granted in the past, but I learned to see them in a new light for this shoot.
Rest On Me, 2021.
EOS R5/ RF50mm f/1.2L USM
Current projects and beyond
"I used to mark 'success' as working with certain brands or magazines. Now, it is about being content with your work, your creation, and your output."
Please tell us about a recent project that you are really excited about.
I collaborated with [Singaporean street dance duo] ScRach MarcS on a series of short dance films called 'Spaces Between Us'. They are inspired by the disappearing traditional art forms in rapidly urbanising Singapore, such as traditional Chinese opera, known locally as "wayang", and rattan weaving. I shot them on the EOS R5, and we're super pleased that they got shortlisted in some film festivals.

How was your experience shooting video on the EOS R5?
Oh, it was wonderful. I'm familiar with the camera, so I had a fantastic time shooting video with it. I also really liked the image quality and how the footage worked well with my colour grading.

What was the creative process for the series like?
It was extremely collaborative. I love that ScRach MarcS are such creative thinkers! There were a lot of in-depth conversations leading up to the shoot, both in terms of concept and execution. They really tried to make sure that the choreography added to the concept, and we would discuss how the lighting or camera movement could complement that.
Screenshot from Spaces Between Us: Wayang, 2021
Video shot on EOS R5
View the full video here
I'm always picking up new hobbies outside of photography, and this project came to be because Rachel from ScRach MarcS became my dance teacher. Learning dance taught me how to direct and edit our collaboration better. For instance, by applying Rachel's concept of musicality, I learned how to better emphasise different parts of their movement to match their choreography during the video editing process.
It sounds like it's been a pretty eventful six years! How has your idea of success changed?
When I was younger, success was marked by working with certain brands or magazines. Nowadays, success to me is being content with your work, your creation, and your output.

Thank you for sharing, Lenne! We wish you the best in your future endeavours.
---
What inspires other photographers to shoot and keep shooting? How did established photographers get where they are? Get to know about some other Canon photographers and their stories in:
Roberto Valenzuela: What It Takes To Be a Master Wedding Storyteller
Interview with 14-Year-Old Wildlife Photographer Kayden Ee
Interview with Celebrity Photographer Hajime Kamiiisaka (2): Tricks of the Trade
Canon Inspired: The Bang Dzoel Interview
Goto Aki: Changing Careers to Follow My Photography Passion
Dreamy Landscapes: An Interview with Shirley Wung
---
Receive the latest update on photography news, tips and tricks.
Be part of the SNAPSHOT Community.
Sign Up Now!
---