Inspirations >>
Photos & People
Over the land and seas: Life of a travel photographer
For many, travel photography is largely about encapsulating memories. But for photographer Edwin Martinez, travel photography transcends that function. To him, it's all about conveying emotions with a single frame. (Report by: Natalie Koh)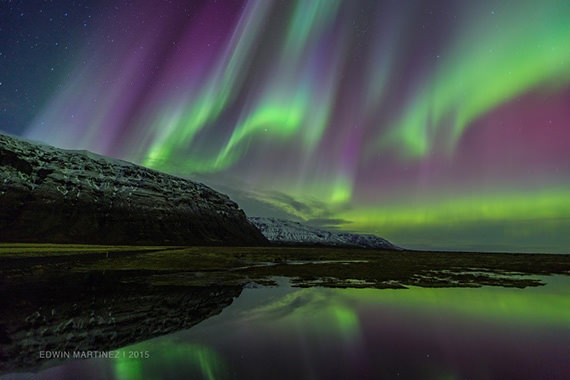 The strongest Aurora Borealis activity recorded in March 2015, photographed by Edwin Martinez
Ask Philippines-based photography Edwin Martinez what drew him to travel photography and he'll tell you it's more than capturing memories in breathtaking images. It's a genre of photography, he says, that is "enduring" and "not bounded by time".
"It also provides viewer a chance to see different places and faces of various cultures, taking them there with a single frame," he shares.
That's precisely what brought him to the profession in the first place. Starting his career as a brand manager at a top beverage company in the Philippines, he dabbled in photography as a hobby before taking it on as a full-time profession. "What inspired me is the way you can convey emotions through a single frame; how a simple photograph brings joy, inspiration, hope to viewers," he says.
Thank goodness for that, or the world would never have been introduced to his surreal and absolutely beautiful photography. His travels and profession have brought him as far as Iceland and Canada, two places where he has snapped some of his favourite shots.
"Iceland is one of those places that each and every one of us should see. With its rugged beauty and unique landscapes it is truly a photographer's playground," he shares.
A photo of a glacier lagoon in Iceland. Photography Edwin Martinez had to wade in waist-deep glacier water, almost getting frostbite in his lower extremities.
Some of the challenges he faces as a travel photographer include financial constraints, language and safety. "I have my share of horror stories of near-misses of having camera gear stolen and facing dangers to myself," he says.
But the risks are often worth it. Take for instance the shot of a glacier lagoon (above), which involved Edwin wading in waist-deep glacier water at freezing temperatures, which almost cost him frostbite in his lower extremities. "I wanted to capture the ice in a water environment, floating," he explains.
An ice cave in Iceland, untouched for centuries, towering above humans.
"Another memorable shot is from the inside of an ice cave. Imagine going inside a cave under a glacier mountain, untouched by human interaction for hundreds of years," Edwin says. "This was taken with my tour participants, one of them posing for us as sense of scale."
Ice bubbles formed by frozen methane bubbles in Abraham Lake in Alberta, Canada, only seen during December and January in temperatures of -10 to -30°C.
For aspiring photographers, Edwin cautions to always look out for three C's: Character, Colour and Culture. "Look for the character of the place," he says. "One unique or distinctive thing that makes the place unique. Look for iconic elements that tell the people where this shot was taken. Like for Iceland - glacier lagoons or aurora borealis. So research plays an important here."
When it comes to colour, he quotes the old saying - "colours make the photograph". The golden hours of sunrise and sunset present brilliant colours for photographs, providing more contrast and colour to your subjects.
Also, interacting with locals will help you capture the unique culture of the location you are shooting at. Photographers can take the lead from local guides or photographers who know the area best and can guide you in the right direction.
Above all, carve a niche for yourself. "Be selective in your photos," he advises. "Try to avoid stereotypical scenes and capture unique perspectives. Showcase your work, submit them in travel magazines, airlines and tour companies. These are the market where your photos will sell."
Edwin Martinez
As one of the Philippine's finest landscape photographers, Edwin Martinez's experience shooting different locales in his home country and abroad - in Iceland, Canada, The American West, among others - has cemented Edwin in an undisputed distinction of expertise in the field. He is a Canon Philippines Brand Ambassador, a featured photographer for Singh-Ray Filters of America and constant presence in both local and international photography publications.