Tips & Tutorials >>
All Tips & Tutorials
Quick Tip: How to Get Great Colours in Your Underwater Photos
It can be hard to achieve clear, vividly coloured images underwater. Here's how you can use a slow sync flash to achieve colourful and lively shots. (Report by: Yasuaki Kagii)
EOS 5D Mark III/ EF15mm f/2.8 Fisheye/ FL: 15mm/ Manual exposure (f/7, 1/4 sec) / ISO 200/ WB: Auto/ Using underwater housing, with external flash
Slow sync flash at 1/4 sec—my trick to achieving a brilliant blue background
I took the above shot in the seas surrounding Komodo Island in Indonesia. (Here are some more Underwater Photography Destinations in Indonesia.) The area was richly populated by a colourful marine animal commonly known as feather stars (comatulids), and I wanted to capture the scene in bright colours. However, the nutrient and plankton-rich waters were cloudy, and I was also at a depth of 20m where there was barely any sunlight.
You can use only so many external flashes down underwater, so the total light intensity you have on hand probably will be insufficient. To make up for that and achieve the brightly-coloured underwater shot I envisioned, I used a slow shutter speed (1/4 second) and carried out slow sync flash. I set the flash to fire at the beginning of the exposure (front curtain sync), which "freezes" the subject. The slow shutter speed exposes the shot for slightly longer, ensuring a certain level of brightness throughout the entire image.
Normal flash photography – Darker image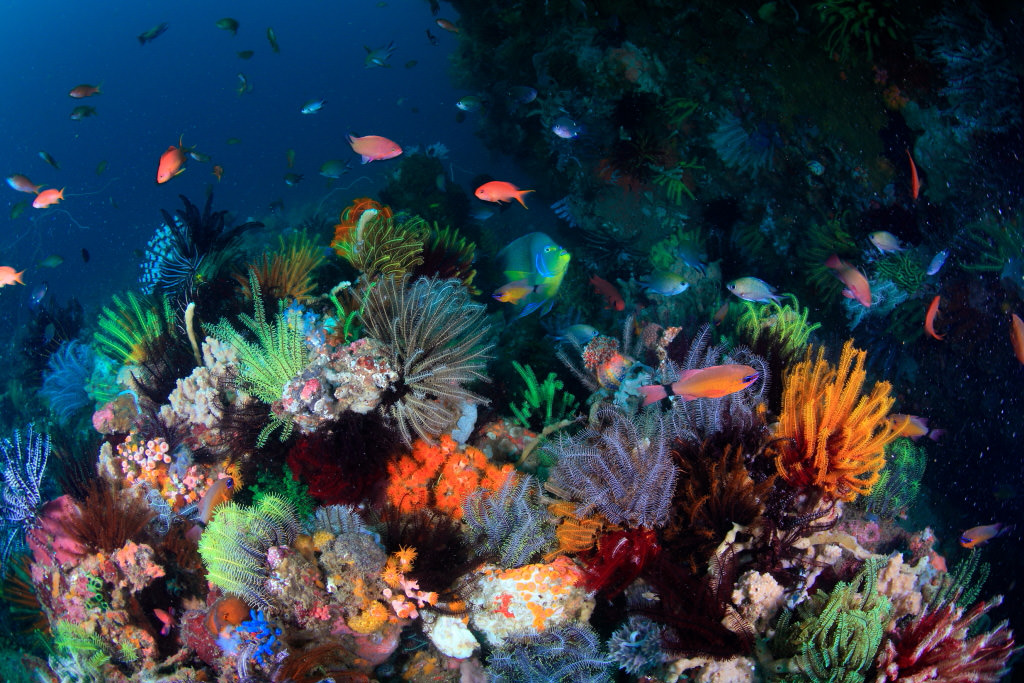 This shot was also taken with an external flash, but with a faster shutter speed of 1/25 sec. Here, the colour of the sea is quite faithful to what the eye sees, but I wanted to achieve a shot with brighter colours for a livelier atmosphere. 
For more about colours and underwater photography, check out the following articles:
Creative Underwater Photography: Creating Motion Blur Against a Bright Blue Background
4 Keys to Capturing Lovely Underwater Photos in Shades of Aquamarine
For more external flash techniques, head on to:
In Focus: The Basics of External Flash Photography
---
Receive the latest update on photography news, tips and tricks.
Be part of the SNAPSHOT Community.
Sign Up Now!
---
About the Author
A monthly magazine that believes that enjoyment of photography will increase the more one learns about camera functions. It delivers news on the latest cameras and features and regularly introduces various photography techniques.
Published by Impress Corporation
Born 1971 in Hyogo Prefecture, Kagii is an underwater photographer, and was apprentice to the underwater photographer, Katsutoshi Ito, during his university days. He became a freelance photographer in 1998, and specializes in a photography style that lets him get close to the natural rhythm of living creatures so as not to stress them where possible.
Kagii has been a representative of Clé et Photos since 2013.