Products >>
All Products
Redefining DSLR: The New EOS-1D X Mark II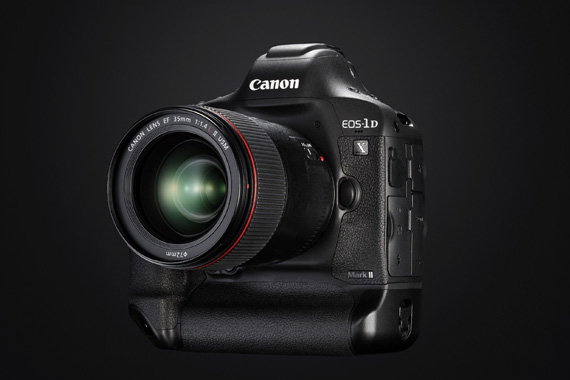 When the Canon EOS-1D X was first launched in 2012, photographers around the world were smitten not only by its formidable speed, but also the breathtaking image quality. It was a pinnacle amongst the EOS-1D series. Four years after the debut, Canon finally announces its long-awaited successor – the EOS-1D X Mark II. The new model is even faster and more powerful, designed for professional photographers specialising in the fields of journalism, sports and wildlife, as well as video professionals. While the EOS-1D X Mark II gets under way to the storefronts, let us first find out how exactly impressive is this flagship camera.
Shoot Faster & Better
The novel technology powering EOS-1D X Mark II is a 35mm full frame Dual Pixel CMOS AF sensor with a Dual DIGIC 6+ image processors setup that produces 20.2-megapixel images, shooting speeds of up to 14 fps (16 fps on Live View mode), as well as an expanded ISO speed of up to 409,600. To minimise a photographer's workflow, the new model boasts an in-camera Digital Lens Optimiser that processes and optimises RAW images without the need to go through post-production. The function includes chromatic aberration correction, peripheral illumination correction, and the unprecedented ability for diffraction correction.
Focus like a Pro
Canon has updated a new Al Servo AF III+ by equipping the camera with Al servo scenes analysis (track focus on moving subjects). The Al Servo has improved AF precision that focuses on and tracks subjects with unpredictable movements. Couple that with a new 61-point AF sensor that supports f/8, in which 41 points are cross type AF, photographers will find the new AF system particularly helpful when shooting images using super telephoto lenses with teleconverters.
Tricky Lighting Situations Resolved
Canon's latest improvement on its AF sensor and low light focusing capability in EOS-1D X Mark II is something to be proud about. The AF sensor's low-intensity limit function is improved to EV-3, which works well even in low-light conditions. It has also incorporated a red display of AF points, which creates a nice contrast against dark environments. Boasting an anti-flicker mode – thanks to a 360,000-pixel RGB+IR metering sensor – the camera is able to detect high frequency of flickering lights, enabling it to take shots of properly-exposed images.
Shooting Movies
Some may wonder what else the new EOS-1D X Mark II can offer after the EOS-1D C, Canon's first EOS DSLR that incorporates 4K movie recording. The good news is that videographers now have more reasons to enjoy their work seamlessly.
Firstly, EOS-1D X Mark II is excellent in recording smooth footage, thanks to its 4K in motion JPEG at 60/50p. The camera also features a new High Frame Rate mode, which allows users to record high frame rate movie at 120p (for FHD only). Its auto-focus uses phase-detection in Live View mode, enabling swift and accurate focusing without hunting, effective tracking of moving subjects, no possibility of front- and back-focusing, and no aperture limitation. Other benefits include user-selectable adjustments for Movie Servo AF speed and Movie Servo AF tracking sensitivity, as well as the first touch-screen in the professional range, allowing easy and flexible AF operation during Live View mode.
In-camera 4K Frame Grab
An EOS first, the 4K Frame Grab function allows users of EOS-1D X Mark II to obtain high quality JPEG images of approximately 8.8-megapixel from any desired moment in their 4K video.
(Saving a still image from a single movie frame does not result in the same image quality as a normal still image.)
Extra Durable
Handling the new EOS-1D X Mark II has never been easier. With dust-proof and drip-proof functionalities, coupled with a tough magnesium body with high durability, photographers can now face rough weathers with less apprehension. In addition, the new model comes with a 400,000-cycle shutter release counter; a built-in GPS; a 4K Frame Grab function that allows user to extract JPEG still images from 4K movies in camera; and an enhanced wireless function that is supported by the Canon Camera Connect smartphone app.
EOS-1D X Mark II, a next-generation camera, is another masterclass in well-wrought ergonomics, from handling, shooting to processing. Packed with unrivalled features and technology, it will make photography more exciting, deliver outstanding image quality, and level the playing field by matching up to the speed of subjects that possess dramatically fast movements.