Ready to dive headfirst into the delicious world of food photography but worried about the cost of getting new "specialist" gear? Don't worry! Chances are you already have the gear to start building your food photography portfolio. Go on, take a peek at our menu of essential equipment.
Image credit: Canon Imaging Academy
Fresh from the Canon Snapshot kitchen is a full course menu of mouthwatering equipment recommendations that will definitely get you ready for your next food photography shoot.
Soup - Lighting
Just like how a starter such as clear broth or creamy soup will set the mood for a meal, lighting is a key element that will set the tone for your photograph.
We recommend the freshest flash units, like the Canon Speedlite 600EX-RT or the Canon Speedlite 430EX III-RT. These are compact, battery-powered flashes that are perfect for situations where there isn't enough light (think crowded, dimly-lit cafes or atmospheric restaurants). They're lightweight and small enough so you can still be agile during a shoot.
Let's take a look at some photographs from the Singapore winners.
Canon Speedlite 600EX-RT
Softbox 36 x 48″
For a heartier lighting option, especially for studio shoots, we recommend using a large softbox to create soft, directional and natural looking light.
Appetizer – Tripod / Grip
Next is the course that gives the entire meal its structure. It might seem unnecessary at first (because really, who cares about the appetizer when a sumptuous main course awaits?); but having a good tripod or camera grip makes a world of difference when you're shooting food.
Two words: no shake.
A sturdy tripod means sharp images, and using one also allows you to make changes to your setup easily. It's an especially useful piece of equipment when you're shooting at lower shutter speeds or when there's not much light available.
Salad - Camera Body
Canon EOS 760D
A good camera body is like a good salad: it's indispensable, and there are so many different types available for different people.
For those who would like a more robust body, DSLRs (digital single lens reflex cameras) are highly recommended. These are your food photography heavyweights. You can choose between full-frame bodies like the Canon EOS 5D Mark III or Canon EOS 6D, or cropped sensor bodies like the Canon EOS 760D. Both will turn out stunning photos, so it's only a matter of budget and what feels the best in your hands.
Canon EOS M3
But let's face it - you don't always need a fancy camera to take deliciously enticing shots. The super compact Canon EOS M3 is a mirrorless digital camera that's the perfect size for bringing along to cafés and impromptu food photo sessions. With its lens adapter, you'll be able to access a whole range of DSLR lenses as well!
Entrée - Lenses
Which brings us to the main course - your camera lens. A good, sharp piece of glass can make or break your food snapshot. Good food photos are about capturing the gastronomic beauty of a particular food or dish, so using the right lens is vital. Of course, it goes without saying that you should experiment and find a focal length or lens that works best for the image you're trying to create.
We particularly love the following lenses for their versatility.
Canon EF50mm f/1.8 STM Lens
The Canon EF50mm f/1.8 lens is one of the best lenses you can get - and it's perfect for food photography as well. Not only is it small and lightweight, it's also very reasonably priced and a perfect starting lens for budding food photographers.
Canon EF-S60mm f/2.8 Macro USM Lens
The Canon EF-S60mm f/2.8 Macro USM lens is another great piece of equipment to have in your bag. While its price might put it out of reach for a while, its ability to take beautiful close-up shots is well worth the hefty price tag. This lens performs best when you need that super tight shot of garnishing, crumbs or want to zoom into food textures.
Canon EF24-105mm f/4 L IS USM Lens
The Canon EF24-105mm f/4 L IS USM lens or the Canon EF24-70mm f/2.8L USM lens is a favourite of many food photographers. These zoom lenses let you shoot large food spreads and close up images of plated dishes.
Dessert – Props
Finally, we come to the last course: dessert. While they might not seem like essential food photography gear at first glance, having a good collection of props will make your food shots a little sweeter.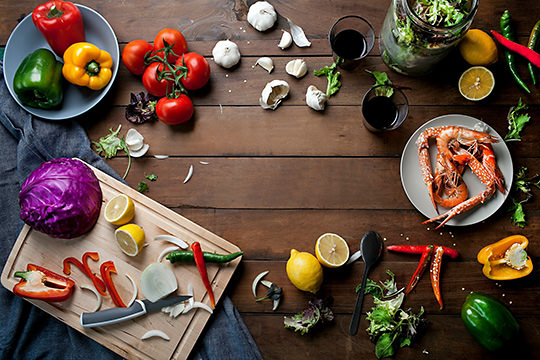 Image Credit: Olivia Sari-Goerlach
Start collecting beautiful pieces of dishware; even a simple porcelain plate can elevate the mood of your photo. If you're just starting out and don't want to invest too much in crockery and kitchen implements, look to your own kitchen for inspiration! Utilise the ingredients used in the dishes that you're shooting, or head to a DIY store to pick up rustic pieces of wood or textiles to create the perfect backdrop.