Products >>
All Products
The Little-Known History of Canon's f/2.8L and f/4L Zoom Lenses
Not so long ago, it was common belief that no lens could exceed prime lenses in terms of image quality. Canon's first f/2.8L and f/4L zoom lenses were among the world's first lenses to turn this notion upside down when they were released in 1989. Canon's product developers tell us more about the development process of these game-changing lenses, as we mark the addition of the EF70-200mm f/2.8L IS III USM and EF70-200mm f/4L IS II USM lenses to this illustrious family.
The first L-series f/2.8 zoom lenses: Proving that zooms can be as good as primes
- When did Canon first start developing large aperture zoom lenses?
Product planning: The first three professional large aperture zoom lenses in the EF lens series were the EF20-35mm f/2.8L, EF28-80mm f/2.8-4L USM, and EF80-200mm f/2.8. These were released in 1989 alongside the EOS-1, Canon's top-of-the-line AF SLR camera at that time. It was the first time that there were three f/2.8 professional zoom lenses in Canon's lens lineup.
Back then, when prime lenses were professional photographers' choice for brightness (large aperture) and high image quality, Canon's lens designers had dreamt of creating an EF mount zoom lens that would have those same qualities. When we released the FD35-70mm f/2.8-3.5 S.S.C. in 1973, it was very popular, and there was a lot of feedback calling for more of such large aperture, professional-quality zoom lenses.
With technological advances, we finally managed to create zoom lenses with a large aperture and image quality on par with prime lenses. These were the first three L-series EF zoom lenses mentioned above, and they performed so well that even the professional photographers who had preferred to use prime lenses began using these zoom lenses as well.
Product planning: Kengo Ietsuka
This might not seem like a big deal now that every manufacturer is producing f/2.8 zoom lenses. However, back then, it was revolutionary: No one else had ever thought of releasing wide-angle, standard, and telephoto versions of a zoom lens with an aperture that wide. The lens designers wanted to take on the new era by trying out something new and challenging. If it had not been for this mindset, Canon's large aperture L-series zoom lenses will probably not have had as much support from users or progressed to become what they are now.
1973
The first professional-quality large aperture zoom: FD35-70mm f/2.8-3.5 S.S.C.
This lens was also the first large aperture zoom lens to achieve image quality on par with prime lenses. Many more short focal length zoom lenses would follow in its footsteps.
1987
The EOS system debuts
The EOS 650 and 620, released in 1987, were the first cameras to feature the fully-electronic EF mount system.
Click here to learn about:
The Birth of the Fully Electronic Mount
The Very First EOS Camera, EOS 650
1989
The first f/2.8L zoom lenses
Released at the same time as the first EOS-1, these three pioneers of the current f/2.8L lens series offered professional photographers the high image quality unique to L lenses.
- EF20-35mm f/2.8L
- EF28-80mm f/2.8-4L USM
- EF80-200mm f/2.8L
USM: Building an in-lens AF system fit for the pros
- Please tell us about the first f/2.8L zoom lenses.
Product planning: The EF17-35mm f/2.8L USM, EF28-70mm f/2.8L USM, and EF70-200mm f/2.8L USM were released as successors to the three large aperture zoom lenses released in 1989. They were fixed aperture lenses, achieving f/2.8 throughout the entire zoom range. A photographer would be able to cover wide-angle to telephoto focal lengths by taking just these three lenses on location, which was very convenient. They also all employ ultrasonic motor (USM), which ensures faster, easier AF. All telephoto lenses in this line, starting from the EF70-200mm f/2.8L USM, are compatible with 1.4x and 2x extenders.
Electronics design: At that time, the mainstream approach was to use a motor inside the camera body to move the focusing lens. However, Canon developed its own method, which used a drive system inside the lens body. The placement of the drive system could now be optimized for each lens, making it possible to achieve fast, accurate and quiet AF that surpassed Canon's competitors. Further improvements were made to the shape and control mechanisms of the ring-type USM so that they better suited the lenses, and these in turn further improved performance.
Electronics design: Koji Okada
Product planning: The first lens to feature USM was the EF300mm f/2.8L USM, a super telephoto lens released in 1987, the same year the EOS system debuted. It was highly acclaimed as it could achieve quick, highly precise autofocus despite the extremely shallow depth-of-field at 300mm. The USM technology was later implemented in the f/2.8L zoom lens series, and the rest is history.
1987
World's first practical use of USM
Canon was the first in the world to successfully use USM to drive AF in a lens. Driven by vibration energy of ultrasonic waves, USM was close to the ideal AF drive motor with its extremely quiet operation, low power consumption, excellent starting and stopping responsiveness and high ease-of-control.
World's first super telephoto L lens equipped with USM: EF300mm f/2.8L USM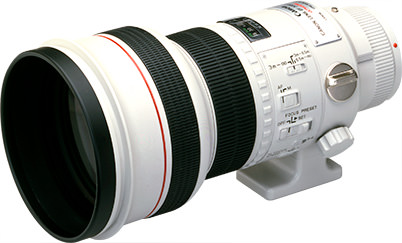 The high optical performance and use of an inner-focusing system and ring-type USM on this lens helped it to achieve quick, seamless AF. It is also one of the most highly-acclaimed large-aperture super telephoto lenses in the world.
The digital era: Meeting the growing demands for higher optical performance
- Can you tell us some stories about when the digital era arrived?
Product planning: In the digital era, there are more opportunities to print and use photos in large sizes. As a result, developers have to design lenses with even higher optical performance than before.
Optics design: For fixed-aperture zoom lenses, the most challenging aspects of optical design are to correct for spherical aberration on the telephoto end, field curvature on the wide-angle end, and chromatic aberration from the wide-angle end to the telephoto end. It is very important to choose the appropriate glass material and aspherical lenses. Back then, simulation software was not as advanced, which made lens development challenging. To ensure that our lens had the balanced performance befitting a flagship product, we would make a prototype, test them, and then repeat the whole process until the results were satisfactory.
Optics design: Hiroshi Endo
Mechanical design: The increasingly higher image resolution on cameras meant that higher focusing accuracy was required. Thus, we had to revamp the focus drive system. To ensure that performance did not deteriorate, each product was studied and improved on an individual basis. We also improved the accuracy of our adjustment methods, so that adjustments for tilting and parallel eccentricity for each lens group could be performed digitally.
Mechanical design: Shigeki Sato
Product planning: With the transition from analogue to digital SLR cameras, we decided that we wanted the L lenses to have even higher optical performance.
Achieving a 24mm wide-angle end on a standard zoom lens
- What was the breakthrough that helped you achieve a wide-angle end of 24mm on a standard zoom?
Mechanical design: We managed to achieve a wider angle on the wide-angle end by implementing a zoom-linked inner-focusing mechanism. Previously, the amount of focus feed from infinity to close range had to be constant across the entire focal length range. The current focusing mechanism is an innovative mechanism that frees the optics design from this restriction.
Optics design: The previous mechanism moves the front-most lens elements, whereas this new mechanism made possible to use a rear-focusing or an inner-focusing system. With this, we were able to achieve a wider angle on the wide-angle end while maintaining the overall size. The same mechanism is used in the EF24-105mm f/4L IS USM, which was released later. It is a significant reason why we were able to produce a high-magnification zoom ("superzoom") lens with a wide-angle end as wide as 24mm.
Optics design: Hiroshi Endo
Electronics design: The lenses in the EF70-200mm f/2.8L series also use this mechanism, which enables focusing lenses to be made smaller. This not only makes high-speed AF drive possible, it also allows us to make telephoto lenses more compact.
The first superzoom lens to use a zoom-linked inner-focusing mechanism: EF35-135mm f/4-5.6 USM
Released in 1990, this was the first Canon superzoom lens to use an inner-focusing system, which became a staple on zoom lenses. This lens became a model for subsequent multi-group EF zoom lenses.
EF28-70mm f/2.8L USM lens diagram
Inner-focusing with the front-most lens element
EF24-70mm f/2.8L USM lens diagram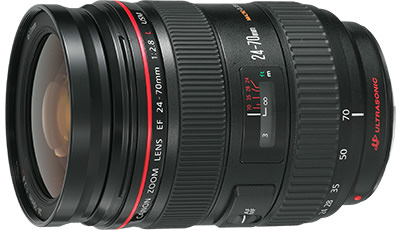 Zoom-linked inner-focusing mechanism
A tougher, more durable body to cater to higher usage frequencies
- From the mid-2000s onwards, there were improvements made to durability. Could you tell us more about this?
Product planning: In this digital era, people are taking many more shots than before, especially if they work in the news media. Such a usage trend calls for higher levels of toughness and durability. Under normal usage conditions, there are usually few problems. However, in press photography and photojournalism, the cameras and lenses are used in extremely harsh environments. We overhauled the entire mechanical structure from the beginning to improve durability and toughness.
Mechanical design: For example, the zoom ring, which is one of the most frequently-handled parts, is mechanically-linked to the internal structure. Since the mid-2000's, we have used bearings in the linkage section and have improved it so that operation is smooth. Also, the more complex the structure on the inside, the harder the lens will be to operate. In the digital era, it is essential to strike a balance between operating ease and reliability. Therefore, we took these into consideration from the optical design stage, and carried out many iterations of trial and error.
As for making the structure dust-proof and drip-proof, it is not enough to simply increase the weather-sealing. That gives the lens a heavy operational feel. Therefore, we had to consider the path of airflow, and also find a way to balance that with drip-proofing while ensuring that the external appearance of the lens was not affected.
Production technology: Kenichi Okushima
Product planning: Professional users are more satisfied than ever with the improved durability. The specifications that professionals really want are those that you cannot see, but that work as always when you are shooting in conditions where it is impossible to reshoot.
Mechanical design: For example, 70-200mm telephoto lenses are often used for sports photography, where you certainly do not want malfunctions to prevent you from capturing a decisive moment. The EF70-200mm f/2.8L IS II USM, which was released in 2010, and its successor [the recently-released EF70-200mm f/2.8L IS III USM] feature dramatically-improved durability and toughness.
Mechanics design: Shigeki Sato
The technology to mass-produce with high precision
- Can you tell us about how aspherical technology for wide-angle lenses has progressed?
Optics design: Now that photography has become digital, one of the key research areas is the correction of peripheral image quality and lateral chromatic aberration. This is where aspherical lens technology is particularly indispensable. Canon has numerous aspherical lens designing and manufacturing technologies such as ground aspherical surface, replica, glass-moulded (GMo), etc., which we use where appropriate. On the EF16-35mm f/2.8L III USM, we successfully implemented double-surface aspherical lens elements on a large aperture lens, which further improved aberration.
Production technology: Canon's strength lies in the ability to mass-produce large aperture glass-moulded aspherical lenses, for which you need extremely high precision. The EF16-35mm f/2.8L III USM uses an extremely large aspherical lens with a 62.5mm diameter. In order to mass-produce this, we applied the polishing and measurement technologies used in photolithographic equipment for semiconductor manufacturing, which requires much higher precision than in lenses for consumer cameras. When used on ground aspherical surface, these technologies are 2.5 times more precise than the old method. We are also improving the accuracy of the moulding process.
High-precision GMo aspherical lens moulds
- Can you tell us about the telephoto lens optics?
Product planning: On telephoto lenses, the main problem is chromatic aberration. We correct this by using low dispersion glass such as UD lenses. We have also been using fluorite since the EF70-200mm f/2.8L IS II USM to much positive feedback. On the EF70-200mm f/2.8L IS III USM, we used the latest coating technology, Air Sphere Coating (ASC), in response to requests for improving flaring. This brings the product closer to perfection.
Optics design: The product catalogues don't quite mention this, but we use a new type of lens material called "high-index glass", which has a high refractive index that suppresses chromatic aberration, curvature of field, and peripheral aberration. New types of glass have become available in recent years. At first glance, there are no visible changes to telephoto lens optics. However, to an optical designer, it is significant—we can now use glass that we used to be able to only dream about, and this expands the possibilities in lens design.
Lens processing: UD lenses are delicate and extremely difficult to handle. After years of research, about ten years ago, Canon finally managed to develop technology to automate the mass-production of UD lenses. This made it possible to produce lenses with stable quality. The availability of high-precision machining also makes it possible to use the high-index glass mentioned above.
UD lenses
Digitising the work of artisans
- What changes have been made in the manufacturing plants due to digitisation?
Lens processing: In the digital era, as market demand increased and mass production became necessary, the demand for high precision glass elements increased from a few pieces to several hundred per day. Therefore, we began to standardise (digitise) the work that relied on artisan skills as much as possible. At the same time, we also encouraged the standardisation of tools and actively implemented new processing machines and evaluation equipment. These efforts helped us to successfully mass-produce lens surfaces with very high precision and consistent quality.
Lens processing: Hisakazu Nakamitsu
At the Utsunomiya plant, we succeeded in automating almost all the processing steps necessary for high-quality, consistent supply of lenses. However, certain processes, such as polishing and shaping certain parts of the lens to precision, require human skill and are difficult to automate. Therefore, we still draw on the skills of artisans for them and are working to ensure that these skills are transferred to the next generation.
Close collaboration between the design and production engineering teams
- How are the lenses designed and moved to the production line?
Optics design: We use Canon's in-house optical simulation software, which lets us design lenses with new specifications. Before producing a prototype, we simulate various materials on the software, use it to test the lens strength resistance to impact, and then verify how these influence optical performance. The simulation technology uses computers with outstanding processing power.
Product planning: The software makes it possible to check how the zoom position, the focal position, and the aperture value affect ghosting and flare. With this, we can design lenses with the highest possible performance. The production plant also tries to respond with the necessary precision.
Production technology: The design team and the plant's production engineering team meet frequently, starting from the early stages of product planning. We discuss what new technologies are needed for a particular product, the technical challenges that we might face, how easy or difficult the elements are to process and assemble, and whether automation is possible. Through these discussions, we can take both the design and engineering perspectives into consideration when we prepare for mass production.
Product planning: This close cooperation is possible because the design department and the plant are on the same level in the hierarchy. This structure has been in place since 2000.
The development laboratories and production plants work very closely together
Optical technology laboratory
Utsunomiya Plant
About the developers
(from left)
Product planning: Kengo Ietsuka
Ietsuka is in charge of product planning for the EF lens series. He handles the commercialisation and performance improvement of EF lens, including the f/2.8L and f/4L zoom lenses.
Optics design: Hiroshi Endo
Endo has been involved in the optical design aspect of EOS system development since its debut. He has handled the development and design of large diameter aspherical lenses, the key technology of the large aperture L-series zoom lenses, since he first started working at Canon.
Mechanical design: Shigeki Sato
Sato has been in charge of EF lens' mechanical design since he started working at Canon. He has contributed significantly to technological innovation and reliability improvement since the rapid acceleration of digitisation in 2000.
Electronics design: Koji Okada
Mainly in charge of IS unit control, Okada works to ensure that EOS cameras and EF lenses pair well with each other, and is currently in charge of the system mechanisms of the matching components, which transmit information between the camera and lens.
Lens processing: Hisakazu Nakamitsu
Nakamitsu monitors the overall efficiency of the entire production department as well as quality control, which helps to ensure a stable supply of high-quality professional lenses.
Production technology: Kenichi Okushima
Okushima is in charge of technical support for mass production. His department contributes to ensuring the high precision of ground aspherical lenses, promotes the automation of high precision spherical lens processing, and also collaborates with the product design department to advance the study of new technologies.
This interview was conducted on the occasion of the release of Canon's new EF70-200mm L lenses. Please also read:
Canon Unveils the EF70-200mm f/2.8L IS III USM
Canon Announces the EF70-200mm f/4L IS II USM
---
Receive the latest update on photography news, tips and tricks.
Be part of the SNAPSHOT Community.
Sign Up Now!
---