Having a hard time deciding on your next photography escapade? You don't have to go far to capture beautiful landscape photos. There are plenty of places in Singapore that would enable you to practise your landscape photography skills. In fact, some of these places don't even look like you're in Singapore! Here are 10 recommended locations for you to add to your portfolio as a landscape photographer in Singapore.
1. Mount Emily Park
Tucked just on the outskirts of town, Mount Emily Park is a lush oasis of large, old trees and gently rolling slopes that can make for very interesting compositions. Landscape photographers will find this spot intriguing, as set against all the greenery is the faint outline of our cityscape. Sunrises and sunsets are beautiful here too, particularly when the light filters through patches of dense foliage.
EOS 650D, EF-S18-55mm IS II f/3.5-5.6, f/5.6, 1/320sec, 18mm, ISO 100
2. Central Business District
Having your camera with you at all times means you're less likely to miss a good photo opportunity. If you're working in the Central Business District, be sure to get your cameras out during your mealtimes.
The towering offices often make for interesting compositions at different times of the day, even in the mid-day afternoon sun, which photographers often shy from. But get it right and it's quite an interesting perspective. Tip: Use a wide angle lens to make the buildings you're capturing appear even taller. Remember to place your subject in the centre of the frame to avoid distortion. Learn more tips on using a wide angle lens in this article.
Canon EOS 6D, EF16-35mm f/4L IS USM, f/10.0, 1/400sec, 16.0mm, ISO 100 by Kenji Kwok Li Xian
3. Marina Bay Sands
Photo opportunities are abundant near the Marina Bay Sands (MBS) — from the interior architecture of The Shoppes of Marina Bay Sands to the view of the towering offices across the bay — which makes it such an ideal location for your next photo outing.
A little tip! If it gets too hot in the afternoon, head indoors and photograph in the comfort of air-conditioning. It's also with the afternoon sun that the indoor scene comes to life.
Canon EOS 6D, EF16-35mm f/4L IS USM, f/4.0, 1/320sec, 16.0mm, ISO 800 by Kenji Kwok Li Xian
4. Changi Beach
Over the years, new resorts have sprung up in the area but nothing has taken away the calm atmosphere that Changi Beach has to offer. A slow stroll via the jetty in the late afternoon will get you to the beach rather quickly, in time to photograph the sunset.
Here you'll also meet enthusiastic anglers who are sure to keep you company while you wait for the best light for your photographs.
Canon EOS 6D, EF16-35mm f/4L IS USM, f/4.0, 1/30sec, 24mm, ISO 200
5. Lorong Halus Bridge
Calm and surreal, this is the perfect spot to photograph the blue hour in Singapore. The bridge connects Lorong Halus Wetlands to Punggol Promenade Riverside Park. Together with the trail of lights through its iconic architecture, it casts a beautiful reflection in the waters below. If you love to photograph sunsets, planning is key as the light conditions change rapidly and the colours disappear before you realise it. Discover more tips on how to capture the stunning hues of sunsets in this article.
Canon EOS 6D, EF16-35mm f/4L IS USM, f/16.0, 4sec, 21.0mm, ISO 100 by Archie Ferdinand Teodoro
6. Merlion Park
It's the home of Singapore's national icon, the Merlion, with a beautiful view of the Marina Bay. This tourist hotspot might be crowded in the afternoon so be sure to reach early to catch the amazing sunrise.
A little trick to have fewer people in your photograph, provided that the scene is dark enough, would be to photograph with a slow shutter. That also helps smoothen the surface of the water, making for an interesting photograph.
Canon EOS 6D, EF17-40mm f/4L USM, f/8.0, 85sec, 25.0mm, ISO 100 by Calvin Thia Kang Wei
Canon EOS 6D, EF17-40mm f/4L USM, f/16.0, 20sec, 17.0mm, ISO 100 by Calvin Thia Kang Wei
7. Gardens by the Bay
Gardens by the Bay is one of the newest attractions in Singapore, with its three iconic man-made Supertrees of up to 16 storeys tall. Watch out when the sun sets — that's when the structures truly come to life, lit with vibrant colours matching the festive mood. Whether photographed from a distance or right below the structures, this place is easily one of the most popular spots for photography enthusiasts in Singapore.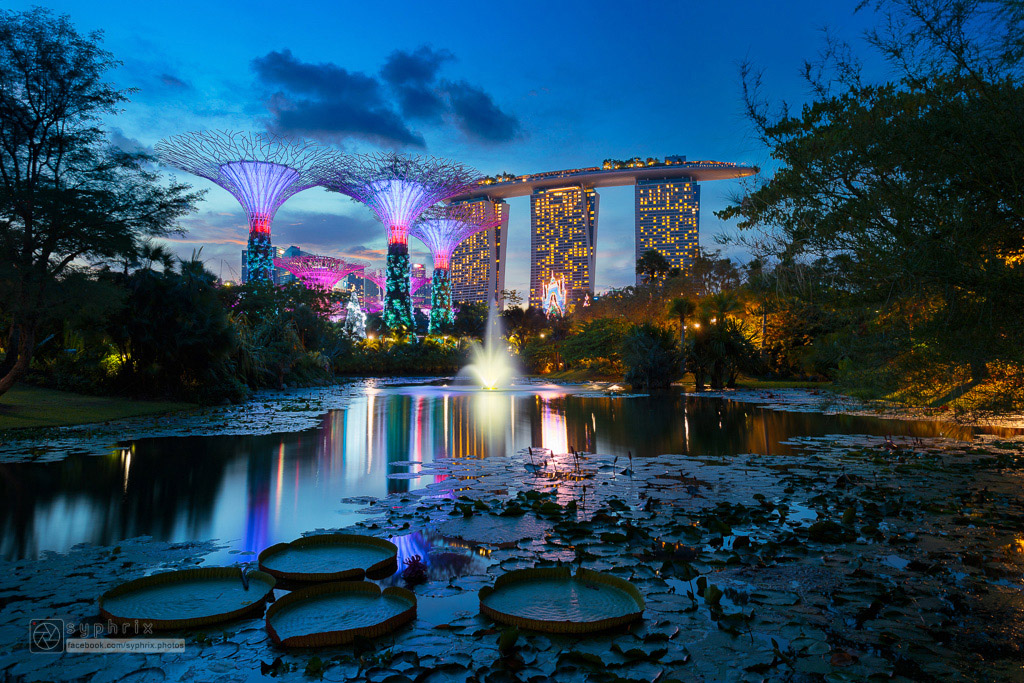 Canon EOS 6D, EF17-40mm f/4L USM, f/8.0, 30sec, 25.0mm, ISO 100 by Simon Tay Sze Wee
Canon EOS 6D, EF16-35mm f/4L IS USM, f/16.0, 198sec, 16.0mm, ISO 100 by Archie Ferdinand Teodoro
8. Benjamin Sheares Bridge
This bridge was constructed in 1977 and completed in 1981. It is named after Singapore's second president, Dr Benjamin Sheares. You would have probably seen the view from the Benjamin Sheares Bridge, the longest and tallest bridge in Singapore which spans the Kallang Basin and Singapore River. It is now also a common route for marathons. For photo opportunities, visit this place when the sun sets to capture stunning reflections of the bridge and Costa Rhu.
Canon EOS 6D, EF16-35mm f/4L IS USM, f/16.0, 25sec, 16.0mm, ISO 50 by Archie Ferdinand Teodoro
9. Bidadari
This used to be a cemetery but has now become one of the rare gems in Singapore to photograph nature, particularly during the golden hour. The graves have been exhumed as part of the nation's redevelopment plan and to make way for the upcoming Bidadari estates. The trails in the woods are popular running routes for members of the Gurkha Contingent, and also serves as a guide for photographers to explore this magical site. Searching for a location that doesn't look like you're in Singapore? Bidadari is increasingly becoming a popular spot to capture those dreamy pre-wedding photos. Tip: Use flaring in backlight to shoot those portraits with a soft, dreamy finish.
Canon EOS 5DS, f/16, 1/125sec, 16mm, ISO 400 by Tan Geng Hui
10. MacRitchie Reservoir Park
The 12-hectare MacRitchie Reservoir Park is Singapore's first reservoir and features a number of different attractions for different photography opportunities. Be it a stroll along the perimeter of the water body or a hike to the tree top walk, there is just so much to explore and capture at this park. As a gateway to pristine forest and waters, this park is a sanctuary for bird watching. If you love to capture the natural beauty of wild birds, learn how the EF70-300mm f/4-5.6 IS II USM lens is an excellent lens for bird photography in this article.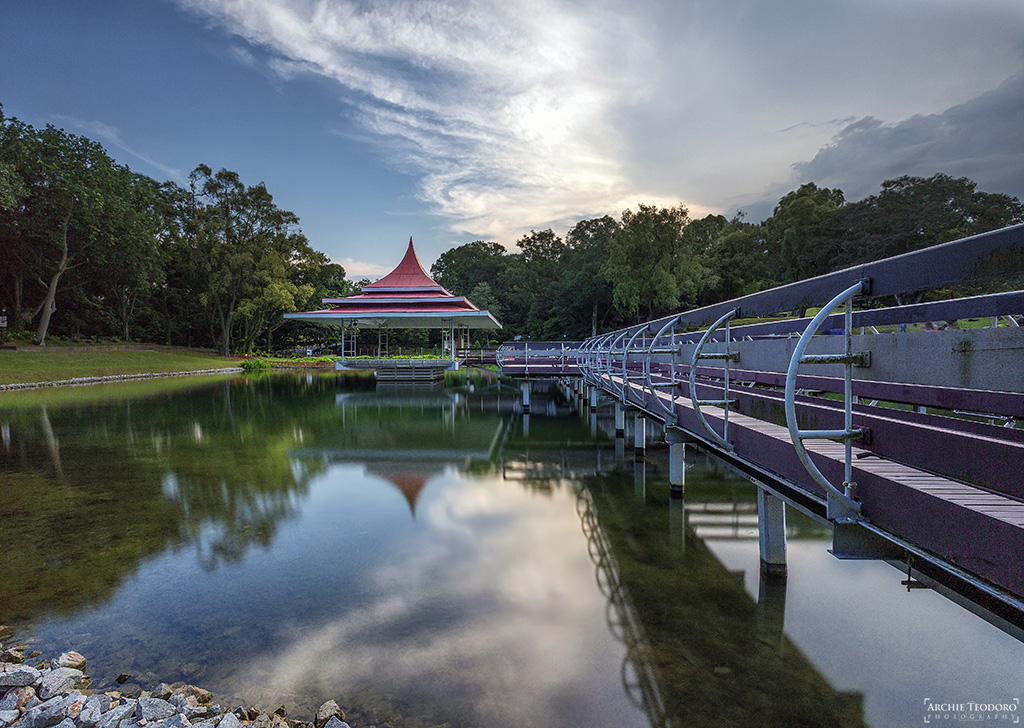 Canon EOS 6D, EF16-35mm f/4L IS USM, f/11.0, 46sec, 16.0mm, ISO 100 by Archie Ferdinand Teodoro
As you can see, there is no lack of places to shoot in Singapore. Know other places that are perfect for landscape or nature photography in Singapore? Share with us!
Kenji Kwok
Profile of writer


Kenji Kwok is a Documentary Photographer from Singapore, whose work is driven by his belief to give others a channel to voice their grievances, as well as to document the need for change regarding social issues around the world.
---
Receive the latest update on photography news, tips and tricks.
Be part of the SNAPSHOT Community.
Sign Up Now!
---