Tips & Tutorials >>
All Tips & Tutorials
5 Crucial Camera Settings to Ensure Sharp Underwater Photos
Are you planning on going for your first underwater photography adventure? Diving techniques aside, there are certain basic camera settings that would greatly benefit you and your photos. Here are five camera tips to ensure that what you see (underwater) is what you get, or even better.
EOS-1D X, EF16-35mm f/2.8L II USM lens, f/5.6, 35mm, 1/50sec, ISO1000
Should I use Auto or Manual setting?
Auto setting can be used when you are photographing with natural light (without strobes), or if you do not have enough time to adjust the camera exposure, such as shooting a fleeting manta ray. Otherwise, manual setting is a better way to gain full control of your camera.
Learn more about shooting in manual mode in Camera Basics #18: Manual Exposure (M Mode).
What are the basic settings I should take note of?
Control your aperture to decide how much light you want in your camera and determine the depth of field (the nearest and the furthest focused distance) of the final image. For macro shots, where depth of field is important, choose a setting between f/8 to f/22. For wider angle shots, set between f/5 to f/22 to get the desired shades of blue. Find out more about aperture in Lesson 3: Learning about Aperture.
Use a shutter speed no less than 1/60 to "freeze" the action of a moving fish. If you are using external strobes, make sure that you sync your DSLR camera's shutter mechanism to the strobes between 1/160 sec and 1/250 sec (depending on the camera model). If you are unfamiliar with shutter speed, you may like to check out the article Understanding Shutter Speed.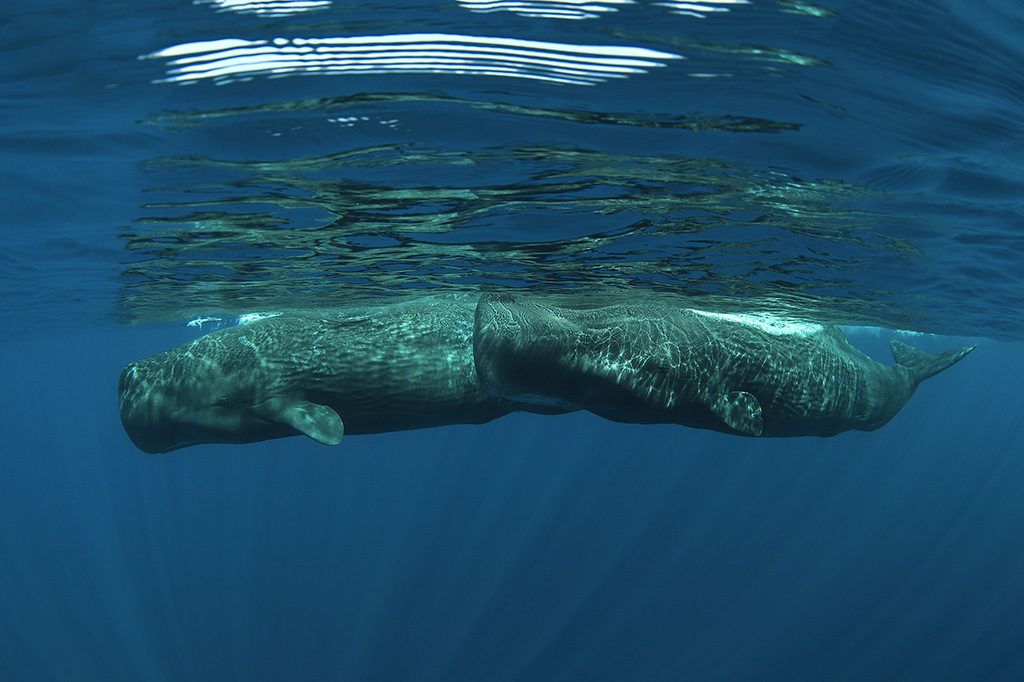 EOS-1D X Mark II, EF8-15mm f/4L FISHEYE USM lens, f/8.0, 14mm, 1/320sec, ISO500
As for the ISO setting, when shooting macro subjects, a low ISO is preferred due to the finer grains, while a higher ISO might be needed for wide-angle photography to balance your strobe power with natural light.
When do I use the zoom or macro function?
Turn on the camera's macro function if you want to get a closer focus that "enlarges" your subject. For larger macro subjects, use the wide end of the zoom lens. For macro subjects that are too small, attach a dedicated close-up lens outside the camera while zooming in (to get rid of vignette).
PowerShot G7 X Mark II, f/10.0, 36.8mm, 1/200sec, ISO125
How do I ensure that the colours in my photos are balanced and not extremely blue?
Shoot at the shallower end of the reef; use a dedicated "red" filter to balance out the colour; make use of your camera's built-in flash; or take advantage of a torch or a strobe. Learn how to use light source effectively for your underwater photography in Quick Tip: How to Get Great Colours in Your Underwater Photos.
PowerShot G7 X Mark II, f/11.0, 36.8mm, 1/250sec, ISO125
Which camera model should I get?
If you are a beginner, opt for Canon G7 X Mark II or G1 X Mark III. The Canon EOS M5 is great for intermediate underwater photographer, while the EOS 80D, EOS 5D Mark IV and EOS 1D X Mark II are perfect for semi-professional and professional underwater photographers.
Can't decide? Let us help you with the infographic Which Camera Should I Get for My Dive Trip?
Bonus Tip: Safety First
Personal safety is the most important thing to take note of when one dives. Always look at your remaining air and No-Decompression Limit (NDL) – the amount of time a diver can stay at a given depth – before you shoot your next subject.
Find out what are the essentials for your next trip in 10 Things to Bring on Your First Dive Trip.
EOS-1D X, EF8-15mm f/4L FISHEYE USM lens, f/9.0, 8.0mm, 1/13sec, ISO100
Special thanks to professional underwater photographer William Tan for his tips and advices.
---
Receive the latest update on photography news, tips and tricks.
Be part of the SNAPSHOT Community.
Sign Up Now!
---