How different is shooting underwater as compared to shooting on ground? Can we apply similar framing methods (on people, wildlife, landscape) to the underwater ones? Professional underwater photographer William Tan tells us five things that all underwater photography enthusiasts should know before getting into their next photography adventure.

EOS 5D Mark IV, EF100mm f/2.8L Macro IS USM lens, f/13, 100mm, 1/250sec, ISO200
Photo credit: Steven Ko (Taiwan). This floating Pyrosoma became a frame for a larva fish that sought protection within.
What are some of the composition rules you practise when shooting underwater?
Common land composition rules can be applied underwater. These are a few rules I find helpful when it comes to composing an image:
1. Filling The Frame
You can get away with an uninteresting background by filling up the frame with your subject. By shooting closer to your subject, the depth of field will also become shallower, thus blurring the background further.
2. Keeping the Animal Whole
Always look at the edges of your frame to make sure that you include all of your subject's body parts. When framing for a closer crop of an animal, ensure that it looks like an intended crop, and not an accidental one.
3. Rule Of Thirds
Divide your frame into nine equal sections with lines, and place the most important element(s) on where the lines meet.
4. Observing Lines, Patterns and Frames
Use natural lines, patterns and frames to isolate your subject, guiding the viewer's attention to it.

EOS-1D X Mark II, EF8-15mm f/4L FISHEYE USM lens, f/8.0, 15mm, 1/320sec, ISO500
Photo credit: William Tan. A repeated pattern formed by these swimming sperm whales is pleasing to the eyes.
How do we make sure that our shots are stabilised when dealing with the water currents?
Professional underwater photographers streamline their setups to make them "smaller" in surface area and volume. Without the bulk of unnecessary accessories, the currents will have less impact on the camera. I personally like my camera to be negative buoyant; I find neutrally buoyant (neither sink nor rise) cameras difficult to control in currents.
How different is framing underwater subjects as compared to other photography genres (e.g. portraits, wildlife, or landscape)?
While it is considered desirable to shoot at eye level in wildlife (especially bird) photography, underwater photographers prefer to get low and shoot upwards instead, giving the resulting images a cleaner background instead of having a distracting seabed.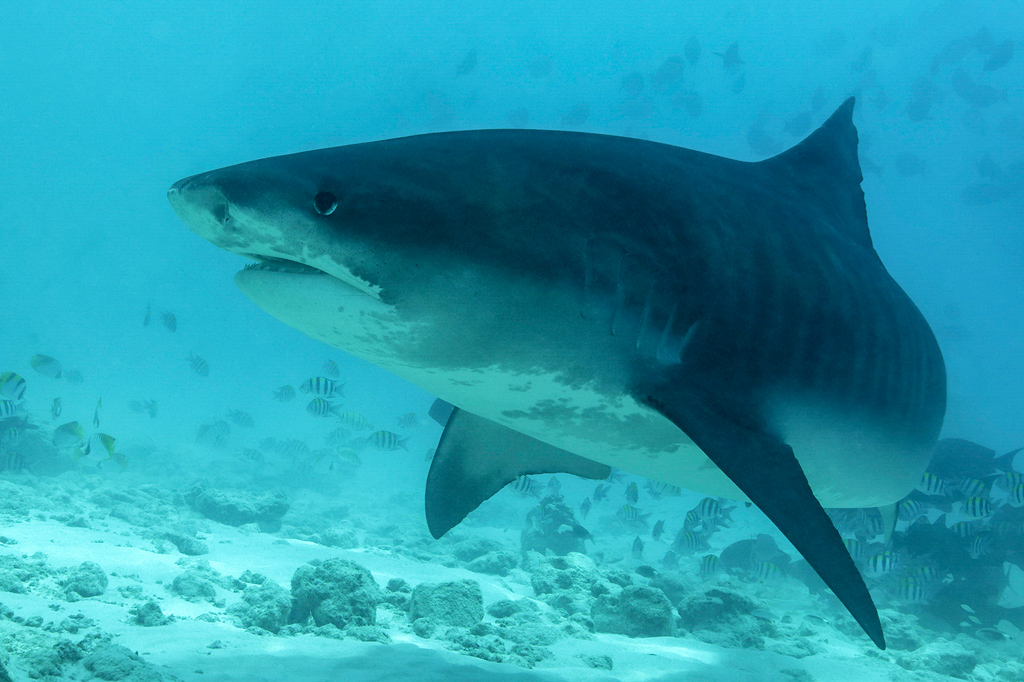 EOS 80D, EF16-35mm f/2.8L III USM lens, f/11, 28mm, 1/320sec, ISO400
Photo credit: Nawax Nawaz (Maldives). By getting closer to this tiger shark to let it fill the frame, the messy background became less obvious.
What are some of the lenses you take into consideration when taking your shots? Could you also tell us why you use these lenses?
I work mainly with 4 lenses underwater:
Canon EF8-15mm f/4L USM Fisheye lens
Besides being a lens that is well known for its glowing saturation of colours, it is also a great lens for capturing reef scenes (with or without divers), giant whales, and medium sized animals you can get very close to.
Canon EF16-35mm F/2.8L III USM lens
Perfect for medium sized animals at a distance. The newest Version III lens solves the problem of lines-forming-between-different-shades-of-blues that is sometimes observed in the Version II lens.
Canon EF100mm f/2.8L Macro IS USM lens
Great for macro, this lens has super fast focusing speed, incredible sharpness and vibrant colours.
Canon EF100mm f/2.8 Macro USM lens
Perfect for macro, this lens does not pale in comparison with its L series counterpart in focusing speed and sharpness. However, it is less saturated in colours (which can easily be fixed using post-processing softwares).
What are some of the common mistakes people make when composing their shots underwater?
Every marine creature is different, and so is every habitat the marine lives in, and the sea condition during the time you make your shot. There is not a single method that can be applied for all. A successful photographer is one who is sharp enough to make full use of all the factors presented to him to showcase each animal's uniqueness in a beautifully framed image. Do not move things around for a "cleaner" shot. You might unknowingly be destroying the habitat that is important for your subject's survival.
Remember you get not one, but two chances to compose your image. If it is impossible to compose a perfect shot while shooting underwater, remember to shoot in a way that would allow you to "compose" a second time by cropping later.

EOS 5D Mark IV, EF100mm f/2.8L Macro IS USM lens, f/13, 100mm, 1/250sec, ISO200
Photo credit: Steven Ko (Taiwan). The undulating body of this snake eel larva brings the viewers' attention to its head.
Bring your underwater photography to the next level by learning about lighting in How to Create Proper Lighting for Your Underwater Shots; or get cool black backgrounds in Here's How You Can Achieve Black Backgrounds in Underwater Photography. If you find the colours in your underwater photos a little off, then learn how to correct them in 4 Ways to Make Your Underwater Photos Pop with Colour.
---
Receive the latest update on photography news, tips and tricks.
Be part of the SNAPSHOT Community.
Sign Up Now!