Inspirations >>
Photos & People
Balancing work and passion: How hobbyist Daryl Yeo indulges in photography while holding on his full-time IT job
Finding a true passion is not easy. When it comes to the journey in search for one, nobody understands it better than photography hobbyist Daryl Yeo. Since 2006, Daryl has been exploring digital photography, and has used all these years to experiment photography's various genres, and thence discovered his one true love – wildlife photography. We catch up with him to find out more about his exciting journey and plans for the future. (Report by Isaiah Tan)
Q1: You're a full-time IT Manager. How do you balance your job and your hobby, and how much time does it take to plan one of your photographic journeys?
Daryl Yeo (D): As much as I love to shoot at every opportunity, work takes priority since I need income to support my hobby. In Singapore, I may shoot during early weekend mornings. For my photographic trips, I may plan as far ahead as a year, or sometimes impromptu, since I also travel alone.
Q2: How often do you go on one of your wildlife photographic expeditions?
D: Generally I have one-three trips overseas a year, depending on location and duration. My trips can last from three days to two weeks.
Q3: Where are you planning to go to next, and why?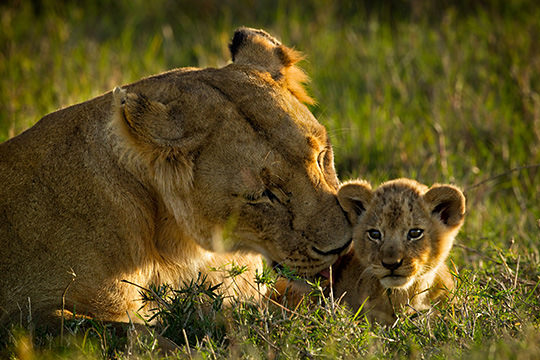 D: I have a long wish list, in the hopes of capturing unique images of wildlife. On my priority list are the Arctic and Antarctic. Additionally, Africa is an addiction and it will be my mainstay.
Q4: Have you thought about becoming a full-time photographer? If not, why?
D: At my age, I think I may be over-the-hill to make a career change. I respect full-time photographers. The industry is highly competitive; it is not easy to make a living out of photography, more so when it comes to wildlife, which is why there is only a handful of photographers who dedicate solely to the aforementioned genre.
Q5: Have you considered organising wildlife photographic group expeditions?
D: I've led two small group expeditions overseas, which consisted mainly of my friends. I've also joined other group expeditions, as well as those overseas.
Q6: Have you ever thought of teaching others about wildlife photography?
D: There are not many instructional courses on wildlife photography locally, so this is an area I can contribute. Apart from the basics, I would emphasise on helping individuals to develop a personal style, based on their preferences and strengths. Photography as a form of art is a journey, it needs time and effort to develop and mature.
Q7: What advice would you give someone who's just starting out on wildlife photography?
D: I would encourage them to practise, practise and practise. Start with the zoo, bird park and other local parks. Mistakes and lessons can be learnt at a low cost here, so you'll be more prepared for the overseas trip. Next, be curious about wildlife. Often, the more we understand and connect with the subject, the more successful we are at capturing good images. All budding wildlife photographers should act responsibly – the animals' welfare takes priority over the photographer's desire to capture an image.
Daryl Yeo
Since 2012, Daryl Yeo has won several medals from international photography competitions. He was awarded Associateship of the Royal Photographic Society (ARPS) from the UK in 2014. Apart from that, he was also awarded the Fellowship from various photography associations such as the Photographic Society of Singapore, Photographic Society of Malaysia, and Singapore Colour Photographic Society. Besides wildlife, Daryl also enjoys travel, dance and sports photography. He was part of the official photography team in Chingay 2012 and 2014, and had also volunteered in the National Day Parade 2014 as a photographer.
Isaiah Tan
A professional videographer with a love for photography, Isaiah runs a video production company, a wedding video/photo business, as well as a small bar in Singapore. He enjoys experimenting with different photographic techniques and always wants to learn and discover more of the world around him.