Products >>
All Products
Canon Announces the EOS 1500D: Seamless Transition from Smartphone to DSLR Photography
On 26 February 2018, Canon announced the EOS 1500D, which targets first-time users of DSLR cameras. The EOS 1500D features a 24.1-megapixel sensor in addition to the optical viewfinder and beginner-friendly features. (Reported by: Makoto Suzuki (Digital Camera Watch))
ISO speed expandable to 12800
The successor model to the EOS 1300D released in March 2016, the EOS 1500D features an APS-C-size CMOS sensor with an image resolution upgraded to approximately 24.1 effective megapixels.
The ISO speed range is ISO 100 – 6400, expandable to ISO 12800. This, together with the large APS-C size CMOS sensor and the DIGIC image processor, work together to achieve images with low noise and rich tonal gradations, even for images shot with high ISO speed in low-light conditions.
Dials and buttons designed for easy operation
Continuous shooting is available at up to approximately 3 frames per second (fps). Fast, simple AF is achieved with the 9 AF points (cross-type AF with centre AF point). The camera comes with an abundance of shooting functions, which can be accessed by simply turning the mode dial.
The EOS 1500D features an optical viewfinder , a feature that will delight those who want to have the authentic DSLR shooting experience. This allows users to view and frame their subjects in real time, even when shooting outdoors, and is particularly useful for photographing moving subjects such as children and pets.
Just like the EOS 3000D, the body design of the EOS 1500D has also been optimised for viewfinder shooting, featuring details such as a large grip and dials and buttons concentrated on the right-hand side.
A selection of Creative filters and image presets for easy creative expression
The EOS 1500D comes with six scene modes, which are scene-based preset modes that provide an easy way for beginner users to achieve beautiful shots. Whether they are shooting portraits, natural landscapes, close-ups, night portraits or food, they simply need to turn the mode dial to the appropriate scene mode, and the camera will automatically set the optimal settings for the scene.
There are also five Creative filters that can be used to apply artistic effects to images in-camera, including the Toy camera effect, Fish-eye effect and Soft Focus effect.
First-time DSLR users trying to navigate their way around the camera have a helping hand in the form of the Feature Guide mode, which provides explanations for various camera functions. With this, users can expect to find their camera knowledge and photography skills growing the more they shoot with the camera.
Wi-Fi/NFC connectivity for easy pairing with smartphones
In terms of connectivity, the EOS 1500D supports Wi-Fi/NFC. This provides users with additional functionality: Users can conduct remote shooting on a smartphone or transfer images to it from the camera and share them to social media, simply by pairing the two devices via Canon's Camera Connect app, available free-of-charge for both iOS and Android.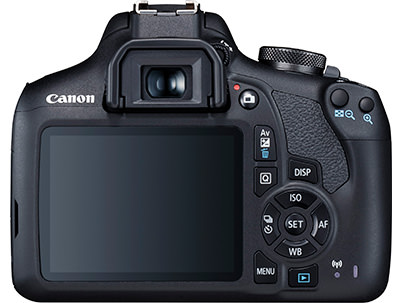 Users can shoot in Live View mode on the 3.0-inch, 920,000-dot LCD monitor. The user interface includes a feature guide, which helps beginner users easily navigate through shooting functions and achieve their intended effects while learning more about camera features and settings.
The EOS 1500D body has external dimensions of approximately 129 × 101.3 × 77.6mm. It weighs 475g body only, and 675g with the EF-S18-55mm f/3.5-5.6 IS II kit lens attached (both measurements include batteries and memory card).
---
Receive the latest update on photography news, tips and tricks.
Be part of the SNAPSHOT Community.
Sign Up Now!
---
About the Author
Delivers daily news related to topics such as digital cameras and peripheral devices, and imaging software. Also publishes articles such as reviews on the use of actual digital camera models and photo samples taken using new models.