What was this year's Canon PhotoMarathon Championship 2019 (CPMC2019) like? What stood out about this year's winners, and are there any tips for future participants? GOTO AKI, who has been photography instructor and mentor to 4 batches of CPMC participants, shares his impressions.
"All images are to be shot on the EOS R or EOS RP"
March marks the season for the Canon PhotoMarathon Asia Championship (CPMC), and as CPMC2019 rolled around, I couldn't help but be excited. It was my 4th year as an instructor, and I couldn't wait to find out what this year's participants were like, and what kind of images I would see.
The 16 outstanding grand champions of the various Canon PhotoMarathons around Asia arrived in Tokyo on 18 March 2019. That first night, we went through a round of self-introductions. Everything seemed set to go on as usual, until the briefing, where Evan, the CPMC coordinator from Canon Singapore, made an unexpected announcement: All images were to be shot on the EOS R or EOS RP.
The look of surprise on the participants' faced soon turned to anticipation: Canon had prepared EOS R and EOS RP bodies and mount adapters for loan to the participants, as well as RF50mm f/1.2L USM lenses for existing EOS R users. The participants began to tinker with the cameras, and spent the rest of the night familiarising themselves with the features and customising the settings.
As for me, I returned to my room and practiced saying the participants' names until sleep found me. The adventure had only just begun.
EOS R and EOS RP bodies, mount adapters and RF50mm f/1.2L USM lenses waiting to be loaned to the participants…
…and the participants, eager to try the new equipment.
Out to Shizuoka!
On the second day, we set out to Shizuoka Prefecture, the stage where our champion was to be determined. This was the start of a 9-day trip that would take us to see Mount Fuji, Shinkansen and steam trains, shrines, the evening scenery of the Izu Peninsula, the unique coast of the Izu GeoPark, the Shiraito Falls (a World Heritage site), and a plantation that produced the tea that Shizuoka was so famous for.
This year's CPMC had something else special on the menu: Railway photography. Hirokazu Nagane, one of Japan's top railway photographers, had been invited to join us as a guest instructor for a few days. The participants were awed by a slideshow of his works, which showed a breath-taking way of capturing light as well as amazing attention to detail.
Check out some images and shooting tips from Hirokazu Nagane in these articles:
How to Capture an Impressive Shot of a Moving Train with Continuous Shooting
Professional Tips for Shooting with a Tripod
The participants on the go.
Nagane-san, in the centre of this photograph.

It was interesting to observe how the participants took their shots during the themed challenges.
Impressions of the top 3 winners
Mohd Safuan, who emerged champion, was always relaxed and calm. He would closely observe the scene and the subject before he shot, and many ways of adding variety to his shots: Moving close to the subject, moving away from it, zooming to specific parts, capturing the whole subject in the frame, and so on.
Mohd Safuan
One of Mohd Safuan's works.
EOS R/ EF100mm f/2.8L Macro IS USM/ FL: 100mm/ Manual exposure (f/10, 1/1000 sec, EV+0.7)/ ISO 800/ WB: Manual
Location: Ryuganbuchi
Find out more about Mohd Safuan's photography journey and the story behind some of his works, including this one, in this article.
William Leung, who came in at a very close 2nd place, would often shoot alone, moving away from where everyone else was. He was excellent at observing light and shadow, and had a knack for putting multiple subjects in the same frame in a way that appealed.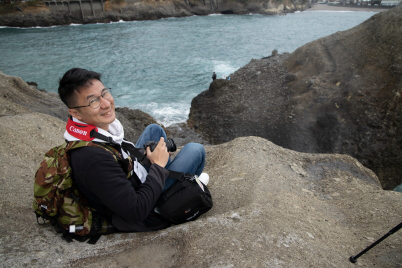 William Leung
One of William's works
EOS R/ EF-S18-135mm f/3.5-5.6 IS USM/ FL: 107mm (171.2mm at 35mm film equivalent)/ Shutter-priority AE (f/10, 1/500 sec, EV-0.67)/ ISO 200/ WB: Auto
Location: Otago Beach
Meanwhile, Luke Singson, the third prize winner, was very bold with using light and shadow. He had amazing patience waiting for his subjects.
Luke Singson
One of Luke's works
EOS R/ RF50mm f/1.2L USM/ FL: 50mm/ Manual exposure (f/1.4, 1/800 sec, EV±0)/ ISO 100/ WB: Auto
Location: Kunozan Toshogu Shrine
Many excellent works, but focus was a common weakness
There were also other excellent works by other participants who didn't make it to the top 3. One thing that I found most regretful was that many of the shots were not as sharply in focus as they could have been.
When you win the CPMC, your shots won't just be shown online, there will also be opportunities to showcase large prints of them. And when that happens, it will be very obvious if the focus is off.
It doesn't matter if it's on the camera, or on a large display screen hooked up to a computer, but everyone should magnify their shots when reviewing them to make that the focus is on point. The EOS R and EOS RP both have an EVF that allows you to check your focus clearly, even in bright daylight, so it's good to make the most of it.
You might also be interested in:
Camera Basics #8: Establishing Focus
8 EOS R Focusing Features We Can't Wait to Try
Forging bonds
CPMC wasn't just a competition, but also an opportunity for cultural exchange. We had lots of fun times together, exploring places and shopping. By the second half of the trip, we all had bonded and become like family.
I'd like to take this opportunity to convey my appreciation to the participants all respected each other, were punctual, and made the entire tour a breeze. Thank you for coming to Japan.
Find out more about previous instalments of CPMC in:
Through Different Lenses: An Interview with the CPMC 2018 Winners
Canon PhotoMarathon Asia Championship Report: Battle for Top Spot in Final Showdown in Japan!
For some tips and advice from GOTO AKI, check out:
What It Takes to Showcase Your Photographic Works
4 Keys to Shooting Pre-dawn Landscapes​
How to Photograph Dreamy Images of Decorative Lights
---
Receive the latest update on photography news, tips and tricks.
Be part of the SNAPSHOT Community.
Sign Up Now!
---
About the Author
Born in 1972 in Kanagawa Prefecture and graduated from Sophia University and Tokyo College of Photography. Goto published a photo collection work titled "LAND ESCAPES" and is also actively engaged in works such as "water silence" an installation that merges photographs with videos.