Products >>
All Products
EF-S24mm f/2.8 STM: A Pancake Lens That Brings About New Perspectives
The EF-S24mm f/2.8 STM, a lens meant for use with APS-C sized sensors, is an astonishingly lightweight and compact lens weighing just 125g. With its stunningly excellent image quality, if you use it in place of the usual large lens, it could feel like you're using a completely new camera. Let us explore the new perspectives presented by this lens with various photographic subjects. (Reported by: Kazuo Nakahara)
EOS 7D Mark II/ EF-S24mm f/2.8 STM/ FL: 24mm (38.4mm equivalent)/ Aperture-priority AE (f/11, 1/160 sec., EV+0.7)/ ISO 200/ WB: Auto
A pancake lens that enables the photographer to move freely, allowing for the discovery of new perspectives
The lens is an important item, aiding the camera to faithfully replicate the world as we see it. So, when I create my works, in order to get photos of a higher quality, I often use a large aperture zoom lens or prime lens in combination with a camera with a full-frame sensor. Although this setup results in impeccable image quality, some mobility is inevitably sacrificed, and some of the photographs may seem to lack a certain freshness factor.
This time, I decided to head out onto the streets with only one lightweight and compact lens. The EF-S24mm f/2.8 STM showcased here is the best lens to use when you want perspectives that differ from the norm. A thin pancake lens with a thickness of only 22.8mm, it is so light and compact that I sometimes even wonder whether I have forgotten to attach it to the camera. It provides a different experience from my usual photoshoots. With it, I can shoot with a good rhythm and much mobility, and therefore notice scenery I might otherwise have overlooked.
No worries about composition! Great for capturing photo opportunities
It was fun walking around the town with the EF-S24mm f/2.8 STM lens!
And that was what I was thinking when I stopped for a moment to capture the photo at the top.
When a subject is already in some form of order, it is difficult to determine how much of it to include in the shot. If I had been out and about with the usual zoom lens and multiple lenses, I would have had to worry about the composition; but on this day I was able to decide on the composition immediately. This was because the 38mm focal length (at 35mm film equivalent) provided a natural angle of view close to that of the naked eye, which made it easy to link what I saw with my eyes back to the image I saw through the lens. I was therefore able capture the pedestrians in an optimal location.
When it comes to these once-in-a-lifetime moments in street photography, worrying about decisions concerning composition is tantamount to losing the chance to capture these moments.
Just because a lens is small and lightweight does not mean that image quality is compromised. Using one GMo (glass moulded) aspherical lens element, every single tile has been accurately resolved, and even if there are distortions or aberrations these do not matter. Also, due to the adoption of a stepping motor (STM), AF operation with a high degree of silence can be achieved; it can focus quietly without a sound.
One other major feature of this lens is that it allows one to get close to the photographic subject: It is able to focus up to 9cm from the front of the lens. With this one lens, a wide range of subjects can be photographed, ranging from landscapes to various macro uses.
Indeed, this compact lens alone can bring about significant changes to a photo. For more than just regular photography, I recommend this lens for those who wish to discover new perspectives.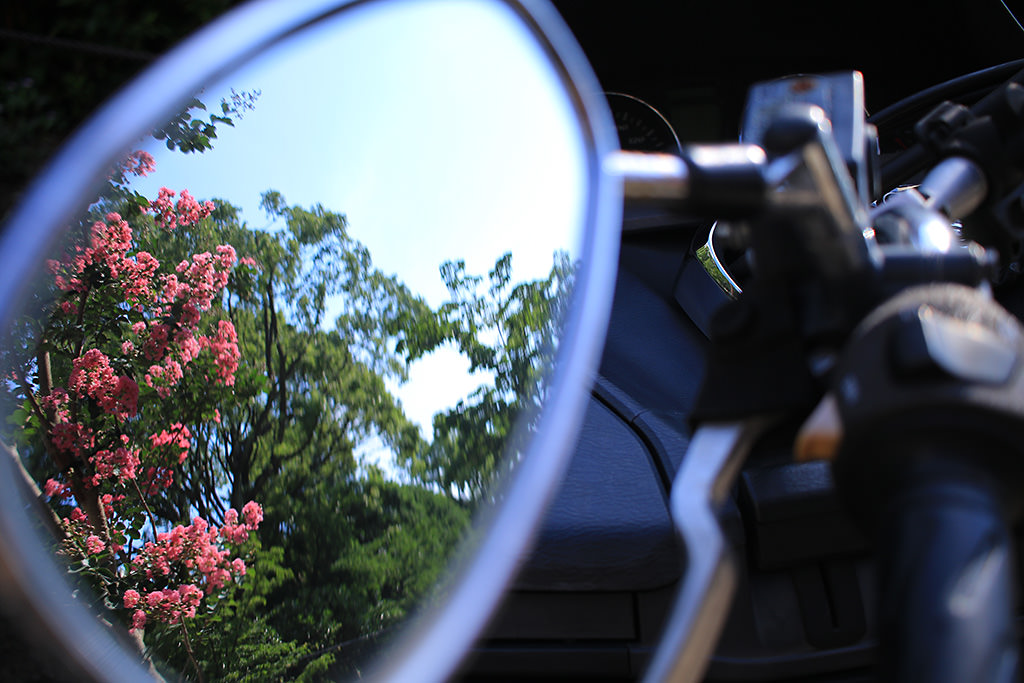 EOS 7D Mark II/ EF-S24mm f/2.8 STM/ FL: 24mm (38.4mm equivalent)/ Aperture-priority AE (f/2.8, 1/1000 sec., EV+0.3)/ ISO 100/ WB: Auto
Discovering a vibrant world in a bike mirror
This was a tree in town with beautiful pink flowers in bloom. Initially I began by shooting just the flowers, but when I surveyed the surroundings there was a stylish motorbike nearby. When I looked into its mirror, I saw a small world unfolding within. This shot was brought about by the ability to move about freely, which this lens provided.
EOS 7D Mark II/ EF-S24mm f/2.8 STM/ FL: 24mm (38.4mm equivalent)/ Aperture-priority AE (f/4, 1.3 sec.,EV+0.3)/ ISO 200/ WB: Auto
Dream-like scenery unfolds on the other side of the wire mesh fence
When the sun set, the city began to come alive with dazzling lights. When I focused on the wire mesh, usually seen as a nuisance, the lights, like sparkling, studded jewels appeared before my eyes.
I used an aperture that was one stop smaller than maximum aperture, and with the circular aperture effect, a beautiful round bokeh (the way the lens renders out-of-focus points of light) effect was achieved.
EOS 7D Mark II/ EF-S24mm f/2.8 STM/ FL: 24mm (38.4mm equivalent)/ Aperture-priority AE (f/2.8, 1/2000 sec., EV+0.7)/ ISO 200/ WB: Auto
Crouching to shoot, I managed to extensively capture the distant landscape
I found a fountain, and walked around in search of a point where the surface of the water would glitter against the backlight. By getting closer to the flowers at my feet, I was able to capture an image with the reflection of the bokeh on the water as an accent. By using the maximum aperture of f/2.8, I was able to create a soft bokeh effect. This was scenery I could discover precisely because the lens did not cause any inconvenience whether I was standing or crouching.
Receive the latest updates on photography news, tips and tricks by signing up with us!
EF-S24mm f/2.8 STM
Lens configuration: 5 groups 6 elements
Minimum shooting distance: 0.16m
Maximum shooting factor: 0.27X
Filter ratio: φ52mm
Maximum diameter x length: Approx.φ68.2×22.8mm
Weight: Approx.125g
About the Author
Born in Hokkaido in 1982, Nakahara turned to photography after working at a chemical manufacturing company. He majored in photography at the Vantan Design Institute and is a lecturer for photography workshops and seminars, in addition to working in commercial photography. He is also a representative of the photography information website studio9.