Products >>
All Products
EF85mm f/1.4L IS USM: Developer Interviews (1)
The EF85mm f/1.4L IS USM lens is a masterpiece that Canon has infused with many of its latest technologies. In Part 1 of this 2-part interview, we learn from its developers about the product planning and optical design of this L-series lens.
The fourth* 85mm lens is equipped with image stabilisation that befits an L lens
(* The fourth lens following after the EF85mm f/1.2L USM, EF85mm f/1.8 USM and EF85mm f/1.2L II USM)
EOS 5D Mark IV/ EF85mm f/1.4L IS USM/ FL: 85mm/ Manual exposure (f/4, 1/2500 sec)/ ISO 100/ WB: Manual
EOS 5D Mark IV/ EF85mm f/1.4L IS USM/ FL: 85mm/ Manual exposure (f/1.4, 1/5000 sec)/ ISO 200/ WB: Auto
Yamaguchi: 85mm is a popular focal length for portrait photography. With the current lineup, however, the EF85mm f/1.2L II USM is not affordably priced for many users, while many EF85mm f/1.8 USM users have said they want bokeh with a more significant defocus effect.
During planning, we interviewed and obtained the opinions of professional photographers, including wedding photographers, who would probably have many opportunities to use this lens once it was released. The EF85mm f/1.2L II USM had left a favorable impression and is highly valued for its excellent expression and bokeh thanks to its large aperture. However, there were some respondents who shared their desire for an even faster AF speed and a lighter lens body more suited to long hours of handheld shooting. Some of the feedback also mentioned that even though the EF85mm f/1.2L II USM was a large aperture single focal length lens [that is already considered better for avoiding camera shake], the addition of image stabilisation would still be a welcome feature for worry-free shooting.
Yamaguchi, Product Planning Lead
Based on these opinions, we decided to add the EF85mm f/1.4L IS USM to the lineup. We felt the desire of handheld photographers for its balanced specifications: Not only did it have both a large f/1.4 aperture and an image stabilisation system that would come in useful for handheld photography, it also had a satisfying high image quality befitting an L-series lens, especially for portraiture. 
We aimed to produce a lens that would give users the freedom to shoot handheld for long periods, and also have even better ease of use. For this to become reality, we needed to achieve the following: 
- A lens weight of less than 1 kg
- Compact overall lens size
Portraits, including weddings, capture very important life moments and make the memories last for a lifetime. Our goal was to create a lens for worry-free, beautiful preservation of important moments and memories, while letting a variety of users, including wedding photographers, personally experience its ease of use.
A lens that boasts L-series-worthy high resolution from maximum aperture, alongside excellent bokeh quality right up to the edges
EOS 5D Mark IV/ EF85mm f/1.4L IS USM/ FL: 85mm/ Manual exposure (f/1.4, 1/8000 sec)/ ISO 100/ WB: Auto
The lens is capable of creating an obvious yet natural-looking background bokeh effect, which makes portrait subjects stand out better. The in-focus area is flawlessly sharp.
Iwamoto: In 2006, Canon released the EF85mm f/1.2L II USM as its flagship lens in the 85mm focal range, and the lens has gained an outstanding reputation for its smooth, creamy bokeh quality. The optical design of the EF85mm f/1.4L IS USM, on the other hand, leans more towards providing sharp and crisp delineation, while maintaining the rich expression of its f/1.2 counterpart. We also took into consideration how users would probably most often compose their portraits to place the subject in the centre of the frame, and therefore struck a balance, where the resolution at the centre of the image is capable of providing clarity befitting an L lens, while at the same time, you also get beautiful bokeh quality at the image peripheries.
We proceeded with development to achieve such resolution while taking realistic weight, size and cost into consideration.
Iwamoto, Optical Design Lead
Canon's first attempt to develop an 85mm f/1.4 lens equipped with image stabilisation
Okuda: When the product planning department requested development of this lens, our development department was initially stumped by the high degree of difficulty in the design. When equipping large aperture lenses with image stabilisation, the arrangement of the focus and image stabilisation groups is an important factor for determining the size and weight of the lens. Lenses with a small f-number (large aperture) characteristically have large diameter glass. The image stabilisation group, which is a part of the optical system, needs to be able to move to compensate for camera shake, which naturally makes the group heavy. An actuating force is also required to drive the group, and this further adds to the lens' size and weight. Therefore, the development team's first impression was that it would be almost impossible to develop the reasonably-sized, appealingly-priced 85mm f/1.4 lens with image stabilisation that the product planning department had requested.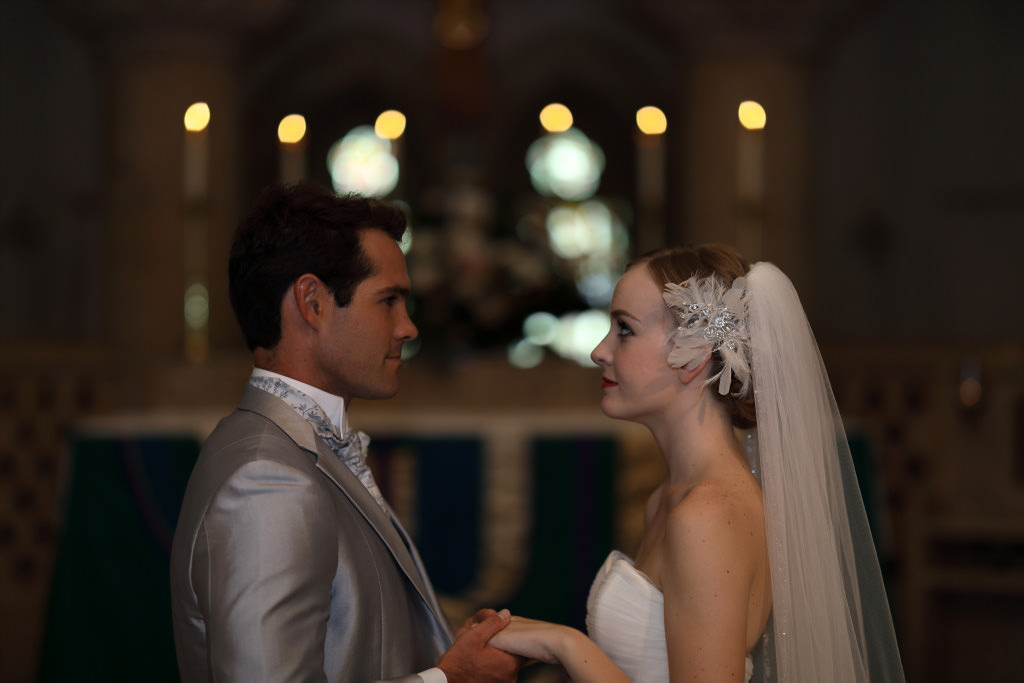 EOS 5D Mark IV/ EF85mm f/1.4L IS USM/ FL: 85mm/ Manual exposure (f/1.4, 1/80 sec)/ ISO 200/ WB: Auto
With the lens, even images shot handheld in a dimly-lit indoor setting can be free of camera-shake.
Okuda, Mechanical Design Lead
However, while discussing this with the optical design lead, we realized that there was a slight chance that this could be made possible by combining advanced technologies, such as rearranging optics, using new glass materials and layering 0.1 millimeter scale compact mechanical components. We therefore decided to take up the challenge and tackle this project.
IS ON
EOS 5D Mark IV/ EF85mm f/1.4L IS USM/ FL: 85mm/ Manual exposure(f/4, 1/6 sec)/ ISO 200/ WB: Auto
IS OFF
EOS 5D Mark IV/ EF85mm f/1.4L IS USM/ FL: 85mm/ Manual exposure(f/4, 1/6 sec)/ ISO 200/ WB: Auto
Compare the two examples above. When IS is turned on, there is no visible camera shake.
Fully using a wealth of glass materials to correct aberrations within size and weight restrictions
Iwamoto: As mentioned earlier, all the lens units arranged in a large aperture, mid-telephoto lens need to be at least a certain diameter. The bigger the diameter of the image stabilisation unit controlling a large and heavy lens, the larger the size of the final product and the heavier its weight. Therefore, an important factor in this lens's optical design is to reduce the diameter and weight of the stabilising optical system. In general, the front lenses have bigger diameters than the rear lenses, and the lenses near the diaphragm have the smallest diameter.
In order to reduce the size and weight of the stabilising optical system, the image stabilisation unit including the stabilising optical system was placed on the mount side of the lens near the diaphragm. (Fig. 1)
Fig. 1 Optical arrangement
A: Aperture diaphragm
B: IS unit
In spite of this, a certain amount of weight is unavoidable and the stabilising optical system of this lens is similar in size and weight to that used in the EF400mm f/2.8L IS II USM super-telephoto lens. (Fig. 2)
Fig. 2 Image stabilisation unit and stabilising optical system comparison
The most important features of the EF85mm f/1.4L IS USM are the correction of axial chromatic aberration and spherical aberration. Correcting the curvature of field is also necessary for achieving high image quality since the depth of field is very shallow. High refractive index glass and glass with anomalous dispersion characteristics are effective for correcting these aberrations.
EOS 5D Mark IV/ EF85mm f/1.4L IS USM/ FL: 85mm/ Manual exposure(f/5, 1/320sec)/ ISO 200/ WB: Auto
The lens has outstanding aberration-correcting features, which results in clear and sharp image quality.
In fact, more than half of the glass elements in this lens are made of glass materials that were not yet put into practical application when the EF85mm f/1.2L II USM was developed (released in March 2006). Thanks to the characteristics of these new glass materials, we were able to both reduce its size and ensure high image quality, while also equipping it with image stabilisation. To correct axial chromatic aberration, it is effective to place glass with anomalous dispersion like a UD lens in front of or near the diaphragm. In addition, using high refractive index glass for the positive lens is essential to improve image plane characteristics. In this lens, axial chromatic aberration and image plane characteristics are favorably corrected through the optimal arrangement of glass having both high refractive index and anomalous dispersion characteristics, which did not put into practical application when the EF85mm f/1.2L II USM was developed.
By effectively arranging new glass materials and aspherical lenses that did not exist at the time, in addition to special glass like fluorite and UD lenses, we were able to correct each type of aberration while reducing the size of the lens.
Generally speaking, the optical system of newer lenses tend to have more effective optical arrangement due to a wider choice of glass materials, allowing the final lenses to have higher image quality in a more compact body, and the EF85mm f/1.4L IS USM is a good example of this.

To be continued in Part 2, coming soon. 
---
Receive the latest update on photography news, tips and tricks.
Be part of the SNAPSHOT Community.
Sign Up Now!
---