Products >>
All Products
EOS 7D Mark II – Movie Shooting Power
These days, DSLR cameras are no longer merely equipment for taking photographs. Their movie shooting functions have been improved to an astonishing level. In the following, we will verify the purported powerful movie shooting capabilities ofthe EOS 7D Mark II. (Edited by: Video Salon, Report by: Akira Inoue, Model: Sayaka Ono)
Pages: 1 2
Greatly enhanced AF performance
The EOS 7D Mark II is crowned as the flagship of the APS-C models. Compared with the EOS 7D, it is characterised by improved basic functions such as continuous shooting, AF and noise reduction.
While the EOS 5D Mark II remains a popular model for shooting movies, it is also a fact that focusing during movie shooting is not easy because the depth of field of the full-frame sensor is too shallow. In contrast, the APS-C sensor, which is closer to a motion picture sensor in size, offers a fine balance between depth of field and image quality, and is thus a more user-friendly choice for recording movies.
Yet another point not to be overlooked is that the EOS 7D Mark II is equipped with the well-received Dual Pixel CMOS AF, which is also used on models such as the EOS C100, a digital cinema camera, and the EOS 70D. When we compare the EOS 7D Mark II with the EOS C100, we find that while the continuous AF function's tracking speeds for these two models are almost on par, the former's face detection capability has been enhanced significantly. For example, in a scene where a walking person passes behind a tree for a moment, the AF function of the EOS 7D Mark II does not stop its face detection work. With this kind of intelligent control now possible, we can say that its AF function ensures smooth movie shooting even at a location that is a slightly complicated to deal with.
SAMPLE MOVIE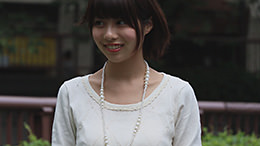 This sample movie shot is recorded using the EOS 7D Mark II to test several different situations including portraits, moving objects (a passing train), and dimly-lit areas. The AF mode was used to record the scene where the subject appeared and walked toward the camera soon after recording started. The EOS 7D Mark II was able to maintain focus on her face at all times.
Powerful Dual Pixel CMOS AF for movie shooting
The EOS 7D Mark II is equipped with the AI Servo AF III, which tracks the subject as closely as possible even when the AF point loses it or when an object appears in front of it. The mechanical noise is rather quiet when an STM lens attached. Take note that the AI Servo AF III cannot be used when the camera is recording at 1080/60p.
Detailed AF settings
AF speed can be set to one of the four levels when the AF mode is set to [FlexiZone - Single] and when a compatible lens is attached to the camera.
The AF tracking sensitivity can be set to one of the five available levels. When "Locked on" is selected, the camera is less inclined to track a different subject even when the original subject has moved away temporarily from the AF point.
Supports up to ISO 16000
Thanks to a newly-developed CMOS sensor and the new "Dual DIGIC 6" processors, the EOS 7D Mark II offers considerably better noise reduction performance under low-light conditions, which had been an issue on the EOS 7D. Even for movie shooting, ISO 16000 can be employed for general use. Though the model we used for this review was a prototype, the EOS 7D Mark II demonstrated amazing capability in high ISO speed shooting with only a candle as the lighting. Needless to say, noise increases when the ISO speed is higher. Nonetheless, high ISO speed shooting comes in handy in a variety of shooting situations. Furthermore, with the built-in interval timer, it is now easier to take on the challenge of time-lapse shooting of night skies.
An ISO speed of up to 16000 can be employed for general use compared to ISO 6400 in the case of the EOS 7D.
Record movies by the light of one candle
ISO 1000
Movies were recorded using a prototype. The aperture and shutter speed were set to f/4.0 and 1/60 sec respectively in all cases.
ISO 4000
ISO 16000
For the first time, 1080/60p is supported by the EOS Movie function (progressive shooting* at 60 frames per second). However, one thing I hope could be improved is the Dual Pixel CMOS AF function, which is currently limited only to 1080/30p due to the processing speed of the image processor.
In addition to MOV, the MP4 format, which is supported on many different types of devices, can also be selected. Movies can be saved with a lower bit rate so that they can be sent to and viewed on a smartphone. The EOS 7D Mark II is also equipped with dual memory card slots that are compatible with both CF and SD cards. When a card's capacity becomes full, recording will continue on the other media. Non-compressed video data may also be sent from the HDMI output port to an external device such as a PC for editing.
Other convenient new functions
Built-in interval timer
With the built-in interval timer, the camera will automatically continue to take shots at the selected interval without the need to release the shutter each time.
Progressive shooting at 60fps
For the first time on the EOS series, movie recording at 1080/60p (progressive shooting at 60 frames per second) is possible (only in the IPB format). However, note that the Servo AF is disabled during 1080/60p shooting.
* Please note that the menu screen display images are from an NTSC system. The display will be different on a PAL system.
*Progressive shooting: A recording mode for movies. The other mode is called interlaced.
Akira Inoue
A representative of video production company MAXiMEDIA, Mr. Inoue is also an active cameraman. Well-versed in IT, he is currently spearheading developments in live video production that utilises real-time streaming technology. Aside from that, the multi-talented Mr. Inoue exercises his talents in various areas, which include managing a Facebook fanpage, being a commentator on a Ustream programme for the videography community, and writing for magazines.
Video Salon
Video Salon started publication in 1980, and is Japan's only niche magazine on videographic equipment. Catering to readers who range from serious amateurs to professionals, it enjoys an established reputation not only for the information it provides on video cameras and editing software, but also on its drive-run reviews on videography with the latest DSLR cameras and its expert tips and tutorials.
Published by GENKOSHA Co., Ltd