Products >>
All Products
EOS M5: A Closer Look at 4 Core Internal Features
Taking on a sophisticated external design, the EOS M5 has achieved a remarkable leap in functionality. Not only is it easy to operate, it implements Dual Pixel CMOS AF, as well as a host of renewed core features such as DIGIC 7. Following the previous article on its external design, we will focus on 4 noteworthy internal features, such as its AF system. (Reported by: Kazuo Nakahara)
1. Image sensor
The EOS M5 is the first of the EOS M series to implement the much-anticipated Dual Pixel CMOS AF in its image sensor, which is APS-C equivalent in size. With an approximate 24.2 megapixels, a key feature of the EOS M5 is that its high-speed phase detection AF can be used in 80% of the sensor area in all four directions.
The EOS M5 employs the latest DIGIC 7 as its image processor. For mirrorless cameras, the performance of the camera is highly dependent on its processing engine, as AF and image production are carried out using information from light received by the image sensor. DIGIC 7, which has a more powerful image processing ability than DIGIC 6, has not only helped to enhance the image quality, but also contributed to greater responsiveness and a longer battery life from an improved energy efficiency.
There are 4 size options you can choose to shoot with: L: approx. 24.0 megapixels (6,000 x 4,000), M: approx. 10.6 megapixels (3,984 x 2,656), S1: approx. 5.9 megapixels (2,976 x 1,984), and S2: approx. 3.8 megapixels (2,400 x 1,600). It is possible to capture images in RAW format simultaneously. For RAW format shooting, there is only one size: 24 megapixels.
Menu screen for setting ISO speed.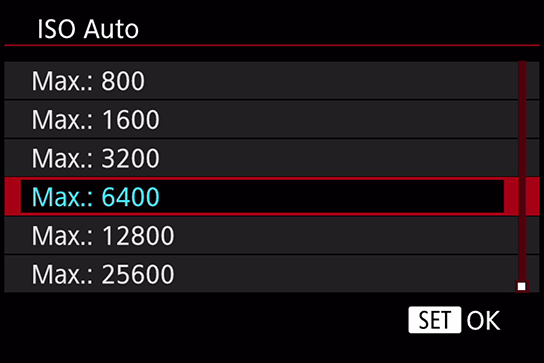 Menu screen configuring ISO Auto settings.
The amount of data that DIGIC 7 can handle during noise reduction is 14 times more than that possible with DIGIC 6. With this, the EOS M5 is able to offer a maximum ISO speed of ISO 25600. This ISO speed is also available as an ISO speed upper limit option for ISO Auto.
2. AF system
The EOS M5 is a mirrorless camera that is capable of performing high-speed AF due to the use of Dual Pixel CMOS AF. All of its 24.2 million pixels are used in imaging and phase detection AF. With up to 49 AF points available, the area where phase detection AF is quite substantial even when compared with DSLR cameras.
Smooth Zone AF is new feature that has been added to the EOS M5. It uses an AF detection area that is the size of nine 1-point AF frames, and is a similar function to Zone AF and AF Point Expansion on EOS DSLRs. Smooth Zone AF is effective for shooting subjects with unpredictable movements, which 1-point AF has difficulty tracking.
Another significant improvement to the AF function is the addition of Touch & Drag AF. Recent camera models feature a wide AF area with several tens of AF points. However, the sheer numbers also makes it challenging to switch the AF point quickly.
Touch & Drag AF resolves this issue by enabling you to switch the AF point intituitively by simply dragging with your thumb on the LCD monitor when using the built-in EVF. This feature is similar to how you would use the joystick-like Multi-Controller, which features on high-end DSLR models.
Menu screen for configuring Touch & Drag AF settings.
Menu screen for setting the Touch & Drag AF positioning method.
Menu screen for setting the active touch area.
The Touch & Drag AF feature is disabled by default, but we recommended it being enabled. The active touch area on the LCD monitor can also be selected in further detail. If you wish to use the Touch & Drag AF like the Multi-Controller, select [Relative] for [Pos'n method], and [Right] for [Active touch area].
3. Continuous shooting
Continuous shooting performance has also been significantly enhanced. Shooting speeds of up to 9 fps for One-Shot AF, and up to 7 fps for Servo AF, are more than adequate to satisfy continuous shooting of both standard scenes and moving subjects.
The EOS M5 boasts an improvement in burst capacity by enabling up to 17 RAW images in continuous shooting.
4. Wireless Features
In addition to the existing Wi-Fi function, the EOS M5 also supports Bluetooth (Bluetooth low energy technology). Bluetooth, which consumes a lot less power than Wi-Fi, enables a constant connection to be maintained between the camera and your smartphone.
When connecting the EOS M5 to a smartphone via Bluetooth, using the 'Camera Connect' app enables you to use the smartphone as a wireless remote controller. This is useful when you have to conduct remote shooting that you did not plan for.
Startup screen of Camera Connect.
During remote shooting.
Screen for Remote Playback.
While 'Camera Connect' also allows you to perform remote Live View shooting and image transfer, you have to switch from Bluetooth to Wi-Fi to use these functions.
Summing up
The EOS M5 has been designed with many useful functions also present on high-end DSLR models, and has seen an overall upgrade in its features compared to older EOS-M series cameras. Shooting performance for moving subjects has also been reinforced, due to significant improvements in its AF and image processor.
The EOS M5 is a camera that possesses great potential to be used at the frontlines. It can not only be used as a main camera, but also as a supplementary camera to a DSLR.
Click here for A Closer Look at 7 Key External Design Features of the EOS M5
Or check out In Focus: EOS M5 for more articles about this camera
Receive the latest updates on photography news, tips and tricks by signing up with us!
About the Author
Delivers daily news related to topics such as digital cameras and peripheral devices, and imaging software. Also publishes articles such as reviews on the use of actual digital camera models and photo samples taken using new models.
Born in Hokkaido in 1982, Nakahara turned to photography after working at a chemical manufacturing company. He majored in photography at the Vantan Design Institute and is a lecturer for photography workshops and seminars, in addition to working in commercial photography. He is also a representative of the photography information website studio9.