Tips & Tutorials >>
All Tips & Tutorials
[Part 1] Bringing Out the Beauty in You with a Free-style Camera
Built in with a free-angle LCD monitor that can be tilted up to 180°, the PowerShot N2 comes with more enhanced features for taking selfies. You can press on any part of the ring around the lens to release the shutter, so you can take a photo easily regardless of how the camera is held. In this article, I will provide tips on how you can enjoy taking selfies using the PowerShot N2. (Model: Misao Moriya, Photo direction: Yuri Nanasaki, Reported by: Rika Yamazaki)
Pages: 1 2
Selfies Made Easy with the Compact and Easy-to-hold PowerShot N2
One important consideration when choosing a "selfie camera" is that it must be highly mobile and portable. 80.9mm in height, 62.0mm in width, 32.3mm in thickness and about 202g in weight, the PowerShot N2 is an extremely compact camera that you can carry with you at all times so you won't miss out on any photo opportunity.
PowerShot N2
Built in with a DIGIC 6 image processor and a 16.1-megapixel CMOS sensor. Also available is a 180° free-angle LCD monitor and a 360° shutter ring to help you capture attractive self portraits. To add an artistic touch to your works, you can make use of the Creative Shot mode and the wide range of filter effects. The body is compact enough to fit into your makeup pouch, so you can carry it easily everywhere you go.
More information on the PowerShot N2
Basics in Taking Selfie Shots
Turn the free-angle LCD monitor 180° for it to face you. Press the 360° shutter ring down halfway to set the focus, followed by pressing it down fully to release the shutter.
Touch to select "Self Portrait"
Select "Self Portrait" from the menu shown in the LCD monitor. Other shooting modes available are "Hybrid Auto", "Auto", "Program AE", "Low Light", "Fish-eye Effect", "Miniature Effect", "Toy Camera Effect", "Soft Focus", and "Monochrome".
Discover your coolest look with the free-angle LCD monitor
The PowerShot N2 comes with a 360° shutter ring that allows you to release the shutter from any direction, so you can discover new shooting angles not possible even with a smartphone. Try taking selfie shots vertically, horizontally, from the bottom or from any direction to find the angle you look best in.
Start with the orthodox angle - front view from the right
For a start, I took a shot with my right hand in the same way when I am photographing using a smartphone. I made use of light entering through the window to add dimensionality to my face. After you have determined your composition, look into the lens instead of the LCD monitor, and release the shutter.
Try angles that are challenging for smartphone cameras - front view from the left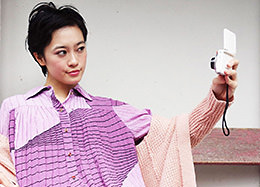 With the 360° shutter ring, I can take a photo easily even with my left hand. I composed a shot to include the door painting in the background, which adds an accent to the colour of the photo.
You might just produce a "masterpiece" while walking
With a 360° shutter ring that allows you to release the shutter from any direction, the PowerShot N2 is an ideal camera for taking selfies while you are walking. Simply release the shutter casually to capture shots that include the surroundings, and you might just be able to produce some unexpected results.
Start with the orthodox angle - front view from the right
The PowerShot N2 is the perfect choice if you do not want to miss out on photo opportunities for taking selfie shots because of the slow response of the smartphone camera. Simply set the shooting mode to "Auto", and the camera will automatically determine the optimal settings, such as brightness and shutter speed, so you can concentrate on the composition. You are encouraged to take as many shots as possible without worrying too much about the angle.
Model: Misao Moriya
Born in 1984 in Tokyo, Moriya is an actress who constantly appears in movies and stage performances. Some of her works include movies such as "Paper Crane", "Yurei-san (Spirits)", "Donzoko No Niho Kurai Mae (Two Steps from the Nadir)", TV programmes such as "Kagero No Tsuji (Crossroads of the Heat)", "Byoin No Chikara - Hoshizora Hospital (The Power of Hospitals - Hoshizora Hospital)" (both NHK serials). Her special skill is classical ballet.
Photo direction: Yuri Nanasaki
Born in 1979 in Shimane, Nanasaki works as a photographer, filmmaker as well as an actress. After appearing in movies, dramas, stage performances and TV commercials as an actress, she embarked on her career as a professional photographer in 2009. Her works are wide-ranging, which include photos and photo direction for portraits, magazines, CD jackets and catalogues.
Rika Yamazaki
Born in 1970 in Niigata, Yamazaki works as a freelance editor and writer for magazines, mooks and books. Her hobby is to capture breathtaking landscape shots while travelling in a camping trailer and camping along the way.