Macro photography is more than just getting a close-up shot. It is about exploring a different world–where smaller things become bigger, and in turn giving the photographer a different perspective when looking at the subject (from near and far). Forget typical macro shots of a flower or an insect, you can create your own macro world with the use of simple props and a good macro lens.
The Sky: Making Use of Rice
EOS RP, RF35mm f/1.8L Macro IS STM lens, f/4, 35mm, 1/128 sec, ISO250
To create puffy clouds, use cooked Jasmine/Japanese rice. Be gentle when you knead the cooked rice together so to keep every pearl in shape; you don't want broken bits of rice that look unappealing in photos. Couple that with a blue background and you will get yourself a nice blue sky with white clouds.
The Sea: Creating Waves with Sponges
EOS RP, RF35mm f/1.8L Macro IS STM lens, f/4, 35mm, 1/64 sec, ISO160
Rivers, valleys and the ocean… these are made using simple tools such as sponges and bitter gourds. Make sure you get sponges with the right texture – in this case, a wavy one with a hint of white and blue. We used bitter gourds for its rough skin texture to emulate the cliffs and rocks that you see along a coast. With an RF35mm f/1.8 IS Macro STM lens, we managed to capture amazing macro shots in stills and videos, just like the ones you will see in the video below.
The Land: Harvesting Candy Land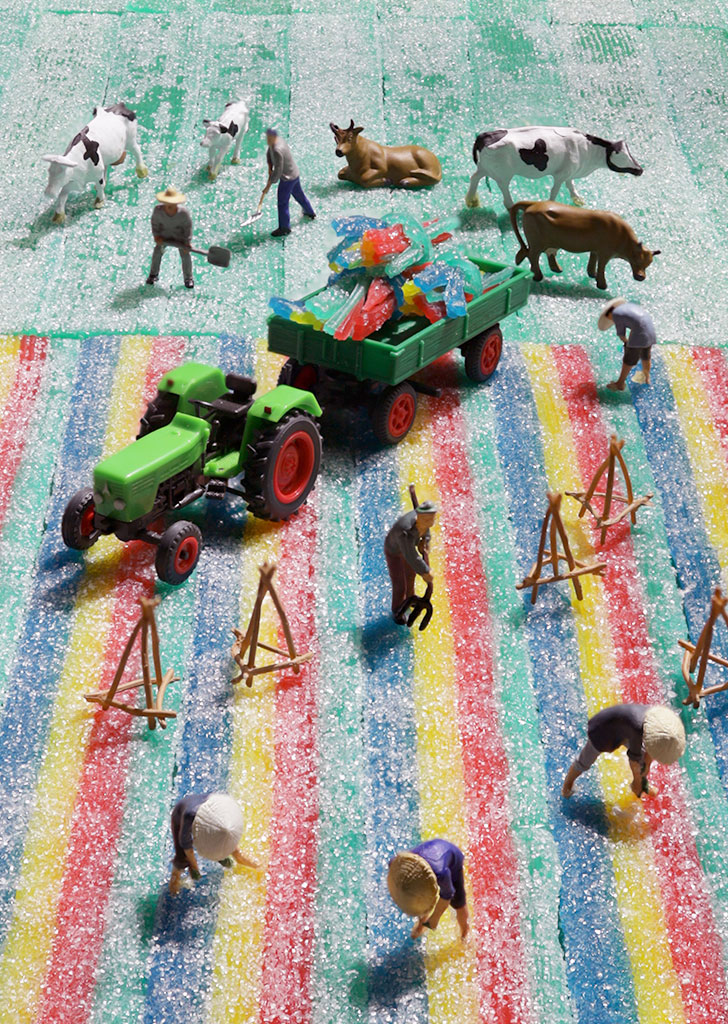 EOS RP, RF35mm f/1.8L Macro IS STM lens, f/4, 35mm, 1/64 sec, ISO100
Creating green pasture is easy – choose rough green sponges and stick them together to form your desired size. For the rice plantation in this photo, we use candy speckled with sugar to give the shot texture, colours, and depth. Things need not be exactly the same as you see in real life, you can be a little abstract (e.g. different colours) in the shots you want to create – and that's the beauty of photography.
The EOS RP Camera System
Canon's newest full-frame mirrorless camera, EOS RP, boasts a number of features that are great for both photography and videography. With a 26.2MP CMOS sensor, fast autofocus, and compatible with RF and EF lenses (with mount adapter), this compact and light camera gives photographers the ease of use yet delivers high-quality images.
Playing with Focus Bracketing
Focus bracketing can be fun in macro photography–the camera takes a series of images with the lens' focus distance setting increasing between every shot, and then the focus is stacked to reach an increased depth of field. What happens is a macro image having a very shallow depth of field (clear foreground and background) instead of a blurred background. To learn more about focus bracketing, watch this video.
Watch the 4K video shot by EOS RP:
Learn more about macro photography in Macro Lens Technique: Brilliantly Capture the Sparkle In a Water Droplet; find out more about the lens used in this shoot with Lens Impression: RF35mm f/1.8 Macro IS STM; or get inspired to try macro food photography in Mouth-watering Macro: The Art of Close-up Food Photography.
---
Receive the latest update on photography news, tips and tricks.
Be part of the SNAPSHOT Community.
Sign Up Now!