There's more to macro photography than simply capturing small subjects up close—with a bit of technique and some exploration, the same subject can be captured in different styles! Here, a nature photographer shares the finer points of creating dreamy macro images of flowers using foreground bokeh. (Reported by: Yukie Wago, Digital Camera Magazine)
EOS 6D/ EF180mm f/3.5L Macro USM/ Aperture-priority AE (f/3.5, 1/1600 sec)/ ISO 125/ WB: Cloudy
This dreamy-looking shot was achieved by blurring out the two flowers in front of the main subject. It's a technique that you can use even if you can't step into the flower bed and are shooting from outside.

Light colours and bokeh are the key to this style
To achieve the hazy, dreamy feel of this shot, frame the shot so that it consists of mainly whites and pastel colours. Creating soft, "fluffy" bokeh is also crucial.
Step 1: Choose a telephoto macro lens
There are four factors that increase bokeh intensity:
- A long focal length
- Shooting close to the subject
- Faraway background
- Wide aperture setting
A telephoto macro lens lets you combine the first two factors. For this shot, I used a 180mm macro lens at its maximum aperture.
Telephoto macro lenses to consider:
RF100mm f/2.8L Macro IS USM
EF100mm f/2.8L Macro IS USM
EF180mm f/3.5L Macro USM
Step 2: Find elements to create foreground bokeh from
The foreground bokeh enhances the dreamy feeling. The flavour isn't the same with background bokeh alone.
For this shot, I first found two flowers in the same row that could be turned into foreground bokeh. Then, looking through the gap between them, I searched for a flower that would make a good subject. The flower I finally selected stood out to me because some petals had fallen off, exposing its stamens.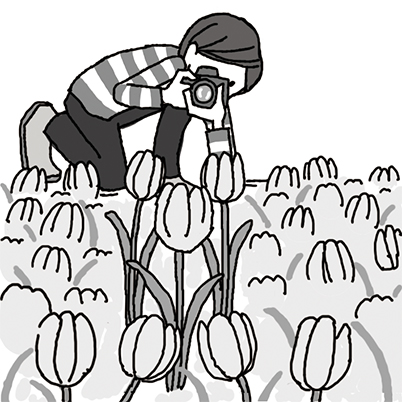 Tip: Take your eyes off the viewfinder to look for the main subject. Looking through the viewfinder will limit what you see.

No foreground bokeh
This is how the shot would have looked like without the two flowers in front forming foreground bokeh. You can see the main flower clearly, but the image doesn't have the soft, dreamy feel.
Also see:
Lens FAQ #10: Which Lens to Photograph Flowers With a Large Foreground Bokeh?
How Do I Effectively Use Foreground Bokeh on a Telephoto Lens?
Step 3: Find a shooting angle that maximises bokeh
Shoot as close to the subject as you can
The further away you are from the flower that is your main subject, the less creamy the surrounding bokeh will appear. This is especially obvious for larger flowers like tulips.
Make sure background elements are as far away as possible
The further away the background, the stronger the background bokeh. Make sure that the subject that you choose doesn't have anything else immediately behind it. Then, get to a low position and shoot it from head on. If you tilt your camera downwards, the ground will become your background and there wouldn't be as much bokeh. (See a more detailed explanation here.)
Step 4: Underexpose the shot and avoid strong light
We are aiming for a high key look, but it's also important to retain the colours and texture details. On white and light-coloured flowers, these can be easily lost if the light is too strong. It's best to:
- Avoid direct sunlight on the flowers: a slightly cloudy day gives ideal lighting conditions.
- Shoot in RAW, and reduce the ISO speed and exposure to underexpose the shot slightly.
When you brighten the shot during post-processing, you will be able to recover the colours and textures.

Shot under strong sunlight
Shooting white flowers like this tulip under direct midday sunlight will blow out the highlights, causing colour nuances and texture details to be lost.
Also see:
Understanding Dynamic Range: How to Avoid Unnecessary Blown Highlights
Find out how else you can use bokeh to get creative in nature photography here:
The Art Behind the Shot: Morning Dew Bokeh Circles
How I Nailed the Shot: A Tiny Green Bird Among Beautiful Pink Bokeh
Handling Natural Light: Telephoto Macro Flowers in the Evening Light
Photographing Flowers: How to Create Brilliant Bokeh Circle Spotlights with a Macro Lens
For a totally different look:
2 Ways To Achieve Black Background For Your Plant Photoshoot
[Flash Technique] How to Achieve Dramatic Colours in Backlight
How Do I Photograph Flowers More Dramatically?
Other tip and techniques for flower photography:
Flower Photography: Useful Techniques and Camera Features
4 Ways to Photograph Your Plants Like A Pro
---
Receive the latest update on photography news, tips and tricks.
Be part of the SNAPSHOT Community.
Sign Up Now!
---
About the Author
A monthly magazine that believes that enjoyment of photography will increase the more one learns about camera functions. It delivers news on the latest cameras and features and regularly introduces various photography techniques.
Published by Impress Corporation
Based in Fukuoka City, Fukuoka Prefecture, Yukie Wago started shooting with film and toy cameras. Her journey shooting flowers and other living things began when she got her first DSLR camera. Since then, she has become renown for her unique style, which involves shooting with a telephoto lens while deliberately incorporating light and bokeh, ultimately creating pictures reminiscent of scenes from fairytales and fantasy movies.
Instagram: @yukie_wago