Inspirations >>
Photos & People
Underwater Photography Destinations in Indonesia
Whether you are a professional or amateur underwater photographer, Indonesia offers a multitude of diving spots. Here are my favorite diving destinations: 
PowerShot G7 X Mark II;  f/6.3, 1/320 sec; ISO-125
Thousand Islands 
Thousand Islands is also known as 'Kepulauan Seribu' in Indonesian. In Thousand Islands, divers can easily capture Clown Fish, Nudibranchs, Angel Fish and Lion Fish on camera. Divers are often also lucky enough to experience swimming with Green Turtles here. Kepulauan Seribu is a chain of 108 small islands located on the north side of Jakarta's coastline. These strings of islands are easily accessible by boat from Jakarta and are surrounded by a calm sea, making it a perfect diving destination for amateur photographers to practise basic underwater photography techniques, including space to experiment with varying lighting and unusual angles to improve their photographic skills.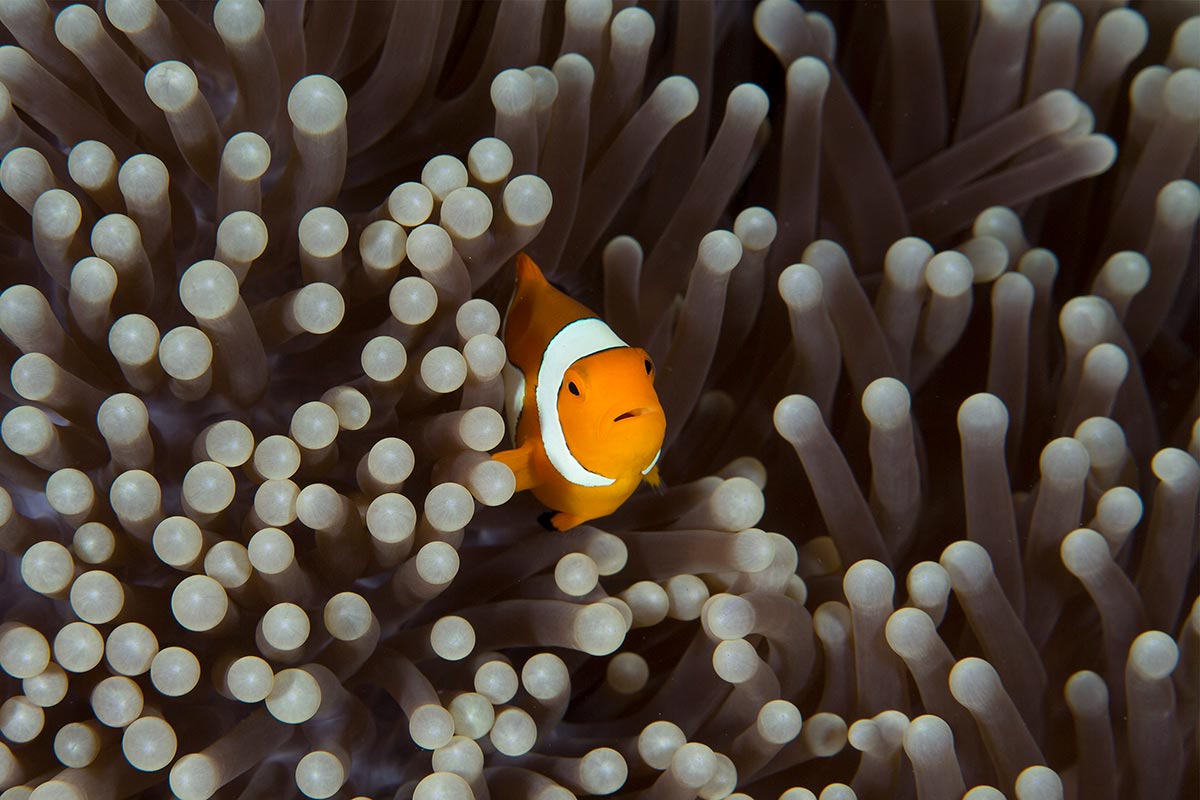 EOS 5D Mark III; EF100mm f/2.8L Macro IS USM; f/16; 1/160sec; ISO-100
For these reasons, Thousand Islands is rapidly becoming a preferred location for amateur underwater photographers. If you are new and want to explore more underwater photography, you can read the article below for some tips:
Tips for the Aspiring Underwater Photographer
Parigi Moutong
For those seeking crystal clear water in a calm sea, Parigi Moutong is popular for its amazing visibility. Divers can enjoy unrestricted underwater views of beautifully colored coral formations and spectacular wall drop-offs.  However, Parigi Moutong is only accessible for divers with diving qualifications amounting to more than 10 dives in their logs. 
EOS 5D Mark III; EF100mm f/2.8L Macro IS USM; f/11; 1/250sec; ISO-100
Lembeh Strait
For macro underwater photography, Lembeh strait in North Sulawesi is the perfect site to go for. The nutrient-rich water is inhabited by rare, sought-after sea creatures, such as Sea Horses, Frogfish, Shrimp and Octopuses. Tiny creatures hide in and around the stunning coral reef.  Lembeh Strait is a popular diving site for macro-underwater photography enthusiasts who have a keen eye for details. 
PowerShot G7 X Mark II; f/3.5; 1/220sec; ISO-125
EOS 5D Mark III; EF100mm f/2.8L Macro IS USM; f/20; 1/100sec; ISO-100
Tulamben, Bali 
A great site for wide-angle underwater photography hunters. Tulamben is a village located on the North East coast of Bali. The beach is not as appealing as some, with its black sand produced by Gunung Agung volcano. The dive spot is unique for the historical USAT Liberty shipwreck, which is inhabited by thousands of fish and sea creatures making Tulamben is a world-famous destination. Shark Point is also nearby and unmissable for experienced divers.
EOS 5D Mark III; EF100mm f/2.8L Macro IS USM; f/14; 1/100sec; ISO-100
Komodo National Park
Komodo National Park is one of the most beautiful underwater settings on Earth. In order to dive around Komodo Island and witness the beauty of more than 40 diving points, you will need more than 50 logged dives. The landscape of Komodo National Park from north to south will take you back to unspoiled prehistoric times. The best time to travel here is between March and December. Travelling to these magnificent coral reefs can be difficult due to fast and unpredictable currents, however, these conditions contribute to preserving Komodo's outstanding underwater scenery. Do not miss Manta Alley to the south of Komodo Island, where Manta Rays swim gracefully along with the Cleaner Fish that nibbles parasites and dead skin from the Manta's bodies. 
EOS 5D Mark III; EF100mm f/2.8L Macro IS USM; f/16; 1/160sec; ISO-100
Please be an ethical underwater photographer and respect the environment.  Enjoy the beauty of Indonesian ocean!
Besides diving destination in Indonesia, click here to find other diving destination in Asia
---
Receive the latest update on photography news, tips and tricks.
Be part of the SNAPSHOT Community.
Sign Up Now!
---
About the Author
From her liking on photographing outdoor activity, she puts some interest in diving in 2003. When she finally tried her first dive in 2009, she chose Manado as her first location. Since then she fell in love with underwater scenery and decided to frame it in pictures until she finally published her first book: "The Underwater Realm of Manado Bay from the Divers Eye" and others.